Title:

Marshall Scholarships Awarded to Two Georgetown Students, One Alumnus
Date Published:
December 4, 2017
Georgetown students Rebecca Kuang (SFS'18), Annee Lyons (C'18) and alumnus Benjamin Johnson (NHS'17) have been named 2018 Marshall Scholars.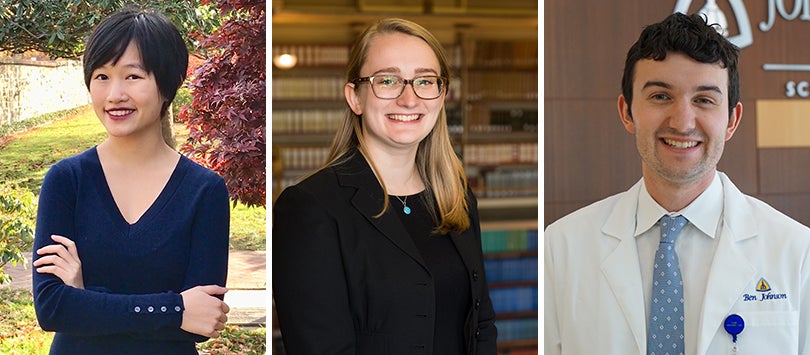 A novelist of Chinese historical fiction, a student of ancient history and an alumnus pursuing aerospace medicine have been selected to study for the next two years in the United Kingdom as 2018 Marshall Scholars.
Georgetown's three Marshall Scholarship recipients – Rebecca Kuang (SFS'18), an international history major; Annee Lyons (C'18), a classics major; and Benjamin Johnson (NHS'17), an alumnus who majored in human science – are among the 43 scholars selected for the prestigious 2018 scholarship.
This marks the second year in a row that three students from the Georgetown community will be studying as Marshall Scholars at British institutions.
"Rebecca Kuang, Annee Lyons and Benjamin Johnson all demonstrate the very best of our Georgetown community in the great vision and diligence they bring to their work," says Georgetown President John J. DeGioia. "It is wonderful that their extraordinary efforts and commitment are being recognized in this way."
Historical Fiction
Kuang, 21, of Irving, Texas, will pursue a master's of philosophy in Chinese studies at the University of Cambridge.
She hopes to meld her academic work with her writing pursuits, which includes a book of historical fiction about the atrocities that took place in China during World War II. HarperCollins will publish The Poppy War in spring 2018.
"I want to transmit the complexities and lived experiences of China to people who otherwise might never have cared," says Kuang, a native of Guangzhou, China.
She says the Marshall will give her the intellectual stimulation that she needs to keep her writing fresh.
"I need to teach Chinese history because, although China has in many ways become the center of the 21 st century, American higher education still clings to its Eurocentrism," Kuang says. "Americans learn about the Invasion of Normandy but not the Battle of Shanghai."
Marginalized Populations
Lyons, 22, who grew up on a farm in Mount Airy, Maryland, will pursue a master's of philosophy in Greek and Roman history at the University of Oxford.
She has delved into marginalized populations, including women, throughout her undergraduate research at Georgetown.
Lyons is a member of the Georgetown Scholarship Program (GSP) and has served as a coordinator for Preparing to Excel Program, a pre-orientation program for low-income and first generation students at Georgetown.
This fall, Lyons is working with Bernard Cook, director of film and media studies, on his documentary about the descendants of the 272 enslaved men, women and children sold by the Maryland Province of Jesuits in 1838 to benefit Georgetown.
"Working with descendants whose past and present urgently demand justice has pushed me to deeply explore my motivations for dedicating my life to the study of classics and ancient history," she says.
Space and Medicine
Johnson, 23, of Seattle, will take leave from Johns Hopkins University School of Medicine to pursue two different master's degrees – one in human cognitive neuropsychology from the University of Edinburgh and another in space physiology and health from King's College of London.
Johnson wants to pursue a career as an aerospace medicine physician.
"The space flight physiology and health program at King's College combined with statistical neuropsychological research training from the University of Edinburgh would equip me to return to the U.S. to further my medical studies and make me qualified to engage those aerospace research centers," he says.
While at Georgetown, Johnson worked as an emergency medical technician and crew chief for the Georgetown Emergency Medical Response Service (GERMS) and directed campus-wide mental health advocacy as undersecretary of mental health for the Georgetown University Student Association.
English professor John Glavin, director of the Office of Fellowships, Awards and Research for Undergraduates, helped all of the Georgetown recipients of the Marshall Scholarship with their applications.
"Each one of these Marshall Scholars has a formidable combination of academic excellence, service and creativity that has contributed to their exemplary achievements during their academic careers," he says. "And I know we will continue to see these characteristics in them for years to come."