Actress and activist Jane Fonda speaks at Georgetown about combatting low wages for restaurants workers who work for tips and the sexual harassment they often face at an event sponsored by the Kalmanovitz Initiative for Labor and the Working Poor's WILL Empower project.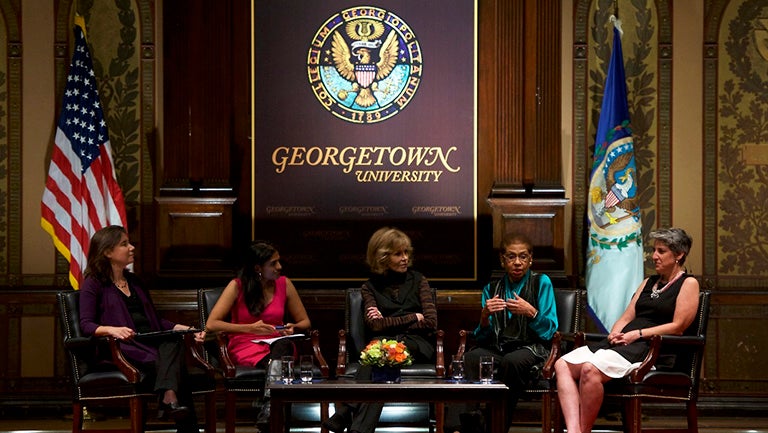 Oct 24, 2017 – Actress and activist Jane Fonda told a Georgetown audience yesterday that customers should not be expected to make up for extremely low wages earned by restaurant workers, many of them women who are sexually harassed in the process.
She said she was initially surprised to learn that efforts to raise minimum wages did not include tip workers.
"Think about what that means," Fonda said. "It means that the employer, very often huge corporations … pay low wages, and they expect the customers – us – to make up the difference so that the employees will be earning a living wage."
"Now, that ain't fair," she added. "Customers shouldn't be making up the difference when these multimillionaire, billionaire types should be doing it."
9 to 5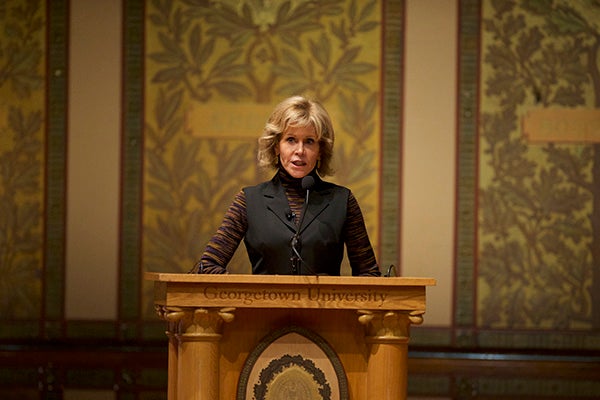 Fonda was on campus for "37 years since 9 to 5: Jane Fonda on Women Workers," an event sponsored by the
Fonda was on campus for "37 years since 9 to 5: Jane Fonda on Women Workers," an event sponsored by the Kalmanovitz Initiative for Labor and the Working Poor's WILL Empower project.
The name of the event refers to the 1980 movie 9 to 5,with Fonda, Lily Tomlin and Dolly Parton, in which the trio overthrow a sexist boss played by Dabney Coleman.
The WILL Empower project, a collaborative effort with Rutgers University, is designed to identify, train and convene a new generation of diverse, female labor leaders.
Highest Levels of Abuse
Fonda was joined at the event by Lane Windham, Kalmanovitz' associate director and WILL Empower co-director; Saru Jayaraman, a workers rights advocate and co-founder of the Restaurant Opportunities Centers (ROC) United; U.S. Rep. Eleanor Holmes Norton and District of Columbia councilwoman Elissa Silverman.
Tipped workers also shared their experience at the event.
"Twelve million people in the U.S. work in the restaurant industry and it has the highest levels of sexual harassment and abuse of any industry in the country," Fonda noted. "The National Restaurant Association … is practically on a par as the other NRA, in terms of power, and for generations and generations and generations, they have prevented restaurant workers wages from going up."
She and Jayaraman have been working in several places – including Michigan and D.C. – as well as nationally on the Fair Wage Campaign, which Windham called "an effort to end an unfair system in which tipped workers make a sub-minimum wage and deal with sexual harassment."
A New Generation
Windham said women are underrepresented as leaders in the nation's workers organization despite dominating the country's fastest-growing and low wage jobs.
"It's going to take a movement that is led by a new generation of women leaders, leaders, like those that WILL Empower seeks to nurture identify, mentor and train, to change that dynamic," she said.
Fonda met Jayaraman a year ago and decided to support her work.
The ROC United co-founder noted that in a survey of 1,000 female restaurant workers, 90 percent said they had been sexually harassed.
"If you're being paid $3 an hour in our nation's capital, you have to take all kinds of abuse to survive on tips," Jayaraman said.
Organizing and Listening
Norton talked about her long experience combatting sexual harassment.
"I would suggest that getting rid of the tipped wage may be one way to do away with sexual harassment in one fell swoop," she said.
While Fonda decried current conditions for restaurant workers, she also expressed hope about combatting issues of low wages and sexual harassment in the industry.
"Everything good that has ever happened in this country has happened as a result of struggle – of organizing … talking to people, listening to people," she said. "It's really important that we do that."
The event was the first sponsored by the project, which is funded by the Berger-Marks Foundation.
"Jane Fonda and ROC United helped us get the ball rolling on Will Empower with this incredibly timely panel on low-wage working women's rights and sexual harassment," Windham said. "Showcasing such strong women's leadership is a key part of what we're all about."