Title:

Hillary Rodham Clinton Presents Awards to Colombian Peace Agreement Leaders
Date Published:
March 31, 2017
Former U.S. Secretary of State Hillary Rodham Clinton addresses the important roles women can play in peace-building efforts and presents awards to Colombian peace agreement leaders during a ceremony hosted by the Georgetown Institute for Women, Peace and Security.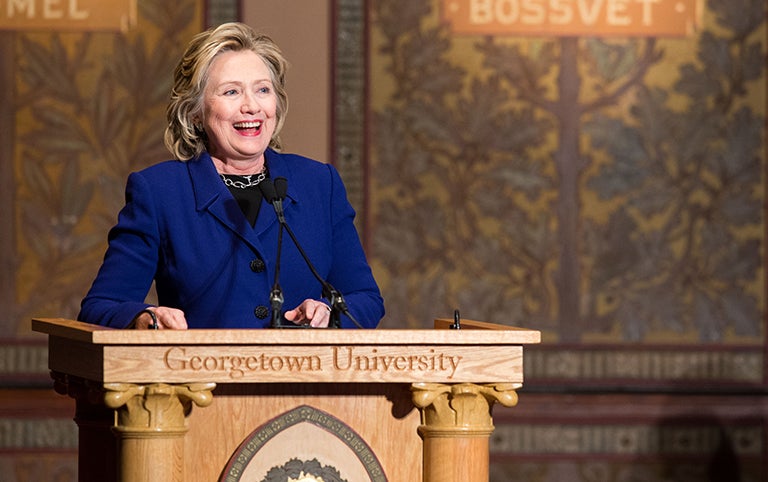 Former U.S. Secretary of State Hillary Rodham Clinton told a Georgetown audience today that "advancing the rights and full participation of women and girls is the great unfinished business of the 21st century."
The former presidential candidate's remarks were part of the annual Hillary Rodham Clinton Awards for Advancing Women in Peace and Security ceremony, hosted annually by the Georgetown Institute for Women, Peace and Security (GIWPS).
Clinton presented four awards in a packed Gaston Hall to Colombians who played a crucial role in the 2016 historic peace agreement that ended over five decades of conflict in their country.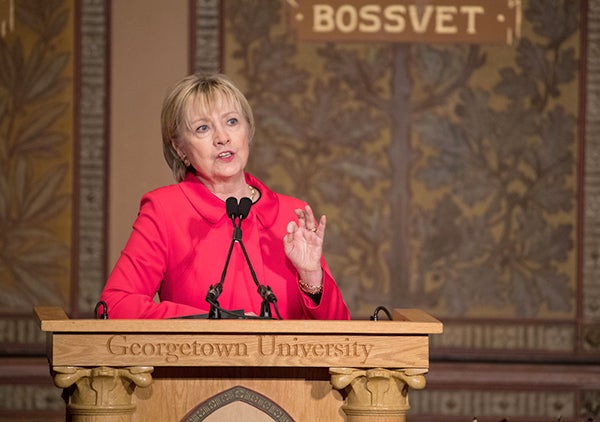 National Action Plan
In her introductory remarks, Clinton recalled launching the U.S. National Action Plan on Women, Peace and Security at Georgetown six years ago.
"We came here to Georgetown to declare that the issue of women's full participation in peace and security could no longer be delegated to the margins of international affairs," said Clinton, also the honorary founding chair of GIWPS.
"I believed then, and I have to tell you I believe even more fiercely today, that advancing the full participation and rights of women and girls is the great unfinished business of the 21st century," she explained.
Organizing, Agitating, Negotiating
The Colombian peace agreement, reached late last year between the Colombian government and the Revolutionary Armed Forces of Colombia (FARC), ended the longest armed conflict in the Western Hemisphere.
"In Colombia … we've seen women organize, agitate and negotiate to help bring to a close to more than 50 years of bloodshed," Clinton said, "while conflict raged and efforts to stop the violence failed, women not only took their places at the table, they opened up the peace process to women across Colombia and urged over and over again that all parties not walk away until they reached an agreement."
Clinton presented awards to Humberto De la Calle, lead negotiator for the Colombian government and former vice president of Colombia; Maria Paulina Riveros, a high-ranking member of the Colombian negotiating team and co-chair of the Gender Sub-Commission and deputy attorney general of Colombia; Elena Ambrosi, thematic director of the Office of the High Commissioner for Peace and a key member of the Colombian government's negotiating team in Havana; and Jineth Bedoya, a journalist and advocate for victims of sexual violence.
After the former secretary of state's introductory remarks, Melanne Verveer, executive director of the institute, moderated a panel discussion with the awardees.
Verveer was chief of staff to Clinton when she was first lady and the first United States Ambassador-at-Large for Global Women's Issues.
Gender Approach
"The Colombian peace agreement without any doubt progresses women's rights, but even more importantly, it guarantees a gender approach in peacemaking and peace-building," De la Calle said after Verveer asked the panel what they were most proud of.
He thanked the women of the government's delegation, including Riveros, Ambrosi and other women in the negotiations for their "tireless enthusiasm and leadership and perseverance" during the most difficult moments of the peace process.
'Raise Our Voices'
Through an interpreter, the female awardees also talked about such violence, which was personal for one of them.
Bedoya, whom Verveer noted had been kidnapped, raped and tortured in the course of her career as a journalist, warned that rulers around the world should not "forget that sexual violence against women is a crime and women in many corners of the world are ready to raise our voices and fight for our rights."
Riveros noted that during the conflict women were victims but were also advisors, professionals, mothers and family members.
"My greatest pride has to do with the fact that today we can show women in Colombia and around the world this example of the establishing of a framework that allows women to [participate] in all of those roles," she said.
International Support
After Verveer asked the group what the international community could do to help Colombia implement the peace agreement, both Bedoya and Ambrosi suggested supporting the country's social organizations and projects.
"What we truly have to support is the projects that are being implemented in the regions that will really make a difference in the peace process," Bedoya said. "That is where the future of Colombia lies – it's spending more in social projects so that we can give a new face to our country… that is the best support we can get from the international community."
Ambrosi said she believes the agreement has a "robust mechanism for implementation and follow up where the international community has a very important role to play."
Women, Peace and Security
The Hillary Rodham Clinton Awards are bestowed annually by GIWPS for exceptional leadership in recognizing the important role of women in creating a more peaceful and secure world.
Last year, the award was presented to Zainab Bangura, special representative to the United Nations secretary general for sexual violence in conflict, for her commitment to eradicating sexual violence.
Past recipients also include U.N. Special Envoy Staffan de Mistura; Philippines chief negotiator Miriam Coronel Ferrer; British Foreign Secretary William Hague; Congolese humanitarian Dr. Denis Mukwege; NATO Secretary General Anders Fogh Rasmussen and Guatemalan Attorney General Claudia Paz y Paz.