Former Secretary of State Hillary Rodham Clinton speaks at Georgetown and presents awards bestowed by the Georgetown Institute for Women, Peace and Security to a former ISIS captive-turned-activist and a Rohingya activist and former political prisoner.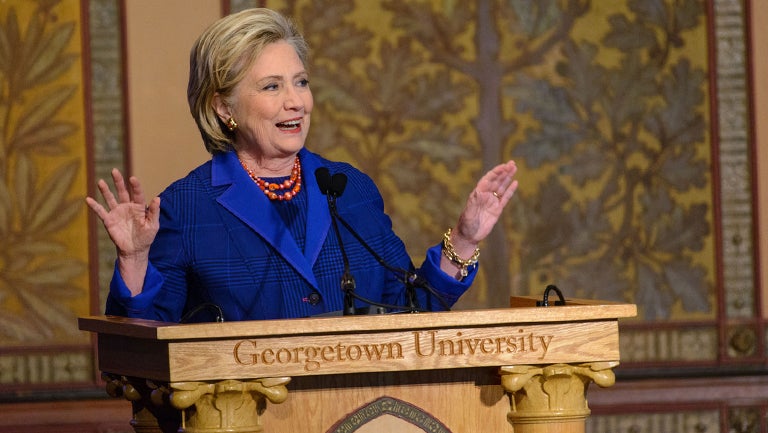 – Peace and security for women around the world has improved in the past 25 years, but may be at an "inflection point," former U.S. Secretary of State Hillary Rodham Clinton said today at Georgetown.
"I would say it's gotten better," she said, "but we're at an inflection point where I fear it could begin to deteriorate and get worse again."
"I think we're at this point where there's a premium on top-down authority, where there seems to be a global turning away from international organizations, from the rule of law, and the United States is not playing the role that historically we have played," she explained.
Rohingya and Yazidi Activists
The former presidential candidate was on campus today for the Hillary Rodham Clinton Awards for Advancing Women in Peace and Security ceremony, hosted annually by the Georgetown Institute for Women, Peace and Security (GIWPS).
In partnership with the Peace Research Institute of Oslo, GIWPS recently created a Women, Peace and Security Index that draws on recognized international data sources to rank 153 countries on women's wellbeing.
Clinton, honorary founding chair of GIWPS, presented awards to two young women Nadia Murad, a Yazidi human rights activist from Iraq who was abducted by ISIS; and Wai Wai Nu, a Rohingya human rights activist and former Burmese political prisoner.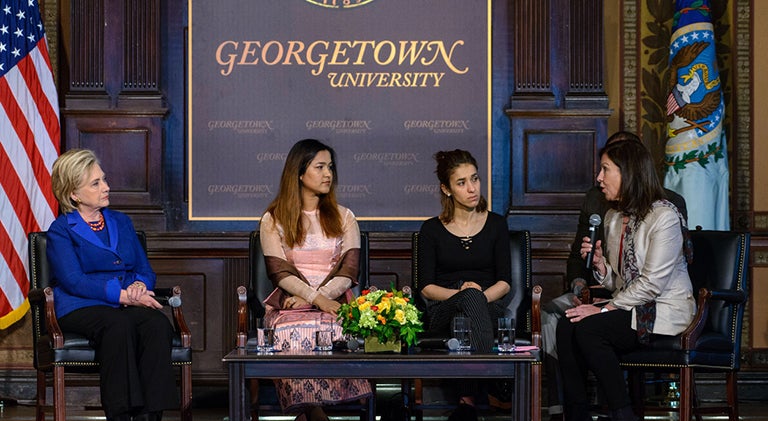 Former Secretary of State Hillary Rodham Clinton, left, listens as BBC chief international correspondent Lyse Doucet, far right, asks questions during a panel discussion with Rohingya human rights activist Wai Wai Nu, second from left, and Yazidi human rights activist Nadia Murad.
Sustained Commitment
Despite a possible trend away from progress, Clinton brought a message of hope to the audience of Georgetown community members, diplomats and media.
"Do not grow weary," explained Clinton, who launched the U.S. National Action Plan on Women, Peace and Security at Georgetown in 2011. "Bring a sustained commitment, think of these honorees. Don't get discouraged. Draw hope and inspiration from each of them and leave here today with a renewed commitment to making your own mark on the world. I know that's what we need more than ever."
BBC chief international correspondent Lyse Doucet also received a special Global Trailblazer Award from Clinton at the event for her courageous reporting on war and efforts to spotlight the impact of conflict on women and children.
The reporter moderated a conversation with Clinton and the activists following the keynote speech.
Synergy Against Evil
Murad, recently appointed United Nations' Goodwill Ambassador for the Dignity of Survivors of Human Trafficking, was only 19 when terrorists abducted her from her village in Northern Iraq.
Through a translator she noted that in the past three-and-a-half years ISIS has killed more than 5,000 people and abducted nearly 7,000 women and female children.
When asked what she has found most effective in fighting for justice, she said, "synergy – uniting the efforts of all the members of a community against the force of evil is what is challenging and what has been very effective. In telling the terrorist organizations that we are united against you."
Murad also has worked with lawyer and activist Amal Clooney to hold terrorists accountable for their crimes.
Bringing Equality and Justice
Reading another question from a student, Doucet asked how Nu, who also was in her teens when she was imprisoned, was able to maintain hope in the fight for human rights.
After two years of her seven-year prison sentence, she was allowed to read books and read about the struggles of Rev. Martin Luther King Jr. and Nelson Mandela, among others, and that gave her hope.
"When you are born a minority, your life is not easy," she said. "Even then, I know that we have to survive, and we have to be able to bring equality, peace and justice for those people … that has been done in the past by our leaders, and I believe today if we try, one day in our next generations we will really bring justice for those people."
Not Shutting Up
GIWPS, led by former U.S. Ambassador-at-Large for Global Women's Issues Melanne Verveer, examines and highlights the roles and experiences of women in peace and security efforts worldwide through cutting-edge research, global convening and strategic partnerships.
"Advancing the rights and opportunities and full participation of women and girls is the great unfinished business of the 21st century," Clinton said during today's event. "… We are not going back and women's voices are not shutting up."