Title:

Goldwater Scholarship Winner Says Scientific Research is His Calling
Date Published:
June 11, 2018
A Georgetown student who conducts research that could one day improve the design of biocompatible devices and implants receives a Barry Goldwater Scholarship.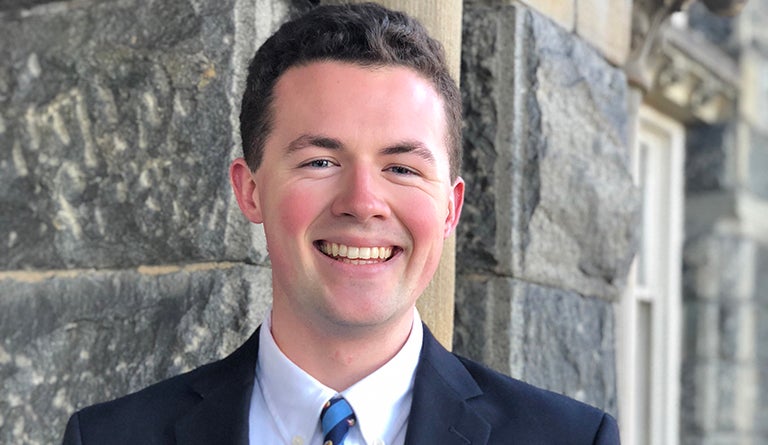 June 12, 2018 – A Georgetown student who conducts research that could one day improve the design of biocompatible devices and implants has been awarded a Barry Goldwater Scholarship.
Biochemistry major Patrick Mulcahey (C'19) of Newtown, Pennsylvania, is a recipient of the prestigious national scholarship, which awards students who excel in mathematics, engineering and the natural sciences.
Mulcahey says getting the award solidified his long-term goals.
Physician-Scientist Path
"There have been points in my time doing research when nothing seems to work, regardless of how many hours I worked or thought about my project," Mulcahey said. "Sometimes these difficulties made me question whether a life of research was for me … An award like the Goldwater Scholarship is an incredible reminder that scientific research is indeed my calling and that I'm on the right path to becoming a physician-scientist."
A native of Newtown, Pennslyvania, Mulcahey began researching alongside chemistry professor Jong-in Hahm his first semester at Georgetown. Mulcahey embarked upon his own research project – investigating the properties of zinc oxide nanomaterials – by his sophomore year.
Nano-Biology Interface
As part of his work in Hahm's lab, Mulcahey assisted in biotechnology research that led to publications in ACS Nano and Nanoscale. Theresearch published in these scholarly journals could inform biomedical engineers and other medical professionals in designing biocompatible devices and implants.
"I am fascinated by the nano-bio interface — where the engineered technologies we make in our laboratories meet the intricacies of living systems," Mulcahey said. "The problem of incorporating nanotechnology into living systems touches fields from brain mapping to cancer drug delivery to integrated bioelectronics."
The Georgetown junior also has conducted research into sea lamprey neural regeneration at Temple University's Lewis Katz School of Medicine, and this summer is interning at the Singh Center for Nanotechnology at the University of Pennsylvania.
Mulcahey hopes to pursue a combination M.D./Ph.D. program after he graduates next year, and believes his focus on nanomaterials in biotechnology will lead him to work in some of medicine's most exciting and unexplored frontiers.
"I am most excited about the specific issues – perhaps questions we haven't even thought to ask yet – that my scientific career will lead me to consider and to try to understand," Mulcahey said.
Honorable Mentions
The Goldwater Foundation also recognized Jane Donnelly (C'19) and Matthew Park (C'19) with honorable mentions.
Donnelly (C'19), a biochemistry major and French minor from Davidsonville, Maryland, has conducted research in the lab of Timothy Warren, Georgetown's Richard D. Vorisek Professor of Chemistry, on the conversion of nitrite to nitric oxide in biologically important copper-center enzymes.
She also hopes to pursue a combination M.D./Ph.D. program after graduation, and will continue studying bioinorganic chemistry, especially its application to neurodegenerative illness.
Matthew Park (C'19), a biological physics major with minors in biology and STIA (science, technology and international affairs), is researching cancer immunology in the lab of Anton Wellstein at the Georgetown's Lombardi Comprehensive Cancer Center.
Park, of Centerville, Virginia, has investigated applications of plant hormones to pancreatic cancer treatment alongside Ronit Yarden, an assistant professor at the School of Nursing & Health Studies.
After graduation, Park will attend the Icahn School of Medicine at Mount Sinai, where he received early admission in 2017. He hopes to develop a better understanding of the relationship between genetic abnormalities and cancer and to continue researching immunotherapeutic cancer treatments.
This is the third time in recent years that a Georgetown College student has received the scholarship. Ayan Mandal (C'18) won in 2017and Sarah Waye (C'15) received the award in 2014.