The center, which will focus on education and training, launched in November following months of planning.  
"We're excited for our vision to come to fruition and to create an education and training center that is focused on distinguishing Georgetown graduates as dedicated to lifelong community service and advancing health equity," said Dr. Michelle Roett (M'03), founding director of the Center for Health Equity and co-chair of the center's advisory committee.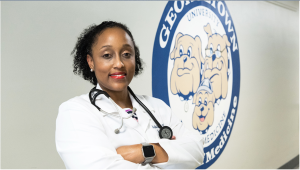 The Center for Health Equity will engage students, faculty and staff from across the university and MedStar Health to address health equity through experiential learning opportunities — including with local organizations to give students hands-on training — and education on topics ranging from policy and advocacy to cultural humility. Its leaders are currently developing curriculum for the university-wide center, which is housed within the Georgetown University Medical Center (GUMC). 
"Population health, particularly focused on reducing health disparities and achieving health equity, is one of the four principal priorities for the medical center, so this work is in complete alignment with the domains of work we have selected as our priority areas," said Dr. Edward B. Healton, executive vice president for health sciences. "It is appropriate for this work to be housed at the medical center, but it will take contributions from disciplines across the university to realize our collective goal of reducing health disparities. 
Addressing a Disconnect
The Center for Health Equity was developed to help students pursue their interest in advancing health equity after graduation and throughout their careers. Many students hope to enter this field, Roett says, but often find barriers in pursuing the career long-term, from financial obstacles to challenges incorporating health equity into their chosen profession. 
"Students graduate and tell us that they've had great experiences in community health, health disparities, cultural awareness and humility and preparation to care for patients from different backgrounds," said Roett, professor and chair of the Department of Family Medicine. "Despite that preparation, our School of Medicine graduates are amongst the least likely to plan to care for the underserved, to work in underserved areas or to engage in work addressing health disparities as their career choice, which is quite striking."
To reduce barriers to entry and help prepare more students to enter this field, the Center will offer longitudinal programming in community health and health equity, scholarships and mentorship programs, Roett said. 
Inspired by Community-Based Work
Roett drew inspiration for the Center for Health Equity in part from her work as director of the DC Area Health Education Centers (AHEC) program at GUMC, which she established in 2017. Part of the Department of Family Medicine, DC AHEC aims to recruit, train and retain health care professionals dedicated to serving underserved populations. The program provides clinical and community-based experiences in underserved settings and experiential learning on social determinants of health, cultural humility, integrated behavioral health and interprofessional learning — all key focus areas for the Center for Health Equity.
Roett said in the process of reenvisioning AHEC's future, she realized the need for a cross-discipline approach to health equity at Georgetown.
"We used our AHEC renewal process to reenvision what we would be working on, from primary care to an overarching goal of advancing health equity," she said. "We realized that beyond the scope of primary care, advancing health equity involved multiple disciplines and needed to be a much broader scope. And that's where the vision for the center came about.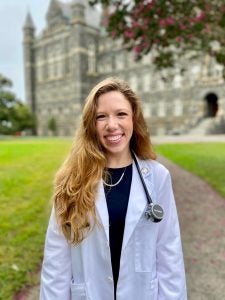 The Center for Health Equity will provide a long-term home for many of the pilot projects that launched through AHEC, including the Primary Care Leadership Track and the Primary Care Mentorship Program.
Lauren Havens (M'24), an AHEC scholar, is participating in the Primary Care Leadership track and conducting research with Roett to develop a health screening tool on the social conditions that impact health. She was drawn to Georgetown's School of Medicine to learn about the intersections between medicine, community health and health policy. When she met Roett, Havens knew that going to Georgetown would give her those learning experiences.  
"She's one of the reasons why I decided to come to Georgetown, because I saw all of the great work she was doing in community medicine, and tying that to health policy," Havens said. "The work that she was doing with family medicine was inspiring."
She recently joined Roett in giving a presentation to Georgetown's board of directors about the center. Havens underscored the Center for Health Equity's importance in promoting collaboration on health equity across the university.
"The Center for Health Equity is so crucial because there are many people doing this work but so often, we end up in siloes," she said. "The Center for Health Equity will help people pool their resources so we can create sustainable change in the Georgetown community and the D.C. community as a whole." 
Working Across the University and Beyond
In addition to the medical center, the Center for Health Equity aims to engage students, faculty and staff from across the university; residents, staff and faculty at MedStar Health; and the D.C. community in training the next generation of health professionals to advance health equity. 
"We view this as important for learners across the medical center and across other domains of the university," Healton said. "We envision a future cohort of graduates from GUMC and across the university as leaders and exemplars of these goals."
The Center also reflects Georgetown's commitment to advancing health equity both in Washington, DC, and the communities where its alumni work and serve. 
"Our community is deeply engaged in addressing the challenge of health disparities and promoting health equity," said John J. DeGioia, president of Georgetown University. "The Center for Health Equity strengthens our commitment to health and provides our students with new opportunities for learning, engagement, and impact. I am grateful to the faculty, staff and students whose dedication to promoting health and serving others made this new center possible."
Georgetown has recently partnered with Howard University to establish a center that focuses on reducing health disparities in D.C. through the medical humanities – an interdisciplinary field that recenters health in its broader social, cultural and historical context. The Center for Medical Humanities and Health Justice, which just received a $3 million grant, will apply a medical humanities approach to address key health impact areas, health disparities related to race/ethnicity and income, and better health equity in DC.
In 2021, Derek Griffith, a professor of health management and policy at Georgetown's School of Health, created the Center for Men's Equity to study the social and cultural factors that impact men's health and help them live healthier lives. Griffith, a co-founder of the Racial Justice Institute, works with groups such as the World Health Organization, The Lancet Commission on Gender and Global Health and Global Action on Men's Health, to promote health equity.
And Georgetown's new Global Health Institute, established in 2022, applies research, teaching and service to develop concrete solutions for the health and care of global populations, with a focus on the issues of equity and development.  
Havens reinforced the need for interdisciplinary collaboration to create broadscale change.
"One thing that I think is special about the Center for Health Equity is that we're working across the schools," Havens added. "Students, faculty and staff are invited to participate, and everyone's ideas are valuable. I think that's really important to create change at this level." 
Kat Zambon
GUMC Communications