Title:

Georgetown University to Research Mobile Money Innovations in East Africa
Date Published:
February 12, 2016
Georgetown will expand its presence in East Africa to include research on mobile money and financial inclusion in Kenya and Uganda with a $3.5 million, two-year grant from the Bill & Melinda Gates Foundation.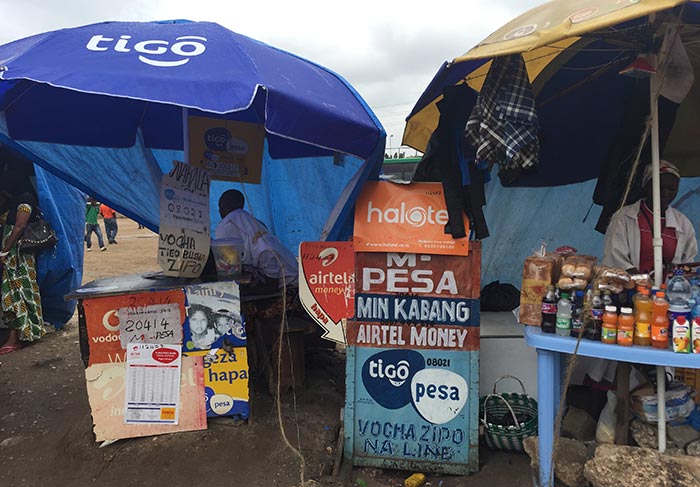 Georgetown University will expand its presence in East Africa to include research on mobile money and financial inclusion in Kenya and Uganda with a $3.5 million, two-year grant from the Bill & Melinda Gates Foundation.
The project, created by the Georgetown University Initiative on Innovation, Development and Evaluation (gui2de), will bring together mobile operators, financial institutions, IT developers and academics to develop and assess the social and economic impact of mobile money innovations.
The initiative is jointly convened by the economics department and the McCourt School of Public Policy and co-directed by Georgetown faculty members Billy Jack and James Habyarimana.
Expanding Access
Millions of Kenyans use their phones to access basic financial services such as storing and sending money across the country and around the world, and to purchase goods and services using M-PESA, a mobile money platform launched in 2007.
"Similar services are growing across the developing world, including in Uganda," said Jack, a Georgetown economics professor, and the grant's principal investigator. "Mobile money has revolutionized the financial services landscape in Kenya, but further progress can be made to expand access to and adoption by marginalized segments of the population, including women, rural residents and the poor."
The research funded by the foundation will explore innovations on the mobile platform, and the impacts these could have on the lives and livelihoods of East Africans, particularly those living in the bottom half of the income distribution.
"We're excited to be able to conduct this kind of research, which couples innovation on the one hand and impact evaluation on the other – both of which are central to gui2de'sapproach to development," Jack said. "Of course, we couldn't do this without the generous support of the Gates Foundation and other funders."
East Africa Office
In addition to Jack, Georgetown professors John Rust, an economist, and Mark Maloof, a computer scientist, join Tavneet Suri from the MIT Sloan School of Management as the co-principal investigators for the grant.
The project will operate in part out of gui2de-East Africa, Georgetown 's new office in Nairobi. The office will serve as a hub for the new mobile money research, along with an ongoing road safety research project called Zusha!, supported by a $3 million grant from Development Innovation Ventures at the United States Agency for International Development's (USAID) U.S. Global Development Lab.
USAID is leading the U.S. Government's efforts to end extreme poverty and promote resilient, democratic societies.
'Perfect' Place
"Nairobi is the perfect place to establish our digital and financial inclusion research hub," Jack explained. "Kenya is a pioneer in the mobile financial services space, and Uganda provides us with the opportunity to get in at a relatively earlier stage of development."
While the primary purpose of the Nairobi office is to facilitate the work funded by USAID and the Gates Foundation, as gui2de's research portfolio in the region expands, it will serve as the basis for broader faculty and student engagement in East Africa.
Student Research
The gui2de projects provide unprecedented opportunities for Georgetown students to travel abroad and conduct research in development. In the last four years, undergraduate and graduate students have served as summer interns in Kenya, Uganda, Tanzania, Rwandaand India.
"Providing a chance to work in the field, especially in international development, is a critical complement to classroom learning," said Habyarimana, McCourt School associate professor and co-director of gui2de. "One of our goals at gui2de is to provide such on-the-ground experiential learning opportunities to students, and to have them actively participate in the all aspects of the research."
The initiative expects to support up to eight summer internships for Georgetown students in 2016.