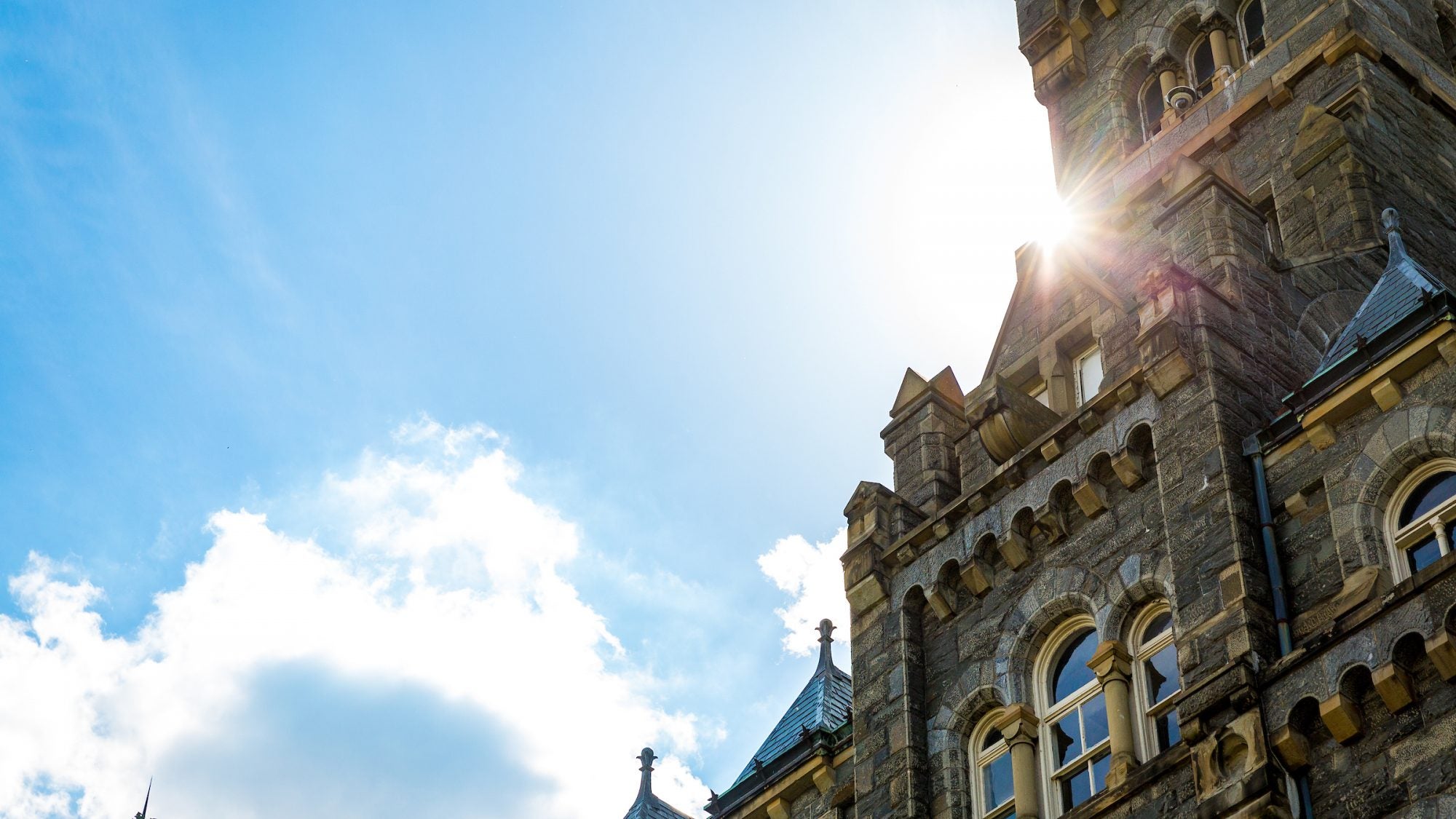 Title:

Georgetown Submits Title IX Comments to U.S. Department of Education, Prepares Climate Survey
Date Published:
January 31, 2019
Georgetown submits a formal comment to the U.S. Department of Education regarding Title IX regulations and encourages student participation in upcoming climate survey on sexual misconduct.
Georgetown submitted a formal comment to the U.S. Department of Education this week, regarding the Department's proposed regulations under Title IX of the Education Amendments of 1972.
Last fall, the Department of Education issued proposed regulations regarding the duties of colleges and universities to address sexual misconduct under the federal nondiscrimination law known as "Title IX."
The university's comment urges the department to adopt regulations that will encourage reporting and accountability, promote safety and access to resources and ensure equitable and fair grievance procedures in cases involving sexual misconduct.
Engaging in Dialogue
The Department of Education issued the regulations through notice-and-comment rulemaking, allowing institutions and individuals to respond to the proposal during a 60-day comment period.
Upon release of the proposed regulations, Georgetown conducted 12listening sessions with students, faculty, and staff across our undergraduate and graduate campusesand heard from more than 370 members of our community.
Senior members of the administration also took questions and heard from undergraduate students in a town hall focused on the university's next steps regarding the proposed regulations.
Guided by Core Values
Guided by the university's core Jesuit values and informed by the input received at the listening sessions, Georgetown's comment emphasizes the importance of regulations that promote accountability, encourage reporting and allow institutions to address the broad range of sexual misconduct that impacts their communities. The comment also voices the university's strong support for fair, just and supportive grievance processes for all parties involved in sexual misconduct cases.
Against that backdrop, the comment notes the university's concern that, in many respects, the proposed regulations do not succeed in promoting these goals and create an overly legalistic process that will unnecessarily deter reporting, lead to less accountabilityand result in grievance processes and outcomes that are less fair and equitable for the students involved.
In a message to the community, Rosemary Kilkenny, vice president for institutional diversity and equity, and Todd Olson, vice president for student affairs, said community feedback and the university's Jesuit values shaped and informed "a comment that we believe best represents and advances Georgetown's commitment to eradicating all forms of sexual misconduct and creating a campus community that is safe and respectful for everyone."
As the department determines final guidance, Georgetown will continue to review and consider the implications of the regulations for the university's policies and procedures.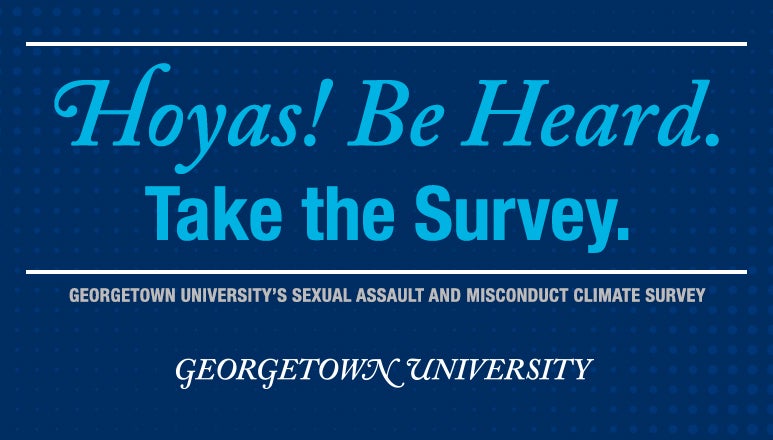 University-Wide Survey
Beginning this Friday, Georgetown students have another opportunity to provide insight on the nature, prevalence and prevention of campus sexual assault and misconduct.
From Feb. 1 through March 1, Georgetown will conduct its second Sexual Assault and Misconduct Climate Survey, allowing the university to examine the prevalence and incidence of sexual assault, attitudes among students about the campus climate regarding sexual assault and knowledge of university resources.
Eligible students will receive emails with personalized links and incentives from Westat (2019campusclimatesurvey@westat.com), a social science firm administering the survey for Georgetown.
"I wish to express my gratitude to all of our students who will participate in this important survey this month, and all those across our community who will help encourage students to participate," said President John J. DeGioia.
High Participation
Georgetown students had one of the highest participation rates in the country during its first comprehensive climate survey in 2016, with more than 7,900 students submitting responses and response rates of 51 percent for all survey participants and 62 percent for undergraduate students.
The average participation rate among the 27 colleges and universities who administered the same survey in2015 was 19 percent.
Georgetown is one of 32 schools participating in the American Association of Universities (AAU) 2019 survey, which will provide insight into national trends.
Following the completion of the 2019 survey, the university will be able to compare data with peer institutions and with its 2016 data. Data from this year also will help the university assess the impact of recommendations and new programming implemented since the last survey.
Ongoing Work
Since the first Georgetown survey's findings were released, a task force of 70 faculty, staff and students worked in 2016-2017 to make recommendations to address sexual misconduct within our community.
The Sexual Assault and Misconduct Advisory Committee (SAMAC) is supporting the university's efforts towards implementation of these recommendations, with a focus on advancing education and prevention, enhancing support for survivors and improving prompt and equitable response processes.
Along with the work of SAMAC, the university has continued to implement other improvements to help support the community. Georgetown now requires all first-year undergraduate to complete online sexual misconduct training before arriving on campus.
In 2016, the university introduced bystander intervention education training for student leaders. Since then, mandatory bystander education has expanded to include all incoming and transfer students, and more than 4,343 students have completed the 4.5 hour in-person Bringing in the Bystander training.
In response to student feedback, the university also now offers an online resource portal with comprehensive information on all of the resources available, including where to get help, where to report and who to contact for immediate assistance, as well as an online form for students, faculty and staff to report incidents of sexual misconduct.
In addition to standard training for all officers around responding to sexual assault and misconduct, the Georgetown University Police Deparment continues to expand its specialized Sexual Assault Response Team (SART), comprised of officers who have received enhanced training in responding to reports of sexual assault with professionalism and compassion.
As the team continues to grow, GUPD strives to have at least one SART officer serving on every shift to provide 24/7 availability.