Title:

Georgetown Students Test Their Own Genomes, Face Bioethics Issues
Date Published:
February 4, 2015
Students in Georgetown's Introduction to Bioethics course analyzed and confronted issues when presented with a choice to undergo genomic sequencing using a genetic testing kit.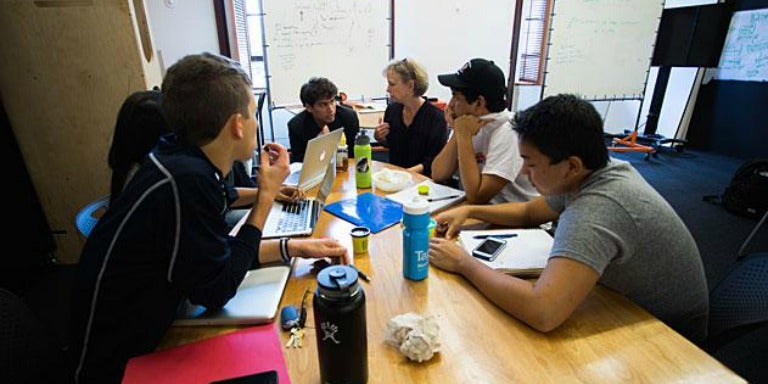 Students confronted bioethics issues firsthand in a Georgetown Introduction to Bioethics course in which they had the choice to sequence their genome for free using a popular genetic testing kit.
If they chose to take the test, they would have access to information about their ancestral roots, as well as access to raw data that could be analyzed to glean health or medical information.
The results were presented yesterday at the Georgetown Kennedy Institute of Ethics' annual Conversations in Bioethics.
Facing the Choice
"I knew that I didn't want to open the Pandora's Box that was my medical information," says Rachel Habib (C'17).
When an earlier, physician-administered genetic test served up information she found more worrisome than comforting, she learned the hard way that knowledge isn't always power.
Many classmates shared her perspective.
"I am not at a place in my life where I necessarily want to be making life choices based on probabilities of developing some terminal illness or otherwise unpleasant life circumstance," said one, who chose to remain anonymous. "I just want to live my life."
Others were more concerned about what information about their ancestry might mean.
Questioning Heritage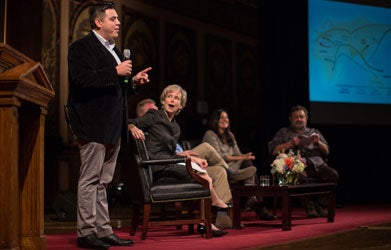 Introduction to Bioethics student Jesse Flores (C'16) presents his genetic testing results and reflections during the Kennedy Institute of Ethics' annual Conversations in Bioethics forum Feb. 3 in Gaston Hall.
Jesse Flores (C'16), took the test and was surprised to learn that what he'd always believed to be a uniform Hispanic heritage was anything but. His genomics showed a large presence of Southern European traits.
"I'm still unsure how to respond to people [who] ask about my background," he says, "but I have begun experimenting with explaining [my genetic testing experience] to them as a way of communicating my uncertainty."
Some students took the test and were surprised to be offered an opportunity to connect with "genetic matches" who were also in the system – cousins, and even half-siblings.
When an unknown cousin reached out to Taylor Tobin (C'17) after she completed the test, she was flummoxed.
"I didn't know what to do," she says, "but the articles we had read [for class] started to feel way more real."
Making Bioethics Concrete
Making abstract issues "way more real" is, of course, what the genetic testing project was all about.
The class, co-taught by Maggie Little, associate professor of philosophyand director of Georgetown'sKennedy Institute of Ethics,and designer Arjun Dhillon, involved a studio-based model of learning that aims to foster creativity, experimentation, risk-taking and an authentic engagement with key issues in bioethics.
"In bioethics, as in any area of ethics engaged with the real world, theory must eventually translate into action," says Little. "We helped our students wrestle with abstract ethical issues around privacy, race and ethnic identity, and medical decision-making – in the context of making a very real, very personal choice."
In the end, of the 20 students enrolled in the class, 18 chose to sequence their genomes.
Life-Changing Experience
Bioethics wasn't a class, EthicsLab wasn't a classroom – it was a life-changing, defining experience."
—Nandini Mullaji (SFS'17), Introduction to Bioethics Student
"Bioethics was without a doubt the greatest class I have taken at Georgetown," says Nandini Mullaji (SFS'17). "I found myself collaborating with students across the four schools, embracing uncertainty, ambiguity and shades of grey, and actually applying classroom knowledge and skills to the real world."
Emily Carbone (NHS'17) says the studio setting helped her learn "new ways to think and also develop my ideas that I don't think I could learn in many other classes."
"In 15 weeks, I didn't just learn about bioethics and philosophical dilemmas, I learned so much about myself and the real business of living," Mullaji adds. "Bioethics wasn't a class, EthicsLab wasn't a classroom – it was a life-changing, defining experience."