"I was like, 'what?!' she says.
She read the fine print. She and four Georgetown students had been invited to a conversation with Pope Francis. They had three weeks to prepare. Ruiz kept the invitation under wraps for a week before telling her roommates: "I think I get to meet the Pope."
On February 24, Ruiz and Eric Bazail-Eimil (SFS'23) joined Pope Francis and 56 university students for a livestreamed dialogue about migration, displacement and concrete ways to connect cultures in South, Central and North America. The event, organized by Loyola University Chicago, was part of the Synod of Bishops in the Catholic Church's two-year consulting process with Catholics and non-Catholics to listen and reflect on their feedback. Students from 21 countries participated and collaborated in student working groups leading up to the event, including Hoyas AJ DeGrado (B'23), Channing Lee (SFS'23) and Madeline Pfister (B'23).

For Ruiz, the event was surreal: "To have that heart-to-heart encounter with Pope Francis was life-changing," she says.
For Bazail-Eimil, who became a Catholic last year through Georgetown's Catholic Ministry, the event was humbling. "Walking out of that meeting, wow," he says. "It just confirmed I had made the right choice converting to Catholicism."
The Golden Ticket Invitation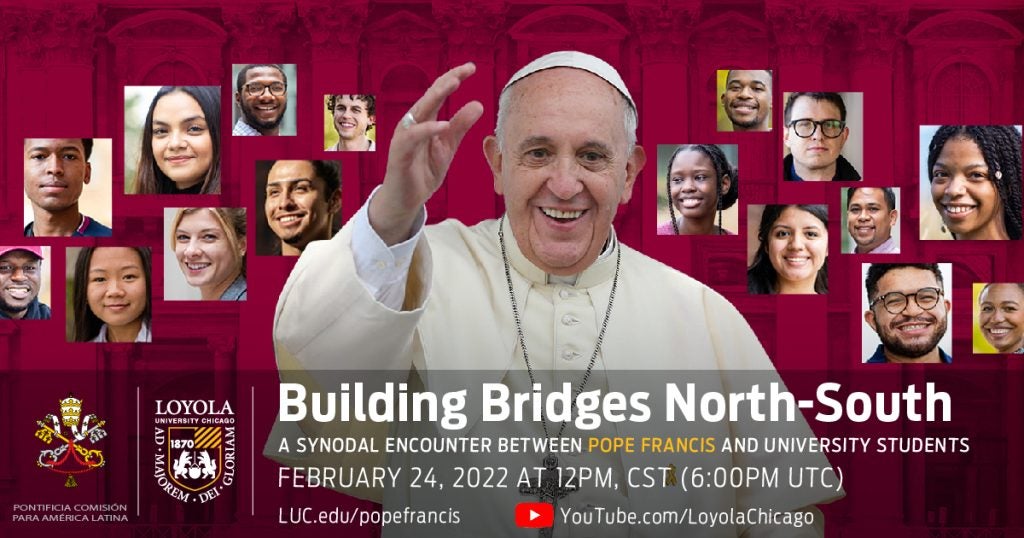 Prior to the event, the five Georgetown students met with fellow undergraduates from Jesuit universities in the U.S. and Canada to pool their ideas on addressing migration. Ruiz and Bazail-Eimil were voted by their peers to present their findings to Pope Francis, along with a student from a peer group in Latin America.
"I was so excited to hear that of the many students around the region engaged in deep conversation about synodality and the future of the Church, our Hoyas, Ana and Eric, were chosen by their peers to represent them," says Fr. Mark Bosco, S.J., vice president of Mission & Ministry. "What an extraordinary moment they had with Pope Francis. I was consoled to see that Georgetown's Catholic and Jesuit heritage is alive and well in the hearts and minds of students today."
When Pope Francis Joins Your Zoom Call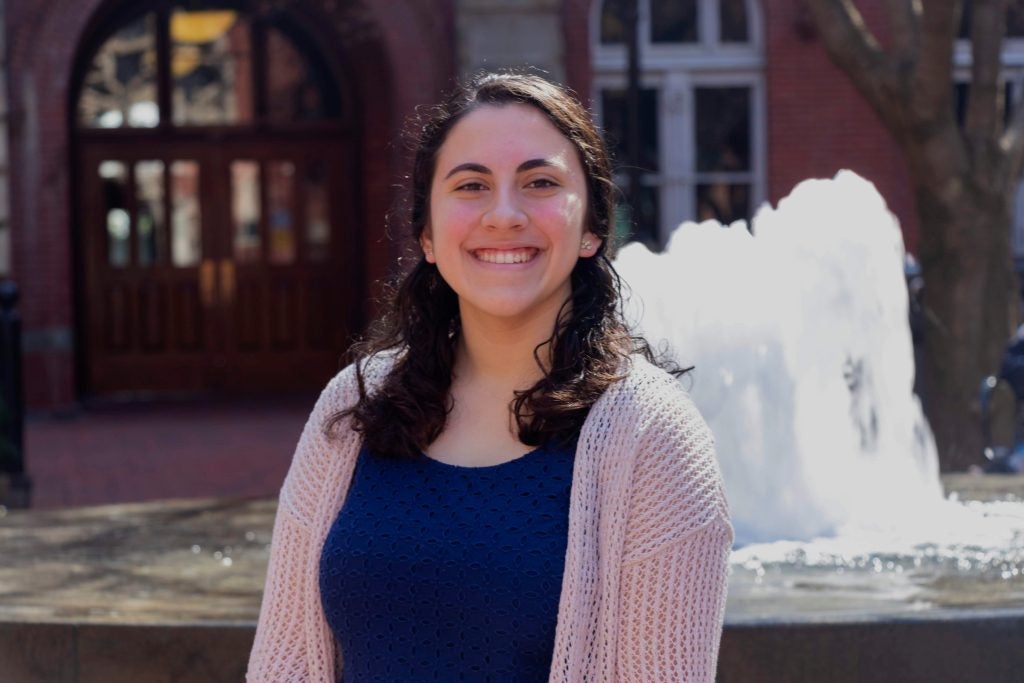 The day of the event, Ruiz was nervous. She took out her prayer cards — St. Ignatius, St. Michael — a crucifix, a rosary and a picture of Mary, and spread them around her laptop. She watched Pope Francis's name pop up on Zoom. "I was so in the moment," she says, "and was like, everything is going to be fine. I was so excited."
Bazail-Eimil had landed in London hours earlier for a Model United Nations conference. He was jetlagged and worried that his Airbnb's Wi-Fi wouldn't work. But from his debate experience, he felt confident in his speech and presented first.
Dialoguing With Pope Francis
Bazail-Eimil shared his group's call to the Catholic Church to respond concretely to the needs of migrants and refugees.
"We observe that the inhumane conditions of migration today demand concrete responses," he said during the Zoom event. "Too many Christians, including pastors and bishops, seem unable to connect our tradition's long histories of hospitality to the contemporary realities of migrants and refugees arriving in our communities in search of safety, opportunity and the full life God desires for all creation."
He proposed creating a language database that would offer language instruction and pastoral resources for migrants and refugees.
Ruiz echoed her student group's desire for listening sessions between lay people and pastors and bishops.
"We see around us that many of our pastors are not close to their flocks," she said at the event. "How do we promote participation and friendship between all members of our societies? How do we support concrete local initiatives while building bridges of solidarity between different cultural and linguistic contexts? What advice do you have for us to work together as a Church in our context?"
Pope Francis responded to the group's answers, referencing Bazail-Eimil and Ruiz's responses, and sharing that students are called to leave the world in a better state than they entered it and that pastors are called to be close to their parishioners.
'It May Sound Cheesy, But'
Ruiz left the conversation with Pope Francis filled with hope.
"It was very much a personal encounter, and it was otherworldly," she says. "It may sound cheesy, but it gave me so much hope and joy in my faith, in the state of the world, in the state of the Church. There was so much wisdom in what he said. I know I will draw on this wisdom forever."
Ruiz also felt reaffirmed that dialogue, including with those in her student group who had different perspectives, works — and she intends to foster intercultural dialogue in her future career.
Ruiz grew up attending Spanish mass in a Mexican American community in a small town in Wisconsin. Born in Mexico, she moved to the U.S. when she was seven. At Georgetown, she gained a new understanding of Catholicism through an American lens and of "stepping into other people's shoes." Her dream is to deepen cultural dialogue within the Church, whether working internationally or on a local, grassroots level.