Title:

Georgetown Receives $10 Million for Forensic Research on the Holocaust
Date Published:
February 24, 2016
Georgetown announces a $10 million gift that will endow a program on the forensic study of the Holocaust at its new Center for Jewish Civilization.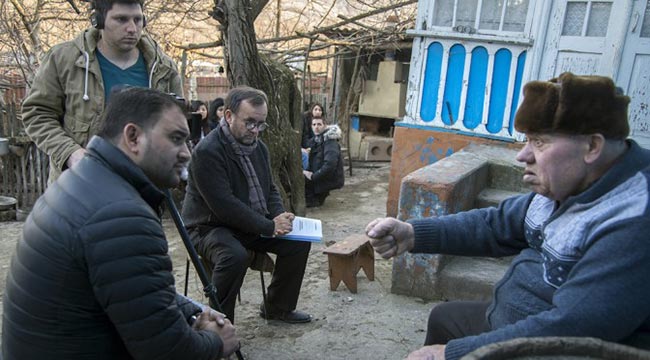 – Georgetown today announced a $10 million gift that will endow a program on the forensic study of the Holocaust at its Center for Jewish Civilization, located in the School of Foreign Service.
The gift comes from businessman and philanthropist Norman Braman of Miami and his wife, Irma. Mr. and Mrs. Braman made the gift to establish a permanent and ongoing capacity to study and teach the Holocaust in all its dimensions – its causes and consequences, its role in the establishment of the state of Israel, and its continuing impact on modern Judaism which has been impacted by a rise in acts of anti-Semitism and questions of Israel's legitimacy. The gift will fund an endowed professorship in the forensic study of the Holocaust as well as related research, teaching and public service programs on the Holocaust, its origins, methods and consequences.
"This gift will ensure that the study of the Holocaust remains an integral area of study and scholarship at Georgetown," said Georgetown President John J. DeGioia. "It comes at a very meaningful time, with the launch of a new, permanently endowed home at Georgetown for research and teaching on the history, culture and traditions of the Jewish people. We are deeply grateful to Norman and Irma Braman for their generosity in enabling this important work."
World-renowned historian and scholar Rev. Patrick Desbois will be the inaugural holder of the Braman Endowed Professorship of the Practice of the Forensic Study of the Holocaust. Desbois, a Roman Catholic priest from France, has pioneered the application of modern forensic research methods to the study of the Holocaust.
"We are pleased to make this gift to support Father Patrick Desbois's very important research on the Holocaust and to provide it a permanent home at a distinguished American university," said Norman Braman. "As America's oldest Catholic and Jesuit university, Georgetown was the natural location to focus Father Debois' unique research. Furthermore, the university's commitment to Catholic-Jewish relations is unambiguous, evidenced in the way ProfessorJan Karski's memory has been preserved 15 years after his death. It is evident in the establishment of the new Center for Jewish Civilization. And we see it in the work and in the teaching of Associate Director of the CJC FatherDennis McManus, whom we have come to know and whose leadership was critical in bringing our collective thinking together. All these things made us feel that Georgetown is a natural home for this gift."
Mr. Braman continued, saying "I have decided to make this gift, now, and to Georgetown, in part as a sign of my appreciation for the leadership of Pope Francis and the priority he so clearly attaches to fostering closer relations between Jews and Catholics."
Georgetown this week also announced the launch of the Center for Jewish Civilization, permanently endowed through more than $10 million in philanthropy from nearly 500 donors. The Center will continue and expand a 13-year old program dedicated to research, teaching and programming in subject areas encompassing American-Middle Eastern foreign policy as it pertains to Israel, Holocaust and genocide studies, Jewish-Catholic relations both past and present, as well as Jewish literature, cultureand religious expression. Since 2006 the Center, formerly the Program for Jewish Civilization, has been directed by Professor Jacques Berlinerblau whose scholarly research has focused on issues ranging from biblical Hebrew, to Jewish-American fiction, to contemporary African-American and Jewish-American relations.
Over more than 20 years of innovative scholarship, Desbois has combined a multidisciplinary approach historical, anthropological, psychological and legal – with ongoing interviews of eyewitnesses to explain how the Nazis planned and executed the Holocaust by bullets in Eastern Europe through their ruthlessly efficient mobile killing squads, the full death toll from which was previously significantly underreported.
The scholar is founder and principal researcher of Yahad –In Unum, an organization dedicated to locating the mass graves of Jewish people killed by the Einsatzgruppen and other killing units in the Holocaust by bullets in the former Soviet Union.
In 2013, Desbois was recruited by CJC Associate Director Rev. Dennis McManus to teach at Georgetown's Jan Karski Institute for Holocaust Education – a summer professional development program for primary and secondary school teachers that prepares them to teach the Holocaust to today's students in schools all across the U.S.
Collaborating in the undergraduate program since 2014, Desbois and McManus co-teach the Holocaust by Bullets course named for Desbois' 2008 book, which focuses on the mass executions of Jewish people and also won the National Jewish Book Award. Next month several students will travel with FatherDesbois to conduct original field research in Eastern Europe and Russia.
"Our shared goal is to support research, teaching and public programs that deepen our understanding of the many disparate factors that led to the Holocaust, how to best assure none of its remnants ever appear again," Braman said. "Father Desbois' ongoing and intensive forensic research – in the field, with new sources and at new sites – is offering fresh insight into an unimaginable crime against humanity. His work reminds us that the study of the Holocaust should never cease; there will always be more to learn. And in that there is hope that it will not be repeated."
The Braman Endowed Program Fund will support teaching, research and field study for Georgetown faculty and students. As well, it will fund the development of a new public outreach program intended to ensure that future leaders are equipped to prevent future Holocausts. An annual symposium for young journalists, early-career diplomats and public policy makers from around the world will educate them on new Holocaust-related research and emerging theories about identifying early and responding preemptively to the conditions of society that can lead to genocide. This new initiative is of particular importance to Mr. Braman and FatherDesbois, who share the belief that maintaining a sustained, living understanding of the Holocaust can help prevent similar mass violence in the future.
Desbois will train future leaders to provide material and legal evidence of these atrocities through field experience and by teaching a forensic methodology. This involves the discovery of evidence of genocide through the corroboration and expansion of written records based on videotaped oral testimonies of eyewitnesses as well as "physical proof" of the killing fields.
"The mass shootings of Jews in the ex-Soviet Union was an entire continent of crime," says Desbois. "Unfortunately, this form of genocide, 'Holocaust by Bullets,' is the model for mass killings today, thus, the lessons to be learned are practical, and the details need to be exposed for all to see and understand." He continued, "the assassins never imagined that 70 years later, men and women motivated by a quest for the truth would interview eyewitnesses to the killings of Jews. To all those who commit genocide we say: sooner or later, wherever the mass murder of humans has taken place, someone will return. Norman and Irma Braman's gift will ensure that thishappens."
"FatherDesbois brings students face to face with deep questions of morality through his teaching and his original research which is absolutely changing our understanding of the Holocaust and its history," says CJC director and professor of Jewish civilization, Jacques Berlinerblau. "It is an honor to have within our Center for Jewish Civilization a colleague who is making such a monumental contribution to the field of Holocaust studies and providing our students with an opportunity to be part of this work."
About Georgetown University and the School of Foreign Service
Established in 1789, Georgetown is the nation's oldest Catholic and Jesuit university. Drawing upon this legacy, we provide students with a world-class learning experience focused on educating the whole person through exposure to different faiths, cultures and beliefs. With our Jesuit values and location in Washington, D.C., Georgetown offers students a distinct opportunity to learn, experience and understand more about the world. Learn more at www.georgetown.edu.
Founded in 1919, the Walsh School of Foreign Service provides students with an international affairs education that combines theory and practice and instills the value of service to others. With a faculty of outstanding scholars and practitioners who are committed to teaching, learning and discovery, SFS prepares students to challenge big ideas with the experience of practice from all over the world. A truly global program, SFS covers world regions and cultures and cross-cutting international issues from the convening power of Washington, D.C.
About Norman and Irma Braman
Norman and Irma Braman are generous philanthropists and have endowed faculty chairs and funded original research in the life sciences and other fields at leading universities including Temple University, his alma mater, and the University of Florida. The Bramans have made significant gifts to support cutting-edge medical research and care at the University of Miami and Children's Hospital of Philadelphia (CHOP).
In addition, the Bramans have a long history of philanthropic leadership and service to causes benefitting Israel and preserving the memory of the Holocaust. Norman Braman was founding Chairman ofHolocaust Memorial Miami Beach. And they have long been active in and generous supporters of Yad Vashem, Israel's official national memorial to the victims of the Holocaust, and the United States Holocaust Memorial Museum. Mr. Braman said he views these as important predicates to this gift to Georgetown. After meeting FatherDesbois at a talk several years ago at their Miami synagogue, the Bramans started generously funding his work through Yahad-In Unum. Approximately a year ago, Desbois and Norman Braman began discussing a new, more significant gift, and FatherDesbois suggested that the Bramans consider this gift to Georgetown.
About The Georgetown Center For Jewish Civilization
The Georgetown Center for Jewish Civilization at Georgetown University is an interdisciplinary teaching and research unit in the Walsh School of Foreign Service at Georgetown University. The CJC specializes in subjects ranging from American-Middle Eastern foreign policy as it pertains to Israel, to Holocaust and genocide studies, to Jewish-Catholic relations both past and present, to Jewish literature, culture, and religious expression. Judaism is examined as a religion and as a civilization in dynamic dialogue with other peoples and polities.
The Center is unique in the American academic context, not only because of the issues it studies, but because of its placement in a school of international relations. This permits its many distinguished scholars and practitioners to focus on the role of religion in public and international affairs, as well as the geopolitical salience of Israel and Jews living in the Diaspora.
The interdisciplinary character of the CJC fosters a rich array of activities including scholarship, academic courses, conferences, lectures, cultural programs and participation in campus and community dialogue. Deeply committed to classroom pedagogy and the Jesuit principle of "care of the whole person," or cura personalis, the CJC offers an undergraduate certificate in Jewish Civilization through the School of Foreign Service, and a minor in the College of Arts and Sciences. Its courses and curriculum serve students of every religious and ethnic background.
Learn more.
About Father Desbois and Yahad – In Unum
FatherDesbois has devoted his life to confronting anti-Semitism and furthering Catholic-Jewish understanding as he serves as director of the Episcopal Committee for Catholic-Judeo Relations under the auspices of the French Conference of Bishops. He also advises the Cardinal-Archbishop of Paris and is an advisor to the Vatican on the Jewish religion.
Founded in 2004 by Father Patrick Desbois, Yahad – In Unum is dedicated to systematically identifying and documenting the sites of Jewish and Roma mass executions by Nazi mobile-killing units in Eastern Europe during World War II. To date, Yahad – In Unum has identified over 1,900 mass killing sites and interviewed over 4,800 local, non-Jewish eyewitnesses in Ukraine, Russia, Belarus, Moldova, Lithuania, Romania, Republic of Macedonia and Poland.
Yahad – In Unum combines the Hebrew word – Yahad meaning "together," with the Latin phrase In Unum, meaning "in one." The objective of this work is to substantiate the "Holocaust by Bullets," provide evidence, give proper respect to the victims' burial places and disseminate the universal lessons about genocide and mass killings.
Between 1941 and 1944, more than 2 million Jews were massacred when Nazi Germany invaded the Soviet Union. In a period of two and half years, the Nazis killed nearly every Jew in the region. The mass murder was part of the Holocaust, Hitler's genocide of the Jewish people. Until recently, this chapter of Holocaust history, referred to as the "Holocaust by Bullets," was relatively unknown.