As former NFL commissioner Paul Tagliabue (C'62) steps down as chair of Georgetown's board of directors to become vice-chair on July 1, he will be remembered for his inclusive and humble style of leadership.
"I've always been taken by how much time and effort he contributes to Georgetown," says fellow board member Sister Carol Keehan, D.C., president and CEO of Catholic Health Association of the United States. "He's very, very appreciative and respectful of the contributions of other people, and you just have a sense that he values any thought or concern or suggestion that is put out there, no matter who puts it out. He is, I would say, Georgetown's best ambassador."
"I think he's a leader who's caught up in the good of Georgetown, not in the aggrandizement of Paul Tagliabue," Keehan explains. "I think he really simply puts all that time and effort into it because he believes in Georgetown, not only to the young people that are there as students, but what it means to this nation."
Enduring Commitment
Tagliabue has had ties to Georgetown for nearly 60 years – from his success as a college basketball star and Rhodes scholar finalist to serving for the first time on the board of directors in 2006 and being elected chair in 2009. A generous donor, he has supported numerous programs, efforts and initiatives at the university.
During his time as chair, the university launched the McCourt School of Public Policy, created a new, state-of-the-art science center, broke ground for the Thompson Athletic Center and and launched many programs and initiatives.
"Paul's deep and enduring commitment to Georgetown has been evident in every aspect of his engagement with our university – from his and wife Chandler's transformational generosity, to his frequent presence on campus and profound engagement with university leadership, to his steadfast support of Georgetown's strategic growth," says President John J. DeGioia. "Paul's high level of engagement led to the deeper involvement of the board of directors on a variety of fronts – I know they found him to be an insightful colleague and deeply valued his counsel, as do I."
Jane Hopkins Carey, (C'79) is a fellow board of directors member and chair of the university's board of regents.
"Paul's integrity, strength of character and direct approach are hallmarks of his leadership," she says."He has a way of cutting through the details to ask just the right questions that in turn frame the issues at hand for everyone else. "At the same time he is a master of engagement, pushing each of us to contribute our ideas, to think deeply about the challenges we face as a board and to draw on our own expertise to provide thought leadership on topics in which he knows we can have impact."
Raising the Bar
Vice-chair William J. Doyle (C'72), senior advisor and former president and CEO of Potash Corporation, will become the new board chair on July 1. The board of directors approved the appointment at its June meeting.
"If I can do half as good a job as Paul did, it would be tremendous," says Doyle, who adds that Tagliabue is a relaxed, engaging and empathetic listener. "He really raised the bar in terms of what we expect Georgetown to become. We all share those aspirations, and the Georgetown community shares those aspirations."
"I'm so grateful he's staying on as vice chair," he adds, "because his wise counsel is definitely needed."
Values Shaped at Georgetown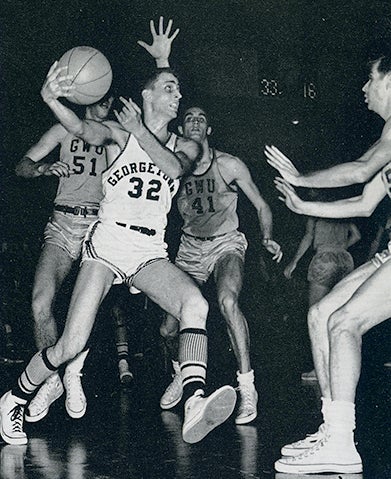 A standout at St. Michael's High School in Union City, N.J., Tagliabue came to Georgetown in 1958 from a working-class family and soon distinguished himself in the classroom and on the court.
He was president of his senior class and a member of the Jesuit Honor Society. And in the history of basketball at Georgetown, the 6'5 forward and senior-year team captain ranks in the top 10 in rebounding average, ahead of Alonzo Mourning and Dikembe Mutombo (who are tied for 11th), and in the top 20 in total career rebounds.
"My experiences at Georgetown," Tagliabue said after he and his wife made a $5 million gift for scholarships at the university in 2011, "shaped my values, stimulated my search for answers and created unimaginable opportunities for me as the grandson of immigrants to America. Now it is our responsibility to create similar experiences for future generations of highly motivated students from all walks of life in America and abroad."
The 2011 gift provided need-based undergraduate scholarships; scholarships for student-athletes in both men's and women's sports programs; programmatic support for the campus LGBTQ (Lesbian, Gay, Bisexual, Transgender, Questioning) Resource Center; and strategic initiatives funding.
'We Knew Him First'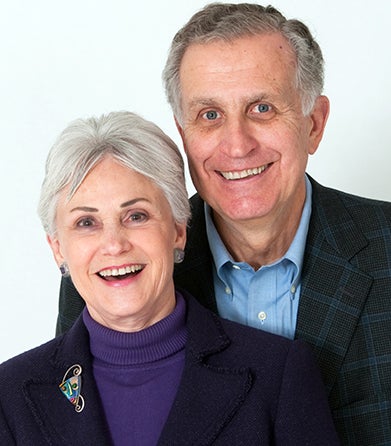 A faithful donor to a wide and comprehensive variety of initiatives and programs on campus, he also provided funding for the Paul J. (C'62) and Chandler M. Tagliabue Distinguished Professor in Interfaith Studies and Dialogue, now held by theology professor Joseph Murphy.
After Tagliabue graduated from Georgetown, he received a law degree from New York University, and joined, in 1969, the prestigious Washington, D.C. law firm of Covington and Burling. At the law firm, he began representing the NFL in a variety of legal matters, and that led to his being named NFL commissioner in 1989, a position he held until July 2006.
"When the NFL was seeking a new commissioner in 1989, the choice was Paul Tagliabue, who had an extensive knowledge of NFL issues," DeGioia noted in his introduction to Tagliabue's senior convocation speech in 2006. "In his first months on the job, he implemented the strongest drug-testing program in professional sports. Under his quiet, efficient leadership, the league expanded from 28 to 32 teams, while the value of many of those franchises increased 10-fold.
"But we at Georgetown knew him first and recognized long ago that he was a man of exceptional talents and qualities."
Never-Wavering Dedication
In 2001, the university presented him with the President's Medal in recognition of his professional achievements, his dedicated service to United Way of America and his facilitation of a partnership between NFL Charities and Georgetown's Lombardi Comprehensive Cancer Center.
For three years, he also taught a course in sports industry legal issues as an adjunct professor at Georgetown Law Center.
"Paul's dedication to Georgetown has never wavered over more than five decades, and in his years as chair of the board of directors, he served, and continues to serve, as an inspiration to me personally and other members of the board," says fellow board member Frank H. McCourt Jr., whose $100 million gift in 2013 created the McCourt School of Public Policy. "His generosity, leadership, extraordinary vision and deep understanding of Jesuit values has enhanced Georgetown's mission to prepare the next generation of global leaders to make a real difference in the world."
'Very Optimistic'
Keehan has served under Tagliabue for only three years, but says it became obvious early on that he was "a really in-touch chairman."
"It doesn't take long to know Paul to be really, really impressed and really appreciative of what he contributes to Georgetown," she explains.
Tagliabue says it's been both "challenging and very rewarding to be deeply engaged with our university community – students, faculty, alumni and so many others – and with an outstanding board in seeking to enhance Georgetown's unique role in higher education."
"The university is blessed with exceptional leaders at all levels, starting with President DeGioia," he adds, "and their values and talents make me very optimistic about the university's future."