Title:

Georgetown Opens Community-Based Office to Study Health Disparities
Date Published:
October 11, 2012
Georgetown's medical center marked the opening today of a new community-based office designed to research and reduce cancer disparities among minority and underserved communities in the nation's capital.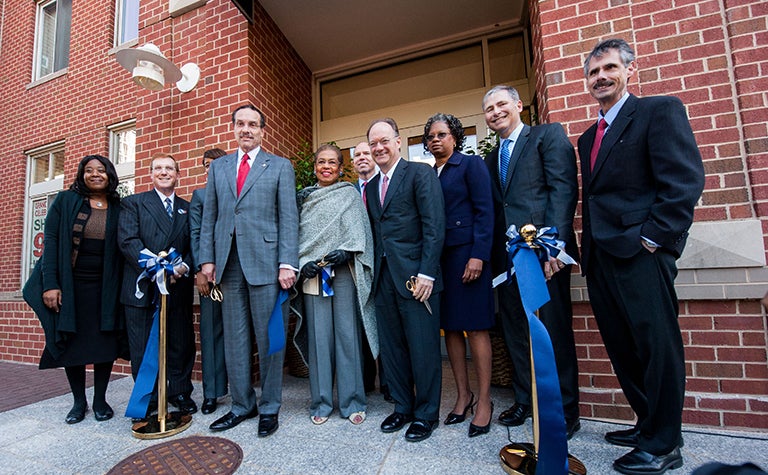 "We recognized that to achieve meaningful gains toward reducing health disparities, our research teams need to be in the community to engage directly with those who are most affected," said Dr. Howard Federoff, executive vice president for health sciences at Georgetown University Medical Center (GUMC).
The Office of Minority Health and Health Disparities Research, located at 1000 New Jersey Ave. S.E., provides a community "anchor" for the cancer-related research already under way as part of a $6.1 million grant awarded earlier this year to GUMC by the National Institutes of Health.
Congresswoman Eleanor Holmes Norton, District of Columbia Mayor Vincent Gray and other city officials joined Georgetown President John J. DeGioia and Georgetown Lombardi Comprehensive Cancer Center representatives for today's official ribbon-cutting for the office, which opened in May.
Research Responsibilities
Internationally renowned cancer epidemiologist Lucile Adams-Campbell, associate director for minority health and health disparities research at Lombardi, is leading the effort.
"We hear so much about health disparities, and people often think that it's only [about] blacks and whites," Adams-Campbell said during the ceremony. "Health disparities is defined as any inequity in treatment of services that includes race, gender, physical and mental disabilities, occupation, location, geography, age and education."
Washington has one of the highest cancer mortality rates in the nation, ranking highest for prostate cancer, second highest for breast cancer, third highest for cervical cancer and seventh highest in the nation for all cancers combined, according to the DC Cancer Consortium.
Commitment to Community
The city's African-American population is disproportionately affected by cancer. Blacks in D.C. are 9 percent more likely to be diagnosed with breast, cervical, prostate, lung and colon cancers combined than their white neighbors, and 49 percent of these African Americans are likely to die from these diseases, according to the DC Cancer Consortium.
There are a myriad of reasons for the disproportionate impact, Adams-Campbell said, including a susceptibility to more aggressive forms of cancer, environmental factors and barriers to health education, insurance and treatment.
"This office was born out of our commitment to reducing health disparities in the community, and the recognition that we can't expect the people who are most affected to always come find us on campus," said Dr. Louis Weiner, director of Lombardi. "This office enables us to better engage the greater D.C. community and to address real challenges to help improve the health of our neighbors."
It also represents yet another way in which Georgetown is carrying out its mission of engagement and educational outreach to the surrounding community. In July, for example, Georgetown signed a lease for a new space to house its School for Continuing Studies at 650 Massachusetts Ave., N.W.
Targeted Interventions
In addition to disproportionately high cancer mortality rates, Washington has higher-than-average disparity rates of obesity, diabetes and heart disease – all of which may be affected by diet and exercise.
Overall more than 22 percent of adults 18 and older are obese in the District, 28 percent have hypertension and 8 percent have Type 2 diabetes, according to the D.C. Department of Health.
While there are similar percentages of adults by race and ethnicity who are overweight, the D.C. health department states that 35 percent of African Americans are more likely to be obese, compared to 22 percent of Hispanics, 10 percent of adults of other racial or ethnic groups and 9 percent of Caucasians.
Research and Interventions
Much of Adams-Campbell's own research focuses on community-based interventions to improve diet and exercise among underserved populations.
The new office features an exercise physiology lab, rooms to research the impact of exercise through video games, and equipment for measuring body fat composition and bone density.
The office also includes Lombardi faculty members with expertise in cancer epidemiology, health communications, exercise physiology and nutrition, as well as a nurse practitioner, community health educators and an administrative staff.
Expediting Research
"Under Dr. Adams-Campbell's leadership, I'm confident that we can expedite research directly impacting health disparities – particularly those disproportionately affecting minority and underserved populations in the District," Federoff says.
The Office of Minority Health and Health Disparities Research is located just a few steps from the Navy Yard Metro stop, to facilitate easy access by community members.
It is also only about a mile from Capital Breast Care Center (CBCC), a Lombardi breast-screening initiative located at 650 Avenue S.E. that is another important component of its health disparities research program.
"The importance of local communities cannot be overstated … we cannot do it alone," said Adams-Campbell. "If we can just improve the lifestyles of the community that we serve, we can make a difference."