Georgetown commemorates Washington, D.C.'s 156th observance of Emancipation Day by participating in an event that explores how various institutions are examining and reconciling their historic ties to slavery.
Award-winning NPR correspondent Michel Martin moderated the event, "We Choose to Remember: A Conversation on the Legacies of Slavery," at the National Museum of African American History and Culture.
The first panel, "Universities and Slavery," included Marcia Chatelain, associate professor of history and African American studies, and Rev. David Collins, S.J., an associate professor of history at Georgetown.
A musical interlude followed the first panel and featured a Georgetown-commissioned piece by Rev. Nolan Williams Jr. "We Choose to Remember."
The second panel on memory and memorialization included Melisánde Short-Colomb (C'21), a descendant of the 272 enslaved men, women and children sold by the Maryland Jesuits in 1838.
Marcia Chatelain, associate professor of history and African American studies at Georgetown; Kirt Von Daacke, a history professor at the University of Virginia; Marisa Fuentes, associate professor of women's and gender studies and history at Rutgers University; and Rev. David Collins, S.J., associate professor of history at Georgetown, listen to NPR's Michel Martin during the first panel discussion.
Understanding the Complexities
Chatelain said it's important to understand the complexities that come with U.S. institutions.
"I want us to be cautious about glorifying any institution and understanding that if an institution is in the United States, whether it was founded before slavery or after slavery, it's tethered to the system of racial chattleism that allowed this nation to prosper."
Chatelain and Collins served on the university's Working Group on Slavery, Memory, and Reconciliation.
Georgetown formed the working group in fall 2015 to reflect on, engage with and learn from its historic ties to slavery.
Last April, the university invited descendants to a Liturgy of Remembrance, Contrition, and Hope and dedication of Isaac Hawkins Hall and Anne Marie Becraft Hall.
Isaac Hawkins was the first enslaved person listed in the 1838 sale document.
Anne Marie Becraft, a free woman of color, founded one of the first schools for black girls in Georgetown in 1820. She became one of the country's first black nuns 11 years later with the Oblate Sisters of Providence (OSP) in Baltimore, Maryland, taking the name Sister Mary Aloysius.
Georgetown paid tribute to Becraft and the Oblate Sisters during an Emancipation Day event earlier in the day on campus.
'Our' History
Collins said that the many Americans who don't view slavery as part of their own history, because their families came to the country in the early 20th century, should remember that slavery is woven deeply into the fabric that makes America what it is today.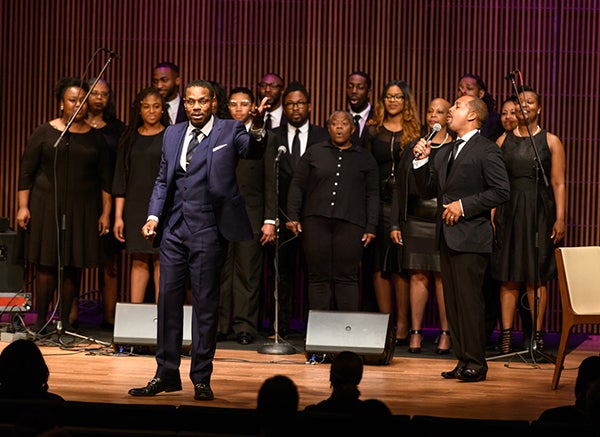 Rev. Nolan Williams Jr. leads the audience in song as the choir sings the Georgetown-commissioned piece, "We Choose to Remember."
"This is not a history. This is not something that just happened [somewhere else]. This is our history," he said. "And because it's our history, there's a way in which we need to take responsibility."
The panel with Chatelain and Collins moderated by Martin also included Kirt Von Daacke, a history professor at the University of Virginia, and Marisa Fuentes, an associate professor of women's and gender studies and history at Rutgers University.
Von Daacke serves on the UVA President's Commission on Slavery and the University.
The commission helped form a consortium, Universities Studying Slavery, that comprises about 30 institutions – including Georgetown – and holds semiannual meetings to examine slavery's role in higher education.
Von Daacke said UVA's history "lives in the shadow of Thomas Jefferson … so no other stories were told."
Jefferson founded the university in 1819.
"[UVA] is founded in a county … where over half the population of the county is enslaved," he explained. "Every person involved in the founding of the University of Virginia is a large slave owner. The university is built and maintained for 50 years by close to 5,000 [enslaved laborers]."
Legacies Still With Us
Von Daacke said the legacies of slavery are still with us.
"We see it in the city we live in, in housing policy, in who works in the low-wage jobs at the university and what our student body looks like," he said. "To everyone the advice is stop take a real deep, critical look at the world around you and understand how it's been profoundly shaped by this long arc of history."
Last fall, Rutgers took a step toward reconciling with its ties to slavery with a ceremony and renaming of three parts of its campus.
Rutgers named a walkway after an enslaved man who helped lay the foundation for the university's administration building.
It also named a nearby student apartment building for renowned abolitionist Sojourner Truth. Truth's parents were owned by relatives of Rutgers' first president.
Another building on the university's Livingston campus was renamed theJames Dickson Carr Library after Rutgers' first African American graduate.
Fuentes said commemorating people who were recorded as property, without last names and with sparse details of life can be a challenging exercise.
"The archive does not have a list of enslaved people with the histories attached. This is detective work of the hardest kind that you're trying to connect pieces to this [particular] person. How can you commemorate people who are anonymous, right?"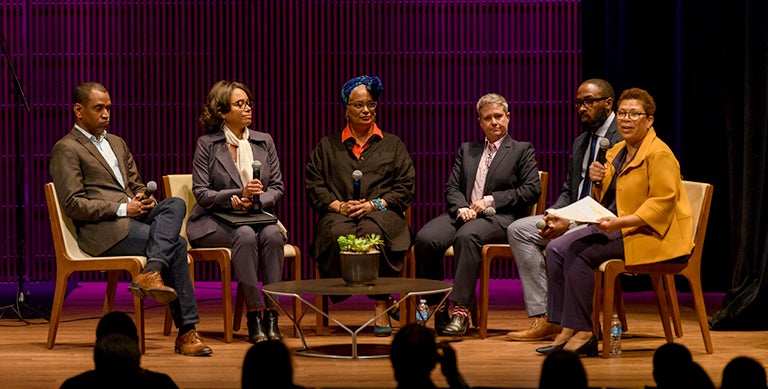 Stories of Her Ancestors
Short-Colomb, a retiree from New Orleans, is currently studying at Georgetown.
A descendant of Abraham Mahoney and Mary Ellen Queen, she grew up with stories about her ancestors, but she didn't realize her connection to Georgetown until two years ago.
"I know that I am here in this place at this time because those people prayed for me," she said. "They prayed me into existence. They prayed me into being, and 180 years ago, somebody had a dream, and it was me, and here I am."
Short-Colomb first set foot on campus during last year's April 18 Emancipation Day event at Georgetown and by August she was enrolled as a freshman in the College and living on campus.
Today, she works with the Georgetown Slavery Archive, where she continues to learn more about her own ancestors, the Maryland Jesuits, Georgetown and slavery.