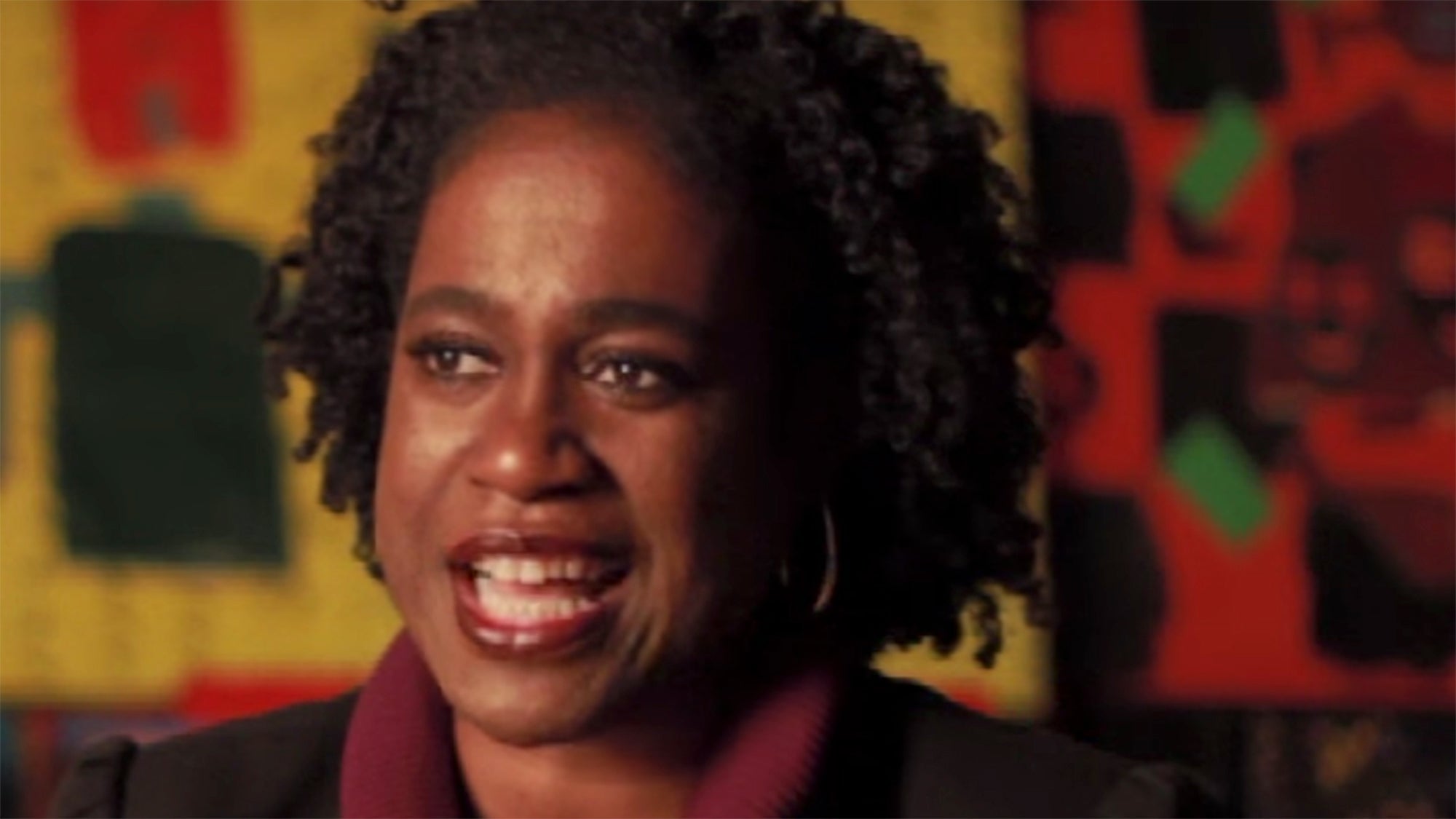 Category:

University News
Title:

Georgetown Honors Leader's Work With Male Youth in D.C.
Date Published:
November 14, 2012
Georgetown will honor the work of Mary Brown, who has provided life changing opportunities for Washington, D.C.'s black youth for more than 15 years, with the John Thompson Jr. Legacy of a Dream award.
Brown will accept the award during Georgetown's free Rev. Martin Luther King celebration on Jan. 20 at the Kennedy Center with musician Smokey Robinson.
"Mary Brown is a visionary who saw a need for an organization to empower young people in our nation's capital," says Georgetown President John J. DeGioia. "We are delighted to honor her in the spirit of Dr. King for her mission to transform lives and communities right here in Washington, D.C."
The John Thompson Jr. "Legacy of a Dream" Award is presented annually by Georgetown to an individual or organization that reflects King's life and spirit.
Former awardees include alumnus and former basketball star Dikembe Mutombo for improving conditions in his native Congo, and Marian Wright Edelman for championing children's rights through the Children's Defense Fund.
For the past 10 years the award has been presented during a free concert, open to the public, at the Kennedy Center.
Legendary singer-songwriter and Rock and Roll Hall of Famer Smokey Robinson will perform during the free Jan. 20 Let Freedom Ring event presented by Georgetown and the Kennedy Center for Performing Arts.
Robinson, best known for Top 40 Hits such as "Tracks of My Tears" and "My Girl," will perform along with the Let Freedom Ring Choir led by Washington, D.C., conductor and artist Rev. Nolan Williams Jr. The choir comprises both members of the surrounding and university communities.
Creating Masterpieces
Brown, executive director and co-founder of Life Pieces to Masterpieces, envisioned and then provided the city's disadvantaged black boys and young men with opportunities for self-expression through academic enrichment and creativity.
"We chose to work with young men and boys because that's where we saw some of the greatest need," Brown says. "We help them discover the beauty and love that they possess."
Life Pieces provides opportunities for African-American boys and young men, ages 3-25, to develop and activate their abilities through a curriculum that promotes the learning of languages, expression through artwork, meditation, leadership, discipline, the importance of giving and loving.
"The dream is that we don't just develop these black boys and young men to be in isolation," Brown says. "We want them to develop so they can be a part of the human fabric."
Over a Thousand Helped
Life Pieces has served more than 1,500 young men over the years in a city where about 40 percent of black male students graduate from high school.
Life Pieces has seen over the past six years a 100 percent graduation rate of its participants, known as apprentices, who also all went on to pursue college, post-secondary training, entered the military or the workforce.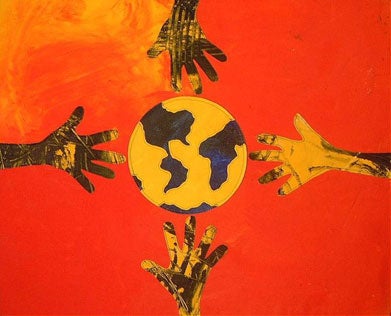 Vibrantly colored patchwork pieces on canvas depict scenarios from the apprentices' everyday lives. Much of the art lines the walls of the Life Pieces building space in D.C.'s Ward 7. The rest either lay in wait for a home while others already adorn the walls in the World Bank headquarters, area embassies and other local businesses.
Brown sits on the board of directors for Leadership Greater Washington, Center for Nonprofit Advancement and Fair Chance D.C. She has received numerous other awards for her work, including the Mayor's Spirit of Neighborhood Action Award.
Georgetown alumnus Anthony Francavilla (G'10) worked at Life Pieces for nearly two years, starting out as a grant-writing intern and working his way up into a job as a development manager.
"I feel like Georgetown did a great job of preparing me to be able to take on this job, but ultimately Mary gave me the opportunity, and that's kind of what set me on my path for what I want to do for the rest of my life," he says. "…It's a really hard thing to completely walk away from once you've experienced it."
Francavilla says Ward 7, where Life Pieces is located, "is a part of the city that I had never seen until I went to work over there."
Fostering Success
Maurice Kie, a former apprentice and now a program coordinator and lead teacher at Life Pieces, recalls how his mother made him enter the program nearly 15 years ago. Though reluctant at first, he says the program became a second home for him.
"I knew that the neighborhood I came from, if I continued to stay … I would pretty much eventually be like [some of] those older men in my neighborhood who [were] … selling drugs or up to no good," Kie says.
Understanding Mentors
At 25, Kie sees new groups of students from neighborhoods like his own coming in and is glad he can be a mentor to them.
"We all come from the same types of neighborhoods – public housing, tons of violence, crime, drugs, the typical sad things that you probably wouldn't want to see in a neighborhood," he says. "Now they have mentors who understand the street and those who understand how to conduct themselves through Life Pieces."
For more details – including information on free tickets to the Kennedy Center event, visit Georgetown's MLK website.