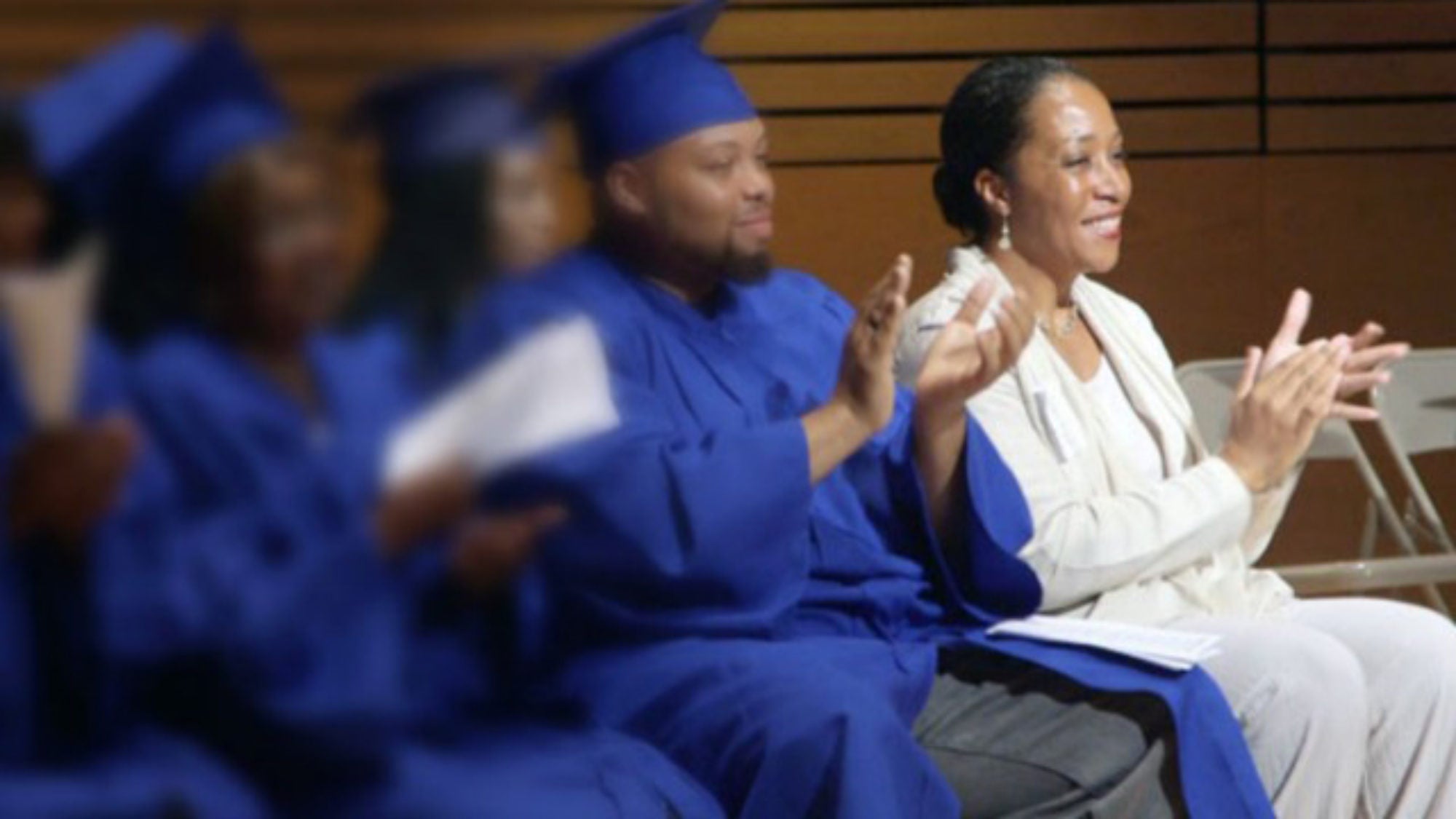 Category:

University News
Title:

Georgetown Honors DC Adult Education Advocate With Legacy Award
Date Published:
November 18, 2013
Lecester Johnson, a longtime passionate advocate for adult education and local workforce development in Washington, DC, will be honored as Georgetown's 2014 John Thompson Jr. Legacy of a Dream Award recipient early next year.
As the executive director of the Academy of Hope (AOH), Johnson has been a strong force for adult education and workforce development for the past two decades. She has led AOH, which has locations in some of the city's underserved areas, for more than seven years and will transition it into an adult charter school next fall.
"It's a privilege to recognize Lecester for her outstanding work," says Georgetown President John J. DeGioia. "She embodies the very spirit of service and a commitment to social and economic justice, which we seek to honor with this award – and which defines our tradition here at Georgetown."
A Great Benefit
Georgetown recognizes emerging local leaders working to solve key issues in the city with its Legacy of a Dream Award, named for the university's legendary men's basketball coach emeritus.
Johnson will receive her award Jan. 20 during the university's annual Martin Luther King Day celebration at the Kennedy Center for the Performing Arts.
The award presentation will begin an intensive yearlong partnership with Johnson and AOH.
"The expertise associated with Georgetown in the way of workforce development and policy, alone," Johnson says, "could not only be a great benefit to Academy of Hope's work but the issue of adult low literacy in general."
Deserving Winners
Georgetown bestowed the 2013 award upon Mary Brown and her DC-based organization, Life Pieces to Masterpieces. Life Pieces provides some of the city's disadvantaged black boys and young men with opportunities for self-expression through academic enrichment and art.
Over the past year, Georgetown students have volunteered as tutors and provided help with curriculum development at Life Pieces, and the university now serves as the site for Life Pieces' Saturday Academy for teens.
Johnson is the 12th recipient of Georgetown's Legacy of a Dream Award.
"I can think of no one more deserving of this award," says journalist Kavitha Cardoza, who has worked with Johnson and Academy of Hope on two education-related series for DC.'s NPR affiliate, WAMU 88.5.
WAMU's American Graduate series and the WAMU'sBreaking Ground series that Cardoza created focus on the dropout crisis in DC and what happens to those students after they drop out.
"She not only knows about every aspect of [adult education] work on the ground, she understands and advocates for the larger issues at stake," Cardoza says.
Helping Adult Learners
More than 64,000 adults in Washington lack a high school diploma or its equivalent, according to the U.S. Census Bureau's American Community Survey.
AOH focuses on basic education and adult literacy services for men and women, age 18 and up, who can read on at least a sixth-grade level. The academy also prepares individuals for the GED and transition into post-secondary education.
"The goal is to help adults get their GED, but to also go beyond that," Johnson says. "So when we talk to adult learners, we're really talking about the next step and seeing the GED as an interim step."
Unwavering About Education
Johnson studied psychology and education in college and later began helping adults with severe disabilities.
She moved into workforce development – working with students transitioning from school into the workforce. Before joining AOH, Johnson was a special education support teacher in Fairfax County Public Schools and developed several successful adult education and workforce development programs in other community-based organizations.
She says education always has been a big part of her life. Even as a child, she passed down the vocabulary she learned to her younger siblings, and her parents emphasized the value of finishing high school.
"Education was something they were absolutely unwavering about," she says of her parents, who grew up in the segregated South. "They wanted us to be able to take care of ourselves and felt that education was the key to doing that."
She says her parents knew firsthand about the obstacles that Johnson and her siblings would face if they didn't get a good education. Her mother had completed the 11th grade, and her father's education ended in elementary school.
"He left home when he was 12, but he went on to fight in World War II, and he learned to read in the military," Johnson says.
She credits her parents for a great deal of the work she does today.
"When people think about adults who have dropped out of high school, we tend to blame the individual for leaving," she says. "If you ask the average person why they dropped out, it's usually not because they did not care about school. It's often because they needed to bring in additional income to help make ends meet or come from really difficult and sometimes abusive home environments."
Making the First Step
Percy Jones dropped out of school at 16 and admits the years of trying to better his standard of living have been difficult without a high school diploma.
After enrolling in Academy of Hope in 2007, he's getting closer to being able to take his GED.
"Making the first step was the biggest challenge," says the 61-year-old. "I thought I might be too old or that others might think it was useless for me to try this at my age, but the people who care are there for me. That's what I love about Academy of Hope and Lecester Johnson. They really care about the people who come through the door."
Taking the Right Steps
Last year, Academy of Hope with support from The Moriah Fund held a series of forums designed to highlight connections between adult illiteracy or poor reading and many of the social challenges facing DC, by focusing on disconnected youth, workforce development, K-12 education and public health.
Johnson says it's gratifying to see adults returning to school and gaining confidence.
"People come through the doors of Academy of Hope, and they've had such negative experiences with school," she says. "They come in with a lot of apprehension about starting their education again, but soon find an assuredness that they're taking the right steps."