During Commencement Weekend 2017, May 18-21, the university graduates more than 6,000 students.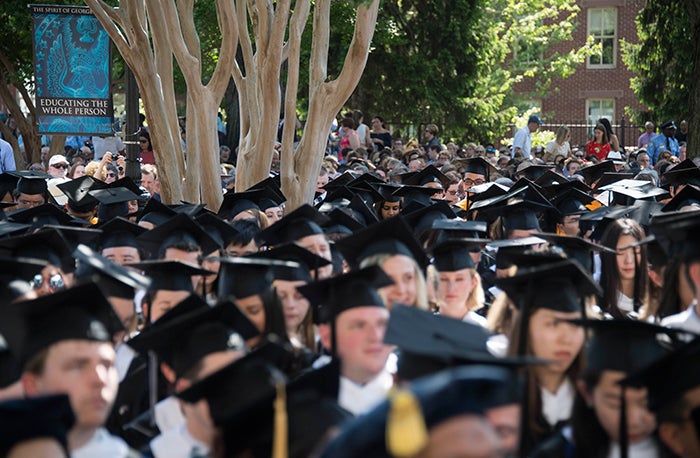 The university graduated more than 6,000studentsduring Commencement Weekend, May 18-21.
"Hold on to your excitement," President John J. DeGioia told more than 1,800 undergraduate students Thursday at Senior Convocation, the weekend's kickoff event."Trust in all you have accomplished and in your ability to learn. Know that you have the skills and the self-knowledge necessary to overcome challenges, just as you have done at different moments during your undergraduate years here."
All of the speakers for the graduation ceremonies received honorary degrees.
Graduation ceremonies began on Thursday afternoon with the McCourt School of Public Policy, which hosted keynote speaker Alice M. Rivlin, Senior Fellow at the Brookings Institution and a visiting professor at the school.
Go into Politics
Rivlin served as director of the Office of Management and Budget during President Clinton's first term.
"Elected politics will not get better until competent, well informed, well-motivated young people, like McCourt graduates, decide to make it better," she told the 180 graduates. "Our politics is brokenand only you can fix it."
Rivlin also implored students to engage with people who have different opinions than themselves and to go into politics at any level.
Cooperation Is key
The Graduate School of Arts and Sciences, the McDonough School of Business (graduate) and the School of Continuing Studies held their ceremonies on Friday, May 19.
Robert B. Cialdini, Regents Professor Emeritus of Psychology and Marketing at Arizona State University, spoke to about 1,200 Graduate School students on Friday morning.
"The scientific evidence is clear," Cialdini said. "On problems with an objectively correct answer, cooperating groups are better and faster at finding that answer than the group's best problem-solver acting alone."
Disruption Age
Arthur "Artie" Minson (B'92), president and CFO of WeWork, spoke to more than 400 students at McDonough's graduate business ceremony.
"Those of you who are graduating today are entering the disruption age of business," Minson said.
"In many respects, everything my generation learned in business school has been turned on its head," he said. "Your generation is frankly teaching mine the true meaning of words such as mission and values, cultureand global citizenship."
Go Local
Nathaniel "Nate" Read Silver, editor-in-chief ofThe New York Times'FiveThirtyEight, was the keynote speaker for School of Continuing Studies, which graduated nearly 800 students on Friday afternoon.
"My first piece of advice is to seek out differences and diversity in opinion," he said. "If you find yourself surrounded by people who agree with you on everything, that ought to make you a little bit nervous."
He also told the students to question authority and to "go local."
"…the mission of Georgetown really only works if you go back into the communities and share your newfound knowledge and skills," he added. "Go deeper into understanding a problem than you ever thought possible, go localand geek out."
Saturday Ceremonies
Georgetown College (887undergraduates), the School of Nursing & Health Studies (114 undergraduates and 343 graduate students), the McDonough School of Business (344 undergraduates) and the School of Foreign Service (367 undergraduates and 375 graduate students) held their ceremonies on Saturday.
SFS-Qatar graduated 63 students on May 5.
Speakers at the Saturday ceremonies were Sister Mary Scullion, executive director and president of Project HOME for the College; James H. Shelton III, president of Chan Zuckerberg Education with the Chan Zuckerberg Initiative for NHS; Gregory Gerard Coleman (B'76), the president of BuzzFeed for McDonough; and Anne Applebaum, columnist, The Washington Post,and visiting professor at London School of Economics, for SFS.
Addressing Injustice
"Your education can and must play a vital role in addressing systemic injustices in these tense and troubling political times," Scullion told the College graduates."…Youjoin the thousands of young men and women who have gone forth from this storied university, carrying these values, translating them into lives of service to others and a commitment to the common good, not just in the United States, but all around the world."
Shelton, who was deputy secretary of the U.S. Department of Education during the Obama administration, told the graduates to"believe in yourself and your vision and know that no one is better prepared to write your story than you are… have faith as you seek to change the world that no matter what is in front of you, what you desire is on the other side."
Coleman has held leadership positions at theHuffington Post, Yahoo!and AOL. He urged the graduates to have conviction and courage.
"In work and in life there are going to be times you'll believe in something that's unpopular, and you're going to be called on to defend that choice," he said. "Too many times, people look and turn around to see what others think first and then make their choice based on that."
Turning to Talent
Anne Applebaum, the longtime Washington Post columnist, told the SFS students that "Trade, commerce, diplomacy and security, these are not zero-sum games. Often there are mutually beneficial solutions to international problems if only someone has the talent to find them."
"But where is that talent going to come from?" she asked. "Who will we turn to when the fantasies fade – when we need someone to negotiate the trade treaty or the peace treaty?" she said. "Guess what, class of 2017. We are going to turn to you."
LAW AND MEDICINE
Georgetown Law, which graduated more than 1,200 students, and the School of Medicine, which graduated 193students, held their ceremonies on Sunday.
'Now it is your turn to join this abolitionist struggle," said Georgetown Law Center speaker Charles R. Lawrence III, a pioneer of critical race theory and law professor at the University of Hawaii. "… You graduates must choose whether, will you be apologists, rationalizing slavery and dehumanization, or become our newest abolitionists, speaking truth to power and lifting up those who are rendered invisible by their difference and our disregard."
Dr. Worta McCaskill-Stevens (M'85), chief of the community oncology and prevention trials research group in the division of cancer prevention at the National Cancer Institute, was the School of Medicine's speaker.
McCaskill-Stevens encouraged the students to never lose sight of "the patient behind the test results, the family with whom those results are likely to be shared, the lives taking part in clinical trials."
"Compassion is what elevates the great above the good," she said.
SENIOR CONVOCATION
Commencement events officially kicked off May 17with Senior Convocation, where the undergraduate Class of 2017gathered together in McDonough Arena for the last time.
The more than 1,800 graduating seniors represented 50 states and 64 countries and territories. They took more than 62,000 courses and earned more than 182,000 credit hours during their years at Georgetown.
They also received more than $119 million in scholarship support from Georgetown and won competitive graduate fellowships won that include 1 Rhodes Scholar, 8 Fulbrights, 1 Marshall Scholarship and 12 Critical Language Scholarships, among others.