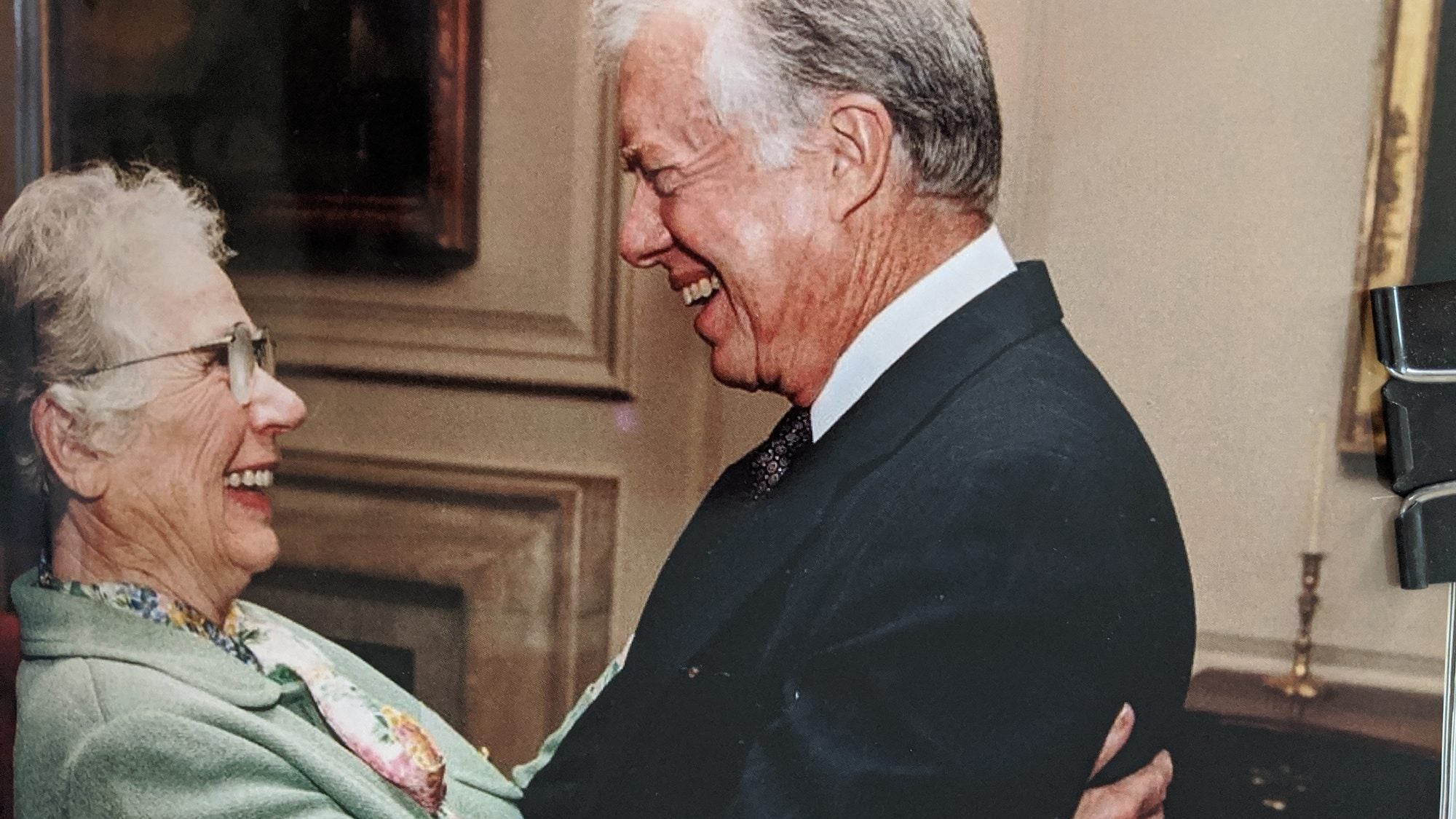 Category:

University News
Title:

Georgetown Educator Lillian Brown, Makeup Artist for Presidents, Passes Away
Date Published:
September 25, 2020
Lillian Brown, a media consultant who hosted a Georgetown radio show heard around the world and did makeup for U.S. presidents from Dwight Eisenhower to Bill Clinton, died Sept. 13 at the remarkable age of 106.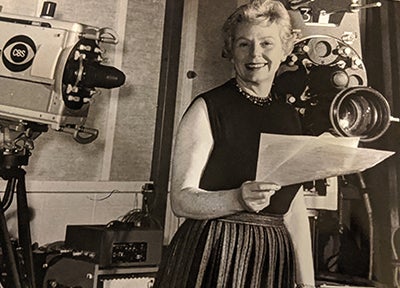 Brown, who was CBS News' makeup artist for 40 years, even advised John F. Kennedy to wear makeup in the first-ever televised presidential debate in 1960 with Richard Nixon.
She also hosted the Georgetown University Forum radio show, which still exists today.
Before her retirement from the university in 2009 at the age of 95, she taught the course Speaking to Be Understood: English as a First or Second Language to Georgetown graduate students enrolled in the law and medical schools, the School of Foreign Service and the McDonough School of Business for whom English was a second or first language.
Her family said she coached students who would later become important officials in their home countries.
Georgetown University Forum
The Forum, comprising interviews with Georgetown professors and other experts on a wide variety of topics, at one point drew two million listeners a week and was translated into 39 languages by Voice of America.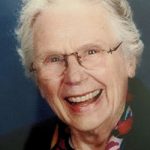 "She was a fantastic interviewer, with such a good sense of timing," says Carole Sargent, Georgetown's director of scholarly publications and a current host of the Forum.
"She recorded every show live, even though she could have chosen to work with an editor, and it always sounded so fresh and vibrant," Sargent adds. "She was a Washington legend, and will be very much missed."
Advising Presidents
In 1976, the long-lived Brown began hosting the Forum, which was broadcast on NPR, the Texas Radio Network, the Armed Forces radio service and commercial stations around the world.
Brown was recognized for her work before and during her time at Georgetown, including Emmys from the local chapter of the National Academy of Television Arts and Sciences, a Golden Mike award for Outstanding Women in Radio and Television, a General Foods Consumers Media award, an American Association of University Women award.
She also was the first woman to be included on the Honors List of the International Broadcasters Society and more.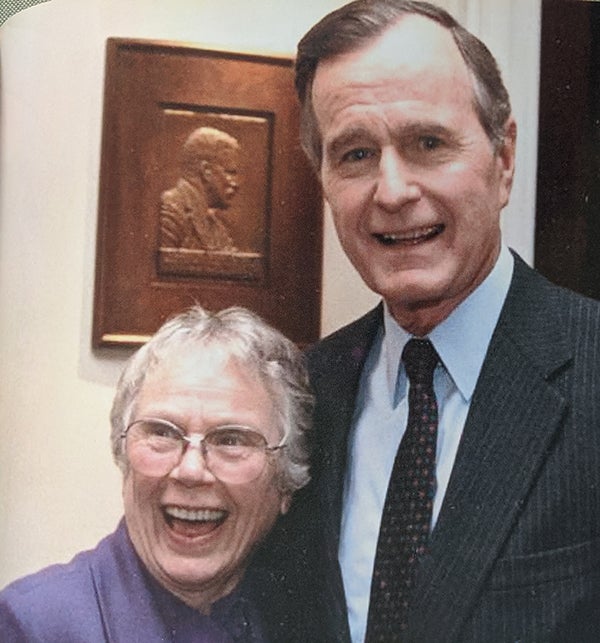 Brown advised presidents, Congress members, governors, and, in addition to CBS, did makeup for the American Business Network of the U.S. Chamber of Commerce and other TV entities.
A Star Watching Stars
The longtime educator is survived by her daughters Carla Gorrell and Kristi Brown; grandsons Richard Gorrell, Kevin Gorrell and Brian Gorrell; and great-granddaughters Catherine and Lillian.
Carla Gorrell and Kristi Brown eventually took over their mother's job at CBS and both helped with numerous requests for media consultancy, having been trained, they said, by "a master."
"She knew everyone that mattered in Washington," the family said in a statement, "but she was also a loving mother and grandmother. She built a mountain cabin where she would go every weekend. Many weekends she would take her grandsons and teach them about birds, forest animals, plants and astronomy."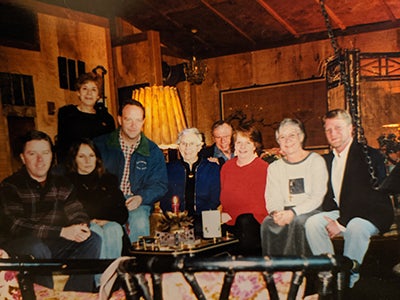 "We often slept outside in sleeping bags on the deck of the cabin year round and watched shooting stars, planets and the Milky Way," the statement continued. "During the day we looked down on the backs of the hawks circling over the Shenandoah Valley below and watched dozens of hummingbirds attracted to her feeders. When we hiked up the mountain younger family members and guests had trouble keeping up with her. Lillian loved flowers and tended a garden at the cabin that included exotic iris and natural wildflowers."
Long, Admired Career
Brown was well known on campus and had interviewed countless faculty members for her show.
"Lillian Brown was a remarkable person who enjoyed a long and admired career in the communications industry," says Michael Collins, dean emeritus of the School for Summer and Continuing Education. "She cared deeply about Georgetown and its people, and, for many years, as host of the Georgetown University Forum, she introduced members of Georgetown's faculty to people all over the world."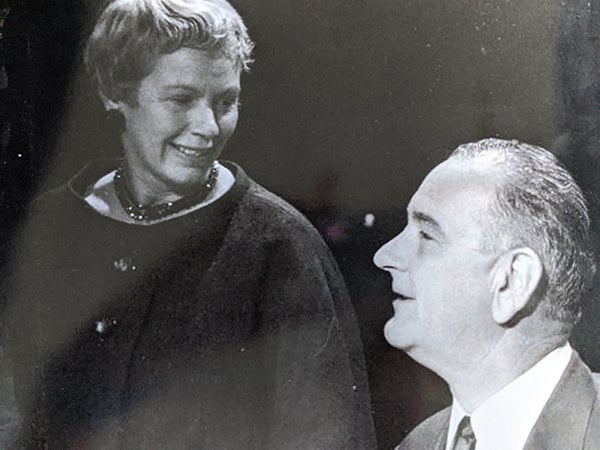 "I consider myself fortunate to have known her – she was a dear friend and a valued mentor as well," he says.
Five O'Clock Shadow
As she turned 100, Brown said in a 2014 National Press Club interview that while she wasn't in Chicago for the first Kennedy-Nixon debate, she insisted Kennedy take a makeup compact with him and use it.
Nixon, who was recovering from an illness and had a five-o'clock shadow – an unpopular look in the 1960s – didn't get the benefit of Brown's makeup. Some say that debate turned the public's support to Kennedy.
Brown made up both of them for their second debate in Washington.
Just Powdering Noses
In the National Press Club interview, she said that after she got married and moved to Washington, the couple attended National Presbyterian Church, where Eisenhower worshipped.
She became interested in the idea of people attending church with leaders of the free world and created a TV series called "Churches of the Presidents," according to the interview. Then she got a call from the people who produced "Face the Nation," which aired in the same studio after her show ended.
"Your people look good and ours look terrible, what do you do?" she quoted them as saying, and replied, "I just powder their nose."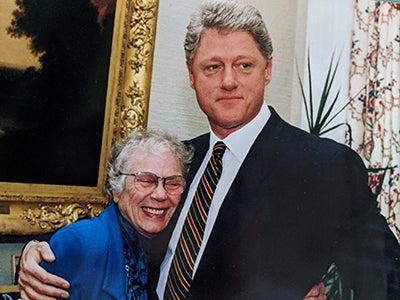 That conversation began her long and storied career as the senior makeup artist for CBS News' Washington Bureau, "Face the Nation" and special events such as presidential inaugurations, election campaigns and peace summits.
Humble Beginnings
Born on a farm in Huntsville, Ohio, in 1914, she was the sixth of seven siblings. She earned a teaching certificate from Bowling Green State University (she later did graduate work at Ohio State University) and after graduation taught elementary school in a one-room schoolhouse in Huntsville.
Brown became the first Director of Radio and Television at George Washington University in 1956.
She later served in the same role at American and Georgetown universities and gave voice lessons to Voice of America broadcasters and individual clients.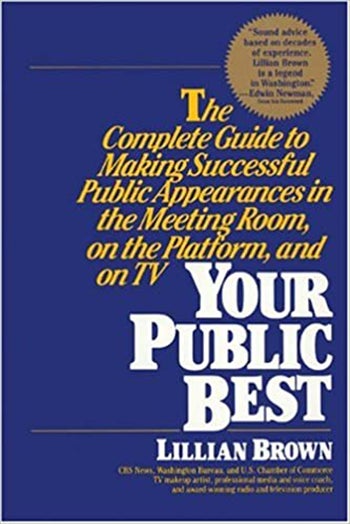 'Most Important Person'
Her most notable book was Your Public Best: The Complete Guide To Making Successful Public Appearances In The Meeting Room, On The Platform, And On TV.
At Georgetown, she will be remembered best for her work on the Forum and the many connections she made with faculty and staff.
"What I loved personally about Lillian was that she made me feel so at ease," Sargent says. "I was a guest on her show multiple times, and she always made me feel like I was the most important person in her life that day."