Title:

Georgetown Deepens Commitment to D.C. Community
Date Published:
December 17, 2015
Georgetown strengthened its commitment to the common good and its role as an anchor institution in Washington, D.C., this past year, according to a new report from the university's Office of Community Engagement.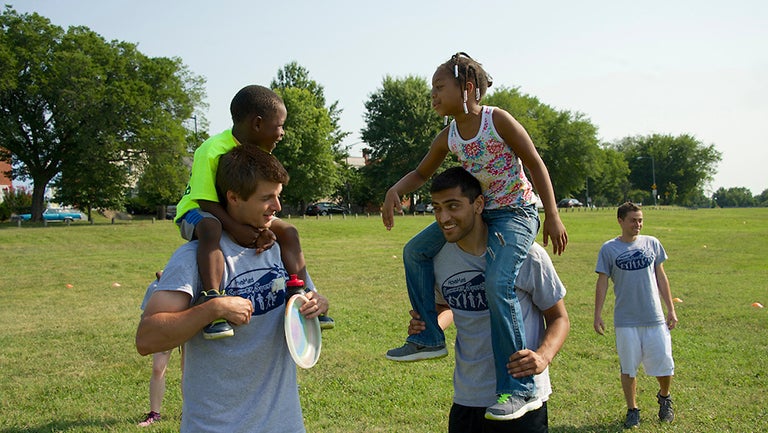 Georgetown strengthened its commitment to the common good and its role as an anchor institution in Washington, D.C., this past year, according to a new report from the university's Office of Community Engagement.
As a Catholic and Jesuit institution rooted in social justice, Georgetown works with community partners to tackle the challenges facing D.C. communities.
The university is the largest private employer in the District, with slightly more than 6,000 employees, about a third of which live in the city. The 2015 Office of Community Engagement Report notes that between 1,200 and 1,400 Georgetown students serve in the community every semester.
"In recent years, the District of Columbia has undergone significant changes," writes President John J. DeGioia in the report's introduction. "We have witnessed the emergence of new economic sectors, the growth of our population, the rise of incomes, and an increasingly flourishing real estate market. But many challenges remain –especially for the most marginalized members of our city – and much work still needs to be done."
Research in the Community
Community-based research by Georgetown faculty over the last year has included outreach and educationon a range ofcritical social issues, such as health disparities, early childhood development, driver's licenses for undocumented immigrants, juvenile justice and climate change.
This past year, Georgetown faculty members became part of theDC Center for AIDS Research, an interdisciplinary consortium committed to supporting work toward ending the AIDS epidemic in the District and beyond.
The university's Lombardi Comprehensive Cancer Center also earned the endorsement of the National Cancer Institute, which commended the center for its commitment to community-based research and education.
Legacy of a Dream
Georgetown's annual John Thompson, Jr. Legacy of a Dream award is given to a rising community leader, in recognition of dedicated service to some of the most marginalized members of the Washington, D.C. community. The university provides an intensive, yearlong engagement with the organization the leader serves, to further advance its mission.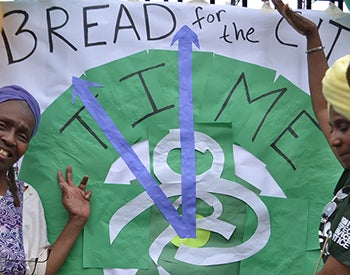 This past January, Georgetown honored George Jones, CEO of Bread for the City. In January 2016 the university will honor McCourt School of Public Policy alumna Nakeisha Neal Jones, executive director of Public Allies DC.
Community-Based Learning
About 400 undergraduates took one of Georgetown's 16community-based learning coursesthis past year, in which students engage directly with a community-based organization and issue.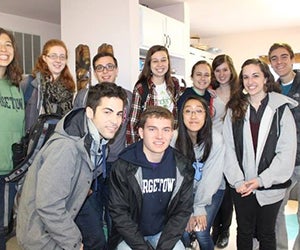 Georgetown also awards credit to students who integrate their academic studies with a semester-long community engagement or service experience in the city.
"Students, through the support of community-based course projects, helped preserve affordable housing, devise community development projects for the East End neighborhood, create citizenship resources for immigrant communities and develop lesson plans for a D.C. high school," notes DeGioia.
Commitment to the Common Good
Prestigious organizations have recognized Georgetown and its Center for Social Justice Research, Teaching and Servicefor its demonstrated commitment to the common good.
The Carnegie Foundation for the Advancement of Teaching, for example, honored Georgetown's commitment to its surrounding community by renewing the university's Carnegie Classification for Community Engagementthis past year.
"These are campuses that are improving teaching and learning, producing research that makes a difference in communities, and revitalizing their civic and academic missions," John Saltmarsh, director of the New England Resource Center for Higher Education, said when the distinction was announced in January 2015.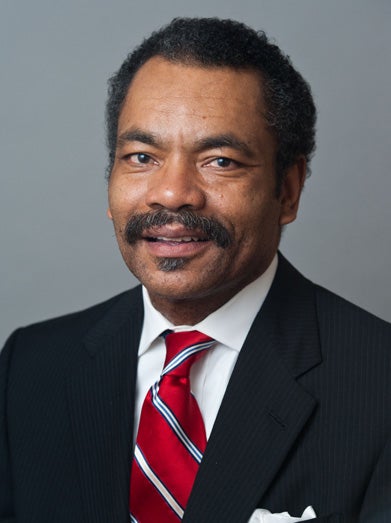 The Maryland-DC Campus Compact also recognized Georgetown in the fall of 2014 for its community engagement, and Georgetown history professor Maurice Jackson (pictured)for his dedication to civic learning. A scholar of Washington, D.C., history and culture, Jackson also serves as the inaugural chair of the Mayor's Commission on African American Affairs.
Model for Collaboration
The Georgetown Community Partnership (GCP) was recognized as a model for collaboration in the District and across the country.
Working together to facilitate discussion, information-sharing, and consensus-based decision-making, GCP supports a high quality of life in the community as well as the university's long-term planning,successfully addressing issues impacting both the university and its surrounding neighborhoods.
"I am deeply grateful to all those in our university community who have dedicated themselves to serving the common good both here in the District of Columbia and across our world," DeGioia notes, "and I look forward to all we will accomplish together in the years ahead."