Georgetown creates a new Office of Sustainability and receives nationwide distinction as a Green Power Partner of the Year by the Environmental Protection Agency for its sustainability efforts.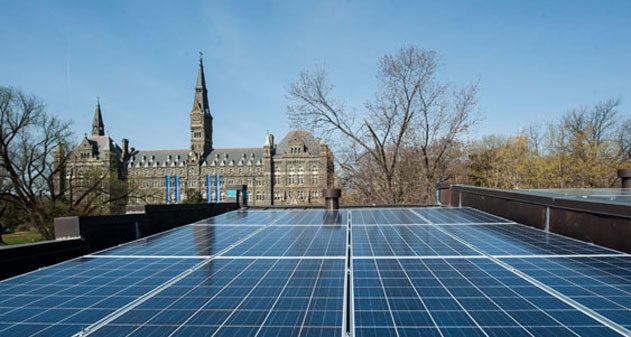 September 24, 2013 – Georgetown, which established a new Office of Sustainability this past July, is one of only four entities nationwide to be named an Environmental Protection Agency (EPA) Green Power Partner of the Year.
The new Office of Sustainability, which evolved from Georgetown's Sustainability Initiative, will continue its commitment to environmental stewardship and social justice by working on long-term goals and offering a wide variety of programming.
"In the past, sustainability efforts were primarily focused on specific topics such as recycling and reducing energy usage," says Robin Morey, vice president of planning and facilities management. "The new Office of Sustainability will build upon these efforts while taking a more holistic approach."
Green Partner
The EPA named Georgetown a 2013 Green Power Partner of the Year on Sept. 23 as a purchaser of about 113 million kilowatt hours of renewable energy and for establishing the Solar Street on-site renewable energy project.
The three others winning the EPA distinction are Cisco Systems, Inc., the Microsoft Corporation and Ohio State University.
"Our use of green power has been growing over the past few years as sustainability and clean energy have become an even stronger value and critical part of our sustainability effort, and EPA has recognized us along the way," says Audrey Stewart, director of the sustainability office.
Georgetown has been ranked among the top colleges and universities in the Green Power Challenge, and earlier this year, the EPA recognized the university as a top Green Power Partner.
More Outreach, Engagement
The Office of Sustainability will continue working toward the university's pledge to cut carbon emissions in half by the year 2020, with programs such as Campus Energy Conservation and Green Offices, Stewart says.
"The same types of programs will remain, but you'll see more from the office in the way of outreach and engagement engagement to help reach the campus's sustainability goals," she explains.
The office also launched the Bicycling at Georgetown webpage, which highlights resources for the university community who want to help reduce Georgetown's carbon footprint.
And Stewart says student sustainability fellows and ambassadors will likely result in improved recycling, energy savings and increased use of alternative modes of transportation.
Strategic Sustainability
"A key charge of the office in its first year is to lead the creation of a campus sustainability plan that will guide the university's efforts to meet our existing universitywide sustainability goals," Stewart says.
The office plans to enlist the university community's help with this strategic mission by hosting campuswide brainstorming sessions later this fall to engage students, faculty and staff in the planning process.
"Creating a strategic sustainability plan for the campus will align with campus master planning," says Morey, "and include the creation of a Master Energy Plan for the campus that will also provide a roadmap to meet the university's greenhouse gas commitment."