Title:

Georgetown Collaborates with Santander to Create Partnership on Social Economy
Date Published:
January 17, 2017
Georgetown University and the Santander Group establish the Partnership on Social Economy to support graduate-level research in social economy and provide educational opportunities to the university community and the general public.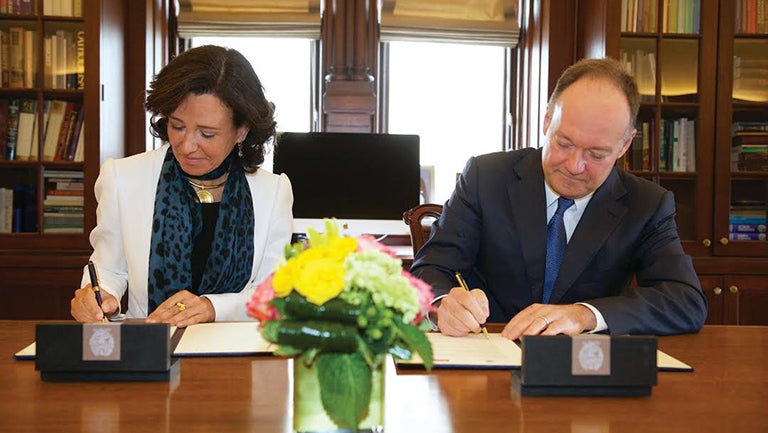 Supported by a gift of $2 million, Georgetown University and the Santander Group have established the Partnership on Social Economy.
This interdisciplinary partnership between Georgetown and the international bank will support graduate-level research at Georgetown in the field of social economy and provide educational opportunities to both the university community and the general public.
"The Santander Group is an ideal partner for us in this endeavor," explains Norberto M. Grzywacz, dean of the Graduate School of Arts and Sciences. "Santander cares deeply about socially responsible engagement, as we do at Georgetown University. Therefore, they have contributed to this project not only financially, but also through ideas. They have put their substantial network of resources and contacts at our disposal."
Global Initiative
Through its Santander Universities, Banco Santander has collaborated with universities for 20 years on itsglobal initiative.
The field of social economy covers concepts including business, public policy, social sciences, law and other disciplines.
Research in this area, along with the formation of a new cadre of students and scholars, is the mission of the Georgetown University and Santander Partnership on Social Economy.
The steering committee of the partnership includes Grzywacz; Luca Anderlini, associate dean for program development at Georgetown's graduate school; two members of the Santander Group; and one faculty member from each of the following Georgetown schools: McDonough School of Business, McCourt School of Public Policy, Edmund A. Walsh School of Foreign Serviceand Georgetown Law.
Social Economy Research
Social economy is one aspect of a larger societal movement that holds enterprises to higher standards and expects them to take more social and environmental responsibility in the private sector.
Georgetown's research in the growing field will challenge the traditional view of the economy as focused solely on the bottom line.
Another aspect of social economy is social finance, an approach to managing money that involves a social dividend rather than a charitable donation.
ENTREPRENEURSHIP
Social entrepreneurship, yet another aspect of the field, represents an attempt to draw upon business techniques not only to increase the industry's profits, but to help those in need.
The sociology department within Georgetown College offers an undergraduate class in this area.
"We are delighted to work with Georgetown University to advance knowledge and understanding in financial inclusion and research into the social impact that financial and economic challenges have within our society," says Ana Botín, executive chair of Santander and a former Georgetown board of directors' member. "This partnership combines Georgetown's world-class expertise with Santander Universities' network and firmly reinforces our core purpose to help people and businesses prosper."
Financial Inclusion event
The Georgetown University and Santander Partnership on Social Economy held its inaugural event, Achieving Financial Inclusion, in a new Finance and Human Development series this past October.
Two panels convened during the series to discuss "Different Models of Financial Inclusion" and "Reaching the Unbanked: Technology and Innovation." Moderated by Ricardo Ernst, the Baratta Chair in Global Business at Georgetown's McDonough School of Business, the panel's guest speakers included:
Shawn A. Cole, John G. McLean Professor of Business Administration at Harvard University
Ashish J. Thakkar, founder of the Mara Group and Mara Foundation, co-founder of Atlas Mara and author of The Lion Awakes: Adventures in Africa's Economic Miracle
The Honorable Claver Gatete, Rwanda's Minister of Finance and Economic Planning
Kathleen McGowan, director of digital finance at USAID's Center for Global Solutions
William Jack, professor of economics at Georgetown University and director of gui2de, the Georgetown University Initiative on Innovation, Development, and Evaluation
Olga Morawczynski, Program Manager at the MasterCard Foundation with a prime focus of financial inclusion
The event featured keynote speaker Lawrence H. Summers, the Charles W. Eliot Professor at Harvard University and the 71st Secretary of the Treasury, who reflected on Santander's support of academic institutions.
"I believe that I am right in saying that Santander is the leading corporate supporter around the world of higher education and universities," Summers said. "That is a very important thing. I think it is both morally right and practically right for them."
A Shared Commitment
The next event – Social, Economic, and Financial Challenges in Health and Human Development – takes place in February.
In the summer of 2017, the Georgetown-Santander Partnership will also organize and hold a competitive two-week summer workshop at Georgetown for students from around the world.
"In April 2015, Georgetown University committed to exploring a partnership with Banco Santander, through Santander Universities, focused on deepening society's understanding of some of today's most pressing socioeconomic issues," Georgetown President John J. DeGioia says. "As we continue to engage in this important work together, we remain deeply grateful to all our partners at Santander for their enduring shared commitment to the common good of our nation and our world."