Georgetown honors Rev. Martin Luther King Jr. during the 50th anniversary of his assassination with a semester of events, including a concert and presentation of the John Thompson Jr. Legacy of a Dream Award.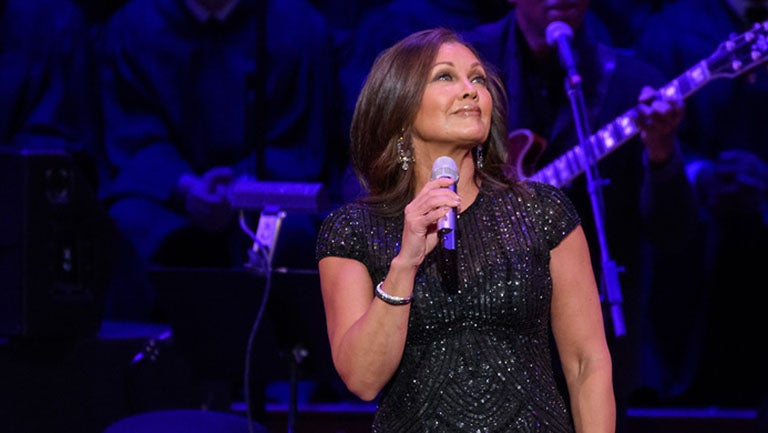 – Georgetown is honoring Rev. Martin Luther King Jr. during the 50th anniversary of his assassination with a wide variety of events, including a concert and presentation of the John Thompson Jr. Legacy of a Dream Award.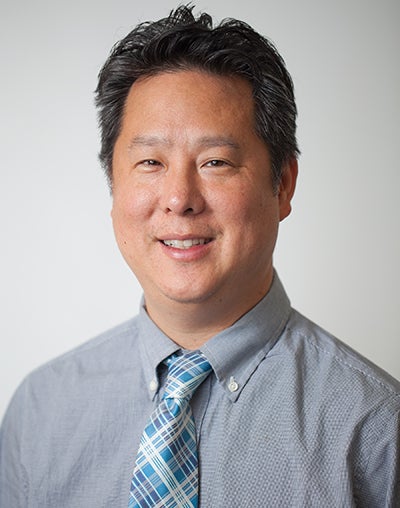 Steve Park, executive director of Little Lights Urban Ministries was recognized as this year's Legacyof a Dream awardee during the university's free Let Freedom Ring! Concert on MLK day,on Jan. 15, at the Kennedy Center for the Performing Arts.
This year the concert featured awarding-winning actress and singer Vanessa L. Williams, whose brother, actor Christopher Williams, graduated from Georgetown in 1989.
Georgetown awards the Legacy of a Dream Award to emerging local leaders with outstanding contributions to and inspire the people in the Washington, D.C., community.
Little Lights works with families in Washington, D.C., and provides a diverse range of programs focused on academics, spirituality, economic empowerment and racial justice.
Impacting Social Change
Georgetown's MLK events, which will take place over the spring semester, include everything from a spiritual service that honored King on Jan. 14 in St. Williams Chapel to a discussion on "Memphis: How a City Atones for Killing King" that will take place on March 19. A series of university-sponsored events also will take place in April to commemorate the April 4, 1968 death of the civil rights leader.
"This year holds special significance as we observe the 50th anniversary of Dr. King's assassination," says Patricia Grant, McDonough School of Business' associate dean for undergraduate programs.
Grant and Andria Wisler, executive director of the Center for Social Justice Research, Teaching and Service (CSJ), are co-chairs of the university's planning committee for the Let Freedom Ring! Initiative this year.
Programming also includes a Georgetown Prisons and Justice Initiative effort that allows visitors to experience a replica of a solitary confinement cell on campus. Visitors, who will receive background material on mass incarceration, may spend up to 30 minutes in the cell starting today through Jan. 30 and share reflections afterward.
Watershed Moment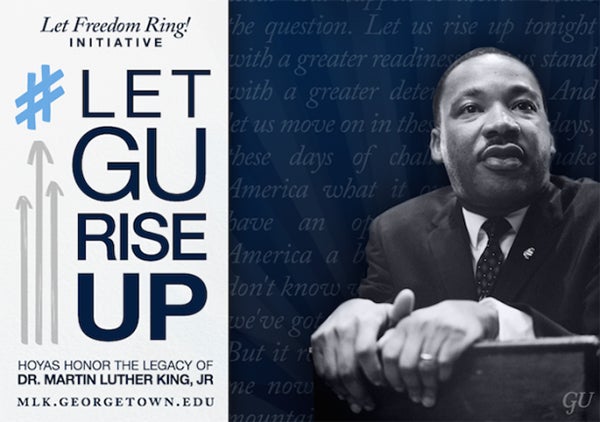 In honor of King, each year the university develops events and programs that provide opportunities to engage in conversations about Georgetown's capacity to impact social change.
"The 50th anniversary marks a watershed moment thathas sparked an outcry across not only our nation, but the world, and particularly Washington, D.C., and Georgetown," Wisler says.
This year, the programming is guided by King's April 3, 1968 speech, "I've Been to the Mountaintop," with the Georgetown community invited to reflect on urgent challenges facing the nation and the world by using #LetGURiseUp,Wisler explains.
Fifty-six Georgetown faculty and staff participated in a Jan. 9 Teach-In to prepare them for incorporating the speech into their curricula or campus programs throughout the semester.
Promised Land
The music commissioned for the Let Freedom Ring! Concert was inspired by the speech.
The Let Freedom Ring! Choir, comprising members from the university and the greater Washington, D.C. communities, performed "The Promised Land (Someday)," written by Rev. Nolan Williams.
"There are three themes in the song that we are lifting from the speech," says Williams, CEO of NEWorks Productions. "One is that the time for action is now, and two, in the words of King, refers to asking America to deliver the inalienable rights promised to citizens of this country."
"The other theme from the song is a reminder to avoid distraction, remembering that the issue to battle is injustice," he adds.
Conscious Decision
Five decades ago, riots broke out after news of King's assassination reached the masses. In D.C., the unrest lasted several days and left many African American neighborhoods and businesses destroyed.
"I think that's when Georgetown took a look at its campus community and the city and made some conscious decisions about how to work toward access to education for underrepresented students on campus," says Charlene Brown McKenzie, executive director of the Center for Multicultural Education and Access at Georgetown (CMEA), which houses Georgetown's Community Scholars Program (CSP).
In addition to celebrating King's legacy, this year also marks the 50th anniversary of CSP, which provides enhanced educational opportunities for a diverse cohort of first-generation Georgetown students.