In his new role, Jelenick will provide leadership for the Center's educational events and programs for undergraduate and graduate students, faculty and staff, promote greater understanding, knowledge and inclusion at Georgetown around LGBTQ+ identity, and foster a network and community of belonging among current students and alumni.  
The LGBTQ Resource Center, which opened in 2008 as the first center of its kind at a Catholic, Jesuit institution in the U.S., offers education, programming and support services to Georgetown students, staff, faculty and alumni of all sexual orientations and gender identities. Guided by Georgetown's commitment to the dignity and care of each person, the center works to create a safer, more inclusive and welcoming environment for LGBTQ+ community members.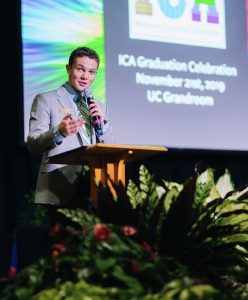 Jelenick previously served as the LGBTQ+ student services coordinator at the University of Dayton, where he planned the university's inaugural Lavender Ball, created and implemented university-wide educational programming on topics such as sexual orientation, gender identity, intersectionality and inclusive language, and expanded the Catholic university's ally workshop. During the allyship workshops, Jelenick focused on storytelling, inviting students to share their story and sharing his own story of when he was a transgender college student looking for resources and support.
"I've often opened up about my story as a young trans student navigating the world and systems that were not made for me," he said. "I try to give back to other young queer students like myself who didn't know there was a human there to support them, who didn't know that they could feel comfortable as their whole self, exist and belong."
"I think storytelling is so important. Building empathy for the experiences of queer people is one of the best ways to get the work done, because it humanizes our experiences and allows people to see the human beyond this identity that can seem so foreign and so complex to others."
Jelenick received his masters in higher education student affairs and his bachelor's degree in psychology from Western Carolina University. At Georgetown, Jelenick says he plans to lead with vulnerability, increase transparency between university leadership and students, and expand representation for marginalized communities. 
Learn more about Jelenick's path to supporting LGBTQ+ community members at Catholic universities and his number one goal at Georgetown.