Title:

Georgetown Announces Partnership with United Nations HeForShe Campaign
Date Published:
February 23, 2016
Georgetown announces a partnership with the United Nations HeForShe campaign, an international movement that encourages men and boys to advocate for gender equality.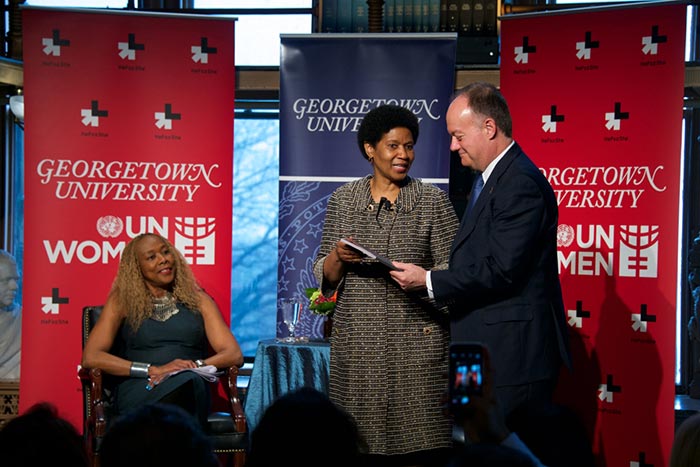 Georgetown today announced a partnership with the United Nations HeForShe campaign, an international movement that encourages men and boys to advocate for gender equality.
The leader of the HeForShe initiative, executive director of U.N. WomenPhumzile Mlambo-Ngcuka, lauded Georgetown's role as an "impact champion" for gender equality at a launch event today attended by President John J. DeGioia, senior university administrators, as well as faculty and students.
"Universities have the intellectual power, vision, and optimism necessary to achieve gender equality," said Mlambo-Ngcuka.
She called on Georgetown students to serve as role models for the next generation of women and girls by "lifting others as they climb."
Impact Champions
U.N. Secretary-General Ban Ki-moon and U.N. Women Global Goodwill Ambassador Emma Watson launched HeForShe in 2014.
The movement both recognizes men and boys as partners for women's rights and acknowledges the ways in which they also benefit from this equality.
HeForShe named 10 universities, governments and corporations with male executives to serve as impact champions and drive change within their institutions. Georgetown, under DeGioia's leadership, was one of only two U.S. universities selected (the other is Stony Brook University). Corporate partners include Twitter, Barclays and Tupperware Brands.
"Georgetown is proud to stand with HeForShe and its work to empower women and girls worldwide," DeGioia said. "Many in our world community, and especially women, are faced with significant challenges to the basic right to social justice and to the conditions that allow for human flourishing. We share a responsibility – as members of a global family – to promote justice, equity and dignity for women around the world."
Georgetown will host a delegation from a fellow impact champion university, Nagoya University in Japan, on Wednesday, February 24.
Humans For Others
Georgetown students shared their commitments to global gender justice in a conversation today with Mlambo-Ngcuka moderated by Rosemary Kilkenny, Georgetown's first vice president for institutional diversity and equity.
"I am proud to say that I am a HeForShe," said Jonathan Dromgoole (SFS'16). "Georgetown's commitment to gender equality and the HeForShe campaign illustrates the university's understanding of the importance of not just being men and women for others, but humans for others."
Dromgoole invited members of the audience to make the HeForShe commitment to take action against gender bias, discrimination and violence and to bring the benefits of equality to all.
Commitment to Gender Justice
As an impact champion, Georgetown has made three commitments to promote gender equality on its campus and throughout society.
The university's first commitment is to further the role of women in all areas of peace-building, from prevention and the protection of women from sexual violence in conflict to participation in post conflict recovery.
Through its Institute for Women, Peace and Security, Georgetown will serve as a clearinghouse for articles and studies on significant issues and best practices in peace and security; launch a new study of how women's political participation contributes to sustainable peace; and expand its international consortium that brings together practitioners and academics.
"Universities have the unique capacity—and responsibility—both to model a commitment to gender equality within our own campus communities and to contribute to the movement globally through research and public discourse," DeGioia said.
Understanding Sexual Misconduct
The university recently conducted among students its first campus climate survey, designed to learn about the prevalence of sexual assault, attitudes among students about the campus climate and knowledge of university resources available to students.
The survey garnered a 51 percent participation rate, nearly three times the average of 19 percent among 27 other universities last year. Of all the respondents, 44 percent were men.
The university is also expanding its sexual assault prevention training programs, including the "I Am Ready" training for undergraduates, a new "Think About It" training for graduate students and a "RESPECT" training for faculty and staff.
Georgetown Women's Alliance
Finally, Georgetown will promote an academic and professional culture in which female students, faculty, staff and alumni may thrive.
Its new Georgetown Women's Alliance, established in 2014, brings together women and women's groups from across Georgetown who share a commitment to fostering an environment in which women can learn, grow and succeed.
With more than 1,200 members from across campus, the GWA provides a network for the exciting, transformative and important work that has been happening across our campus for many years.
For more information about Georgetown's role as a HeForShe impact champion, please visit the HeForShe website.