Title:

Future Religious Retreat Center Focus of Georgetown Ceremony
Date Published:
October 7, 2011
Georgetown held a ceremony today in the Blue Ridge Mountains for its future home for religious retreats involving students of all faiths.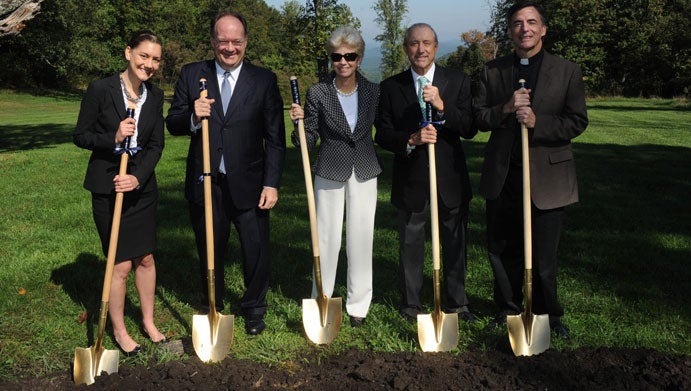 October 7, 2011 –
The Calcagnini Contemplative Center in Bluemont, Va., is being built with a $17 million gift from Arthur Calcagnini (C'54) and his wife, Nancy.
President John J. DeGioia and Rev. Kevin O'Brien, S.J., vice president for mission and ministry, joined 40 other members of the Georgetown community – including 12 undergraduates – to celebrate the launch of the project.
The event was held in advance of the center's construction.
Spiritual Restoration
"Arthur and Nancy Calcagnini's vision, commitment and generosity have ensured that our Georgetown community will forever have a place of reflection, solace and spiritual restoration," DeGioia said. "It will be here, in the Calcagnini Contemplative Center, where the members of our community [can] seek out our deepest inner truths, discover the best version of ourselves and renew our commitment to our mission."
The center, which will stand on a 55-acre plot about 75 minutes from Georgetown's campus, will host the Office of Campus Ministry's retreats for Catholic, Protestant, Jewish, Muslim and Orthodox Christian students, as well as those who practice other religious traditions.
It includes a Catholic chapel, a common green area, community and dining halls, a caretaker's house and 28 cabins that can house up to 78 students.
Deep Reflection
The Calcagninis have helped develop the university's Catholic and Jesuit mission for more than 20 years.
In 1991, they fully endowed the university's ESCAPE retreat program, which offers an overnight, nondenominational reflective experience for first-year and transfer students. The program has served more than 8,000 students since its inception.
"Hearing students share with others what they feel inside their hearts and learn to listen to others' experiences – it's had a profound influence on me," said Arthur Calcagnini, who attends ESCAPE with his wife at least once a year.
Holy Mountain
The Calcagninis came to the conclusion five years ago that Georgetown needed its own space for students to come together.
"This is a dream that I've had … that has taken a long time to come to fruition," Arthur Calcagnini said. "When we saw this place, it was love at first sight. We knew that this was it."
O'Brien, who blessed the ground where the center will stand, said mountains are traditionally spiritual places.
"Over two centuries ago, John Carroll founded his Hilltop in Washington," the Jesuit said, "and that has been holy ground for our students, faculty and alumni… today we have another holy mountain at Georgetown."
Building Community
Katherine Lewandowski (NHS'12), who attended the event, has been to the ESCAPE and Agape Catholic retreat programs for four years.
"Having our own retreat center will make the experience even more personalized and make sure that the program continues in the future," she said.
Robert J. Barthelmes (C'12), an American studies major from Maryland, is active in Protestant student ministry. He's excited about a permanent future home for ESCAPE.
"This contemplative center will be a place where students can get away to build community and reflect on our roles in the world," Barthelmes explained.