Former South African Ambassador to the United States Ebrahim Rasool joins Georgetown as a distinguished scholar-in-residence to explore a re-imagining of Islam.
Ebrahim Rasool, former ambassador of South Africa to the United States and Georgetown's new distinguished scholar-in-residence, first became interested in politics as a teenager growing up that country's violently-enforced Apartheid.
"I really had no idea where I was going until after I tasted my first tear gas, saw my first rubber bullet and fled my first whop from the police when I entered high school in 1976," recalls Rasool, who began his career as a political activist fighting racial discrimination. "That experience was life-altering. It gave me a crash course in politics."
Ambassador of South Africa from 2010 untilearly this year, he recently joined the Al Waleed bin Talal Center for Muslim-Christian Understanding (CMCU), housed in Georgetown's School of Foreign Service.
Great Contribution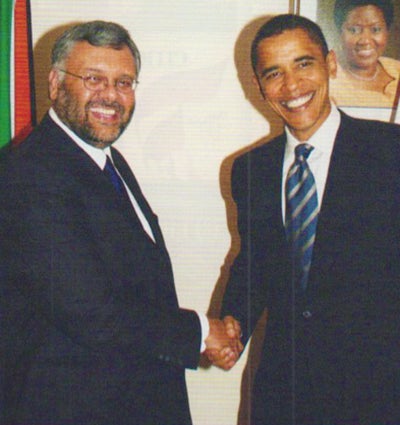 Ebrahim Rasool, then premier of the Western Cape in South Africa meets with then-Sen. Barack Obama (D-Illinois) during his 2006 visit to South Africa.
Rasool will spend his 15 months at Georgetown working on a book about re-imagining Islam, mentoring students and speaking to members of the university community about his experience.
"The ambassador's significant role in the anti-Apartheid movement, alone, will be a great contribution to Georgetown," says John Esposito, University Professor and CMCU founding director. "Obviously, anyone who was in that movement did so at great cost, and this is somebody who knows what it is to bring about that kind of social change."
Prior to his ambassadorship, Rasool served from 2004 to 2008 as premier of South Africa's Western Cape province, which includes Cape Town as its capital, governing as a member of the African National Congress.
Stepping Back
He became a special advisor to South African president Kgalema Motlanthe in 2008 and 2009, and was later elected to parliament in the National Assembly, where he served until 2010.
"Georgetown is offering me an opportunity to step out of a hectic three decades or more of political activism within the struggle of Apartheid, the transition of South Africa, the governance of South Africa and finally representing South Africa in Washington," Rasool says. "For the first time, I have the opportunity to step back from it and ask myself what have I learned over all of these years."
Rasool met the man who would become South Africa's first black president – Nelson Mandela – while serving time as a political detainee at Pollsmoor Prison in 1987.
A Chance Meeting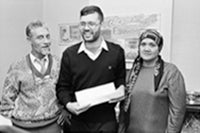 Ebrahim Rasool stands reunited with his parents, Ismail and Aziza Rasool, in July 1988 after 13 months in detention at Pollsmoor Prison in South Africa. About half of this time was in solitary confinement during the nation's state of emergency.
After contracting tuberculosis, Mandela was taken to the prison's hospital from Robben Island, where he served 27 years before his release in 1990.
"The Apartheid government feared that if he had died while in prison, that it would be a catastrophe," Rasool says.
Mandela and Rasool spoke briefly at the prison, but the meeting made a lasting impression on the young activist.
Rasool left Pollsmoor before Mandela did. Theyounger man campaigned heavily for Mandela's1990 release, and later joined him on a tour of African countries.
"For three weeks, I flew from one African country to another, met with Nelson Mandela and people I had only read about before – leaders from Libya, Egypt, Zimbabwe," he explains.
Applying Inspiration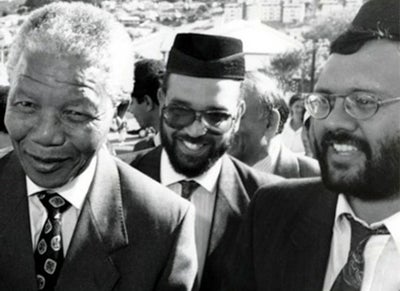 Ebrahim Rasool leads Nelson Mandela into the Cape Town's oldest mosque, built nearly two centuries ago by enslaved Muslims and exiles.
Rasool founded the World for All Foundation in 2010 to rethink the intellectual tools for global cooperative relations among faiths, cultures and communities. Through the foundation, Rasool works to establish dignity, inclusion and equity for people who are marginalized and excluded – especially those in the Muslim minority communities.
Rich Experience
During the height of Arab Spring, Rasool joined a small team of Muslim intellectuals to discuss the relationship between Islam and living democratically in Egypt, Libya and Tunisa.
He'll explore some of the same issues at Georgetown.
"What does the richness of the South African experience hold for a global community that I come from – a faith community in the larger sense of the word and a Muslim community in the smaller sense of the word?" he says.