Title:

Fate of World's Emerging Democracies Focus of Graduate Student's Research
Date Published:
November 26, 2018
Colton Wade (SFS'18, G'19), a finalist for the prestigious Rhodes Scholarship, is a student in Georgetown's Master of Science in Foreign Service program who conducts research on the fate of the world's emerging democracies.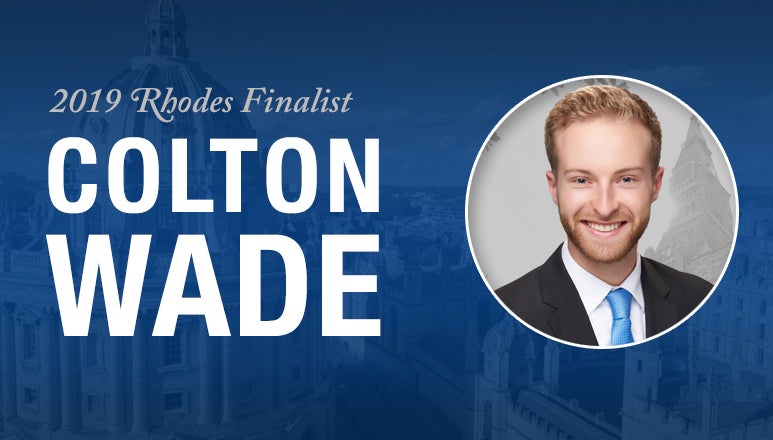 Colton Wade (SFS'18, G'19), who studies economic diplomacy in the Master of Science in Foreign Service (MSFS) program, was a finalist for theprestigious 2019 Rhodes Scholarship. He researches how the world's emerging democracies – India, Brazil and South Africa – can effectively partner with traditional players such as the United States, the European Union and the United Kingdom to more actively support democracy amid a global rise in authoritarianism.
Hometown: Malibu, California
Undergraduate degree/research: Bachelor's degree in international politics from the School of Foreign Service, summa cum laude and Phi Beta Kappa. Wade's undergraduate honors thesis traced international motivation for action on anti-corruption legislation across Brazil's modern democratic era, which began in 1985.
MSFS research: Wade's graduate capstone project at Georgetown, funded through the Institute for the Study of Diplomacy, analyzes economic statecraft – the directing of market forces toward diplomatic ends – to identify cases in which such tools have successfully reversed democratic backsliding abroad.
"The depth of democracy's current crisis indicates that diplomacy alone will not be enough," Wade says. "Instead of simply insisting on an 18th-century model that has failed to adapt to 21st-century circumstances, we must reimagine that model."
After he graduates in the spring, he plans to continue his studies at the University of Oxford, where he will seek to expand upon his research of support for democracy to understand how democratic institutions themselves can be made more resilient amid the challenges they face.
Internships/foreign policy experience: Currently an intern for the U.S. Department of State's Bureau of Democracy, Human Rights, and Labor, Wade also has worked as a research assistant at Georgetown's Center for Latin American Studies, and interned with the U.S. Embassy in Brasilia,the Wilson Center's Brazil Institute and for the office of then-U.S. Vice President Joe Biden.
In addition to work experience, he represented Russia at the U.N. for a class diplomatic simulation on the Yemeni Civil War with former Secretary of State and Georgetown professor Madeleine Albright, engaged with policymakers on a 10-day trip to Israel and Palestine and spent seven months studying in Rio de Janeiro and São Paulo, Brazil, as a Boren Scholar.
Campus and community activities: Wade has served as secretary general for the United Nations Association of Georgetown, section editor and reporter for The Caravel international newspaper, producer and actor with the Mask & Bauble Dramatic Society and director of events and engagement for FAST (Foreign Affairs, Science, and Technology).
He was also involved with the Carroll Fellows Initiative and the Pelosi Scholars Program (formerly the Walsh Scholars Initiative).
Why Georgetown: Wade chose to study at Georgetown to pursue his dream of becoming a diplomat.
"The School of Foreign Service offered an unparalleled education in diplomacy and foreign policy that I felt I couldn't find at any other institution," he says.
Career Goals: Wade aspires to have a varied career shaping the policy discourse on global democracy both inside and outside of government, potentially writing for Foreign Affairs magazine, advising on freedom of speech for Googleand collaborating with the National Endowment for Democracy.
He says he eventually wants to join the State Department in a policymaking role "to shape and revitalize America's democratic leadership."