Earlier this month, I attended a fall festival while traveling to Philadelphia. After an afternoon of fall snacks and small business finds, I wondered whether I could find a similar event in DC. Little did I know (at least, until I was told by a friend), the Georgetown neighborhood was hosting a Fall Market on Wisconsin Avenue just two weeks later. Over thirty businesses participated in the event, which stretched from N to R St NW. This market was a lovely way for me to better acquaint myself with the neighborhood and kick off fall. Here were some of my favorite highlights: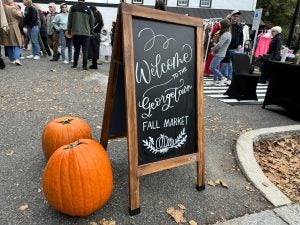 Carpe Librum Book Sale
The Chase Bank Parking Lot hosted a variety of Fall Market specialties, including Carpe Librum's used book sale. Drawing quite the crowd, the book sale benefited Turning the Page – an education program in DC. With a wide range from fiction novels to DC guidebooks, the sale had something for everyone. Reading is one of my favorite pastimes, and I found multiple paperback books in amazing condition to add to my to-be-read list!
Live Music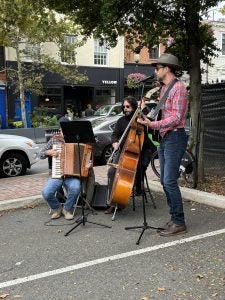 The Fall Market hosted live music by the Bitter Dose Combo – a gypsy jazz and swing group based in DC. With an accordion, bass, acoustic guitar and vocals, their music pulled together the Fall Market aesthetic. Their tunes emanated autumn and transported me from Wisconsin Avenue to some of my favorite fall movies or television shows.
Delicious Food
With businesses such as DIG, Jaco Juice & Taco Bar and Taichi Bubble Tea offering samples and discounts, it was impossible to go wrong with the Fall Market food finds. However, a standout for me was the King of Pops booth. Being from Atlanta, I am accustomed to associating a rainbow umbrella and white pushcart with the Atlanta-based popsicle company. Yet I was shocked to find one in DC — especially at the festival. I had an amazing cookies and cream popsicle, and it was truly a taste from home!
Art Finds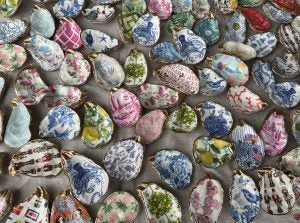 Art finds at the market ranged from jewelry to prints; however, my absolute favorite was decoupage (a form of art in which fabric or paper is glued and sealed onto a surface — here, oyster shells) by Blair's Oyster Shells. This artist uses cocktail napkins to transform oyster shells into gorgeous decorations — with designs ranging from lemon trees to nutcrackers. Her table was brimming with options, and the oyster shell ornaments made me very excited for the upcoming holiday season.
Fall Decor
One of my favorite elements of fall in DC is the Georgetown neighborhood and shops' stunning decorations. Some locations opt for the traditional fall energy, often featuring staircases overflowing with pumpkins and gourds. For instance, Carine's Bridal shop had flowerboxes filled with fall leaves, sunflowers and apple décor. Additionally, their window display featured a tower of pumpkins. Other spots take a spookier approach, with fake cobwebs, spiders, and skeletons galore. Illusions Salon had a couple of these spooky guests, with a pair of skeletons lounging on their outdoor furniture. Truly, nothing puts me into the fall mood better than a walk down Wisconsin Avenue!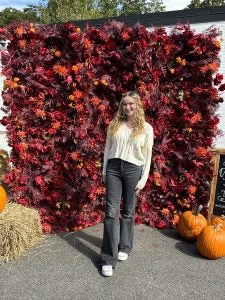 The Georgetown Fall Market introduced me to new shops, delicious restaurants, community organizations and local artisans. I was so excited that the event overlapped with Georgetown University's Family Weekend as it also gave me the opportunity to introduce my parents to some of my established favorites on Wisconsin Avenue. I cannot wait for the Georgetown neighborhood's next events — including Georgetown GLOW starting on December 1, a yearly light art exhibition in the streets and alleys of the area!