Title:

Critical Language Scholarship Winner Studying Arabic in Jordan
Date Published:
June 22, 2016
Margaret Crownover (SFS'18) is one of 12 Georgetown students to receive a 2016 U.S. Department of State Critical Language Scholarship.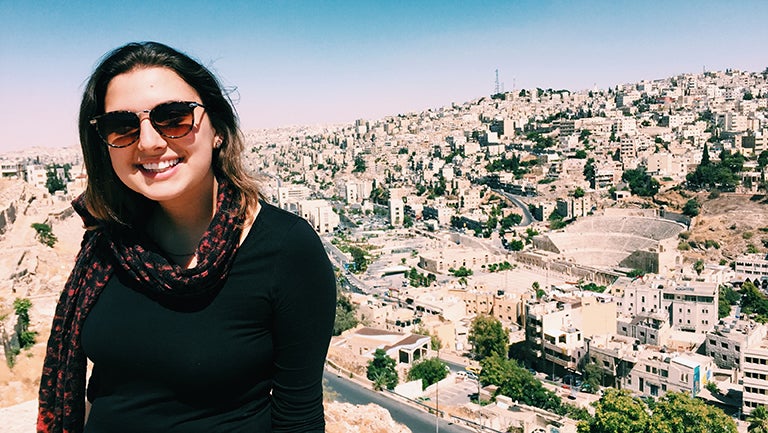 –Margaret Crownover (SFS'18), one of 12 Georgetown students to receive a 2016 U.S. Department of State Critical Language Scholarship, says her interest in studying Arabic began when she studied abroad in Morocco three years ago.
"I think that so much of culture is embedded in the language," says Crownover, who is now studying Arabic at the Jordan Language Academy in Amman, Jordan. "I didn't want to just read about the politics in the newspapers, or take classes on conflict, without having my own experiences to connect to my studies. I wanted to experience the culture by interacting with people and learning about the region firsthand."
The Critical Language Scholarship Programis a U.S. government effort to "dramatically expand" the number of Americans studying and mastering critical foreign languages.
The State Department considers the following foreign languages critical: Arabic, Azerbaijani, Bangla, Chinese, Hindi, Korean, Indonesian, Japanese, Persian, Punjabi, Russian, Swahili, Turkish and Urdu.
Understanding Hatred
Crownover, of Ashville, North Carolina, says she decided to major in international affairs at Georgetown because she was "sick of seeing so much hate in the world toward other religions/nationalities/anyone who we see as 'different.' "
"I'm studying international affairs to seek to understand why such hatred and violence exist in our world, starting by understanding the intricacies of other cultures and places," she says. "I hope to utilize that more comprehensive understanding to combat major issues that plague our world."
The Georgetown student says she was "thrilled" when she heard about receiving the scholarship.
"I read the email while I was sitting in the airport, and the people around me probably thought I was a little insane because I was so excited," Crownover explains. "I applied to CLS because even though learning Arabic in an isolated classroom in an English speaking country is a valuable endeavor in and of itself, I found it difficult to connect my language skills with any practical surroundings."
Beautiful Surroundings
"By being immersed in an Arabic speaking country," she adds, "I knew I would be able to gain the skills to communicate with people in real life situations."
She is also learning how to talk about what she calls her "amazing" natural surroundings in Jordan.
"There seems to be an endless number of beautiful wadis, which are huge canyons with hidden waterfalls and ravines in the middle of the desert," She says. "My favorite experience so far was hiking and rappelling down waterfalls at a place called Wadi Mukheiris."
'Incredible' Professors
At Georgetown, Crownover has interned at Georgetown's Center for Contemporary Arab Studies, is a member of the Lebanese Student Association, practices yoga with Hoyasana, has danced with Rangila for two years and is serving on Rangila's philanthropy committee this year.
She says both her Problem of God class with Lauve Steenhuisen as well as Asian Philosophies with Erin Cline, were "absolutely incredible."
"Both professors created great space for dialogue and challenged me to think critically about what I believe and why I believe what I do," she says.
"Also, my first year of intensive Arabic with Terrence Potter was probably the most difficult and rewarding class I've taken at Georgetown," Crownover adds. "I'm so thankful to have had a teacher whose enthusiasm and passion for Arabic was so evident in the classroom."
Facilitating Peace
Crownover isn't yet sure what she's doing after graduation, but says she's "super interested in human rights and conflict resolution."
"So perhaps I'll work with an NGO," she says.
"Wherever my career takes me," she adds, "I want to work to facilitate peace and understanding instead of passively allowing violence and hatred to win."
The other 11 Georgetown students are:
Sonali Dhawan (C'18), of Berwyn, Pennsylvania (Arabic in Oman)
Dylan Camche (SFS'19) of Livingston, New Jersey (Russian in Nizhny, Novgorod, Russia)
Sylvia Levy (SFS'18) of Short Hills, New Jersey (Chinese in Xi'an, China)
Sarah Fasano (G'16), of Richmond, Massachusetts (Urdu in Lucknow, India)
Beth Kroman (G'18) McAllen, Texas (Indonesian in Malang, Indonesia)
John Ellington (G'18) San Diego, California (Persian in Dushanbe, Tajikistan)
Andrew Marshall (G'20) of Phillips, Wisconsin (Swahili in Arusha, Tanzania)
Mackenzie Colella (G'17) Athens, Alabama (Arabic in Meknes, Morocco)
Andrea Wise (G'17) of Seattle, Washington (Arabic in Madaba, Jordan)
Scott Goldstein (SFS'16) of Potomac, Maryland (Persian in Dushanbe, Tajikistan)
Grace Fenton (SFS'16) of Woonsocket, Rhode Island (Swahili in Arusha, Tanzania)