Title:

Commencement 2012 to Feature Wide Range of Speakers
Date Published:
May 1, 2012
Neuroscientists, CEOs, human rights activists and others – including LivingSocial CEO and co-founder Tim O'Shaughnessy (B'04) and "The Wire" and "Treme" creator David Simon – are scheduled to speak during the university's 2012 Commencement May 17-20.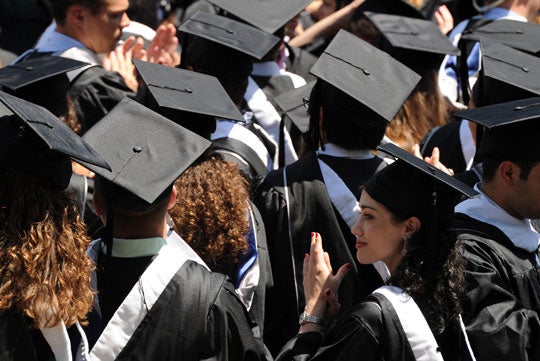 May 4, 2012 –
Georgetown holds individual graduation ceremonies for each undergraduate and professional school as well as award celebrations on campus, beginning with Senior Convocation on May 17.
A number of the speakers are also scheduled to receive honorary degrees.
"Our commencement speakers are exceptional individuals who represent the highest levels of excellence and who will provide inspiration for our students as they envision more clearly the impact they can make in the world," said Georgetown President John J. DeGioia. "These individuals from diverse backgrounds have worked tirelessly to improve the lives of others through public service, research, teaching and creative endeavors."
Commencement Speakers and Honorary Degree Recipients
Helen Neville
Doctor of Humane Letters, honoris causa
Graduate School of Arts and Sciences
Friday, May 18, Healy Lawn, 9 a.m.
Neville's contributions to neuroscience have made her a leading figure in understanding the brain. She holds the Robert and Beverly Lewis Endowed Chair at the University of Oregon and is a professor of psychology and neuroscience as well as director of both the Brain Development Laboratory and the Center for Cognitive Neuroscience. Her major research interests involve the biological constraints and the role of experience on development in humans. She is particularly interested in the way that the human brain develops and its capacity to change in reaction to experience.
Barry Salzberg
Doctor of Humane Letters, honoris causa
McDonough School of Business, MBA Program
Friday, May 18, Healy Lawn, 12:30 p.m.
Salzberg is the global chief executive officer of Deloitte Touche Tohmatsu Limited (DTTL). As CEO, he leads and manages the private professional services firm and sets the strategic direction of the Deloitte global network. The network comprises 48 member firms operating in 150 countries, with approximately 182,000 people worldwide. Prior to his current position, Salzberg served as CEO of Deloitte LLP (United States) and as the U.S. managing partner. Salzberg has served in a variety of leadership roles since joining Deloitte in 1977.
Scott Case
School of Continuing Studies
Friday, May 18, Healy Lawn, 3:30 p.m.
Case is an entrepreneur and inventor who has put his talents to work pushing progress and innovation in both the private and nonprofit sectors. As the founding chief technology officer of Priceline, the "Name Your Own Price" company, he was responsible for building the technology that enabled Priceline's rapid growth. Case is a named inventor on dozens of U.S. patents, including the underlying portfolio for Priceline. Case also co-founded Precision Training Software, a software company that developed the world's first PC-based simulated flight instructor and photo-realistic flight simulator. Most recently, Case was named CEO of the Startup America Partnership, where he works to drive American entrepreneurship to create jobs and sustain our nation's global leadership. Before joining the Startup America Partnership, Case was CEO of Malaria No More, where he worked to inspire individuals and institutions in the private sector to end deaths caused by malaria. Case also serves as chair of Network for Good, a national nonprofit that has distributed more than $475 million to 60,000 nonprofits and provides online fundraising and communications services to more than 5,000 nonprofit organizations.
David Simon
Doctor of Humane Letters, honoris causa
Georgetown College
Saturday, May 19, Healy Lawn, 9 a.m.
A former crime reporter at The Baltimore Sun, Simon is best known for his creation of the critically acclaimed television dramas "The Wire" and "Treme," which explore the societal repercussions of the drug trade upon inner city Baltimore and a post-Hurricane Katrina New Orleans. At The Baltimore Sun, Simon reported and wrote two works of narrative nonfiction, Homicide: A Year On The Killing Streets and The Corner: A Year in the Life of an Inner-City Neighborhood. The former is an account of a year spent with the city's homicide squad and the latter represents a year he spent on a West Baltimore drug corner. Homicide became the basis for an NBC drama that aired from 1993 to 1999 and for which Simon became a writer and producer after leaving the newspaper in 1995. The Corner became an HBO miniseries and won three Emmy Awards in 2000. Simon also served as a writer and executive producer of HBO's "Generation Kill," a miniseries depicting U.S. Marines in the early days of the Iraq conflict. He is currently at work on the third season of "Treme." Simon also writes for The New Yorker, Esquire and The Washington Post, among other publications.
Mark Green
Doctor of Science, honoris causa
School of Nursing & Health Studies
Saturday, May 19, Healy Lawn, 12 p.m.
Senior director of the U.S. Global Leadership Coalition, Green is also a former ambassador to Tanzania and a former member of the U.S. House of Representatives from Wisconsin. While in Congress, Green helped craft a variety of foreign policy initiatives focused on issues of health, including the Global Access to HIV/AIDS Prevention, Awareness and Treatment Act of 2001 and the United States Leadership Against HIV/AIDS, Tuberculosis and Malaria Act. Since March, Green has been a member of the Executive Council on Development at the Center for Strategic and International Studies, a nonprofit based in Washington, D.C. At the Center, he is exploring ways in which the federal government and the private sector can both independently and in partnership help alleviate poverty by fostering economic growth. The U.S. Global Leadership Coalition is a broad-based network of 400 businesses and NGOs, national security and foreign policy experts, and business, faith-based, academic and community leaders in all 50 states.
Ela R. Bhatt
Doctor of Humane Letters, honoris causa
Walsh School of Foreign Service
Saturday, May 19, Healy Lawn, 3 p.m.
Bhatt has defended the rights of poor and marginal women for more than 60 years. Through her early work with the Women's Wing of the Textile Labor Association, Bhatt encountered firsthand the dire condition in her native India of self-employed women, who comprised 90 percent of the total labor force. These women had none of the legal protections extended to workers in the organized sector. To combat this injustice, Bhatt, in 1972, established the Self-Employed Women's Association (SEWA), the largest union in India. SEWA formed a women's cooperative bank, created a highly successful literacy program, offers child care centers and promotes low-cost housing and microfinance. Bhatt has also been a long-time consultant to UNICEF, and has served as a trustee of the Rockefeller Foundation and received numerous awards.
Tim O'Shaughnessy (B'04)
McDonough School of Business
Saturday, May 19, Healy Lawn, 6 p.m.
O'Shaughnessy is the CEO and co-founder of LivingSocial, an online retailer of discounts to local businesses. He sets and communicates LivingSocial's core strategy and oversees growth of the online business. Before LivingSocial, he led the consumer products team at Revolution Health and managed product launches at AOL. In 2010, O'Shaughnessy was named to Washington Business Journal's 40 Under 40 and Inc.com's 30 Under 30 list. LivingSocial earned the Hottest Venture Capital Deal award at the 2010 Northern Virginia Technology Council's NVTC Hot Tickets Awards.
Dr. Michael Zasloff
Doctor of Science, honoris causa
Dr. Ross Fletcher
Doctor of Science, honoris causa (degree only)
School of Medicine
Sunday, May 20, Warner Theater, 11 a.m.
Zasloff is an internationally recognized immunologist and member of the editorial board of several scientific journals. Since 2004, he has been actively engaged in studies of innate immunity within the Surgical Immunology Transplant Institute at Georgetown's department of surgery. He was named dean of Research and Translational Science at Georgetown in 2002, tasked with integrating basic science with the clinical environment of the Medical Center. Zasloff was chief of the human genetics branch at the National Institutes of Child Health and Human Development in the 1980s. In 1988, he founded Magainin Pharmaceuticals, Inc. a publicly traded biotechnology company. In July 1992, he joined Magainin on a full-time basis, serving as executive vice president and president of the Magainin Research Institute, a basic research division of the company. From July 1996 through November 2000, Zasloff was vice chairman of the board of Magainin Pharmaceuticals.
Fletcher created for the Veterans' Administration the first successful, system-wide, paper free medical record, serving American service members across the nation and around the world. This electronic system now generates data available to both patient and physician in an integrated platform that has improved care with a rate of success unmatched in any other system. The Wall Street Journal credits Fletcher with leading the development of the most advanced medical record system in the nation. Since 2000, Fletcher has served as chief of staff at Washington DC VA Medical Center. He completed his M.D., medical house staff training and first-year fellowship at the University of Michigan at Ann Arbor. He served two years with the U.S. Army in Washington, D.C., and received his cardiology fellowship training at Georgetown. Since 1972, he has been chief of cardiology at the Washington DC VA Medical Center. He has served on the faculty at Georgetown's medical school since 1969 and is now a professor of medicine. Fletcher also directs the nationwide Veterans Affairs registry for the Pacemaker and Defibrillator Surveillance Center and the Core Holter Lab for cooperative studies in antiarrhythmic therapy in congestive heart failure and sudden death.
Arthur J. Gajarsa (L'67)
Doctor of Law, honoris causa (degree only)
Gay J. McDougall
Speaking and accepting Doctor of Law, honoris causa for her late husband, John A. Payton
Law Center
Sunday, May 20, Healy Lawn, 2 p.m.
Gajarsa has served as a judge at the U.S. Court of Appeals for the Federal Circuit since 1997. During law school at Georgetown, he worked as a patent advisor and later clerked for Judge Joseph McGarraghy of the U.S. District Court for the District of Columbia. After that position, he served as special counsel and assistant to the commissioner at the Bureau of Indian Affairs in the Department of Interior. Prior to private practice, Gajarsa worked for the U.S. Department of Commerce, the Department of the Interior and the U.S. Department of Defense. Gajarsa's work in private practice spanned three decades with firms specializing in litigation of water rights, intellectual property, securities and international corporate matters. He received his bachelor of science in electrical engineering from Rensselaer Polytechnic Institute and a master's degree in economics from Catholic University.
Payton, who died this past March, served as president and director-counsel of the National Association for the Advancement of Colored People's Legal Defense and Educational Fund. While attending Harvard Law School, he served on its Civil Rights and Civil Liberties Law Review and assisted with high-profile civil rights cases. These cases included the defense of a 1960s NAACP-led boycott of segregationist merchants in Mississippi. After graduating from law school, Payton served as a law clerk to Judge Cecil F. Poole of the U.S. District Court in San Francisco before joining the Washington, D.C., firm Wilmer, Cutler & Pickering (now WilmerHale). He chose the firm in order to continue working on NAACP v. Claiborne Hardware, the Mississippi boycott case that Wilmer lawyers argued successfully before the Supreme Court. He went on to lead the firm's litigation department, simultaneously handling commercial matters and some of the most important civil rights cases of our time.
McDougall, formerly a United Nations Independent Expert on minorities, will accept an honorary degree on behalf of her late husband, John A. Payton. She is serving as the Robert Drinan Visiting Professor in Human Rights at the Law Center this academic year. McDougall was executive director of the international NGO Global Rights from 1994 through 2006. She has also served as an Independent Expert on the U.N. entity that oversees compliance with the International Convention on the Elimination of All Forms of Racial Discrimination. During her time in that position, she negotiated the adoption of General Recommendation XXV on the Gender Dimensions of Racial Discrimination.
Speakers at Other Events
James J. O'Donnell, provost
School of Foreign Service in Qatar Commencement
Saturday, May 12, Grand Hyatt Hotel in Doha, Qatar
O'Donnell has served as Georgetown's provost since 2002. A distinguished scholar and recognized educational innovator, he has been recognized by his peers with election to the presidency of the American Philological Association and has been a fellow of the Medieval Academy of America since 2003. His scholarly work ranges widely in the cultural history of Europe, the Mediterranean and the Middle East in the later Roman and early medieval periods. He is the author of seven books, including a three-volume edition of Augustine: Confessions, and a 2005 biography of Augustine. HarperCollins published his latest book, The Ruin of the Roman Empire, in 2008. In 1990, O'Donnell co-founded the Bryn Mawr Classical Review, the second online scholarly journal ever created in the humanities. He is secretary of the board of directors of the American Council of Learned Societies and chairs the board of directors of ResearchChannel. He also served two terms on the Board of Trustees of the National Humanities Center.
Helen O'Reilly (F'03)
Senior Convocation
Thursday, May 17, McDonough Arena, 2 p.m.
After graduating magna cum laude from Georgetown's School of Foreign Service in 2003, O'Reilly spent three years at Advocates for Children of New York as an education advocate for detained and incarcerated youth with learning disabilities. In 2006, she was selected as a Luce Scholar and spent the next two years in the Philippines and Hong Kong working with local NGOs to advocate for fair working conditions for migrant domestic workers. She returned from Asia to start law school in 2008 and simultaneously served as a member of the Immigration and Legal Services Clinic and the Workers Rights Advocacy Clinic. She graduated from Yale Law School in 2011 and is currently working as a judicial clerk for Judge Barrington D. Parker on the United States Courts of Appeals for the Second Circuit. Next year, she will be working for Judge John Gleeson in the U.S. District Court in Brooklyn.
Louis J. Freeh
ROTC Commissioning Ceremony
Friday, May 18, Gaston Hall, 7:30 a.m.
Before serving as director of the Federal Bureau of Investigation (FBI) from 1993-2001, Freeh was the lead prosecutor in the so-called "Pizza Connection" case, the largest and most complex investigation undertaken at the time by the federal government. The case involved a drug-trafficking operation by organized crime members who used pizza joints as fronts. Freeh served as the federal government's principal courtroom attorney in the 14-month trial of the criminals and won the conviction of 16 of 17 co-defendants in the case. He subsequently held positions in the U.S. Attorney's Office for the Southern District of New York as chief of the Organized Crime Unit, and as deputy and later associate U.S. attorney. He went on to serve as a U.S. District Court judge for the Southern District of New York before being nominated as FBI director by President Clinton. Following his many years of public service, Freeh accepted a position with MBNA America Bank, N.A., as vice chair, general counsel and ethics officer. In 2007, he founded the Freeh Group International Solutions, LLC, an independent global risk management firm.
Kathleen Sebelius
Georgetown Public Policy Institute Tropaia
Friday, May 18, Leavey Center Ballroom, 11 a.m.
Sebelius was sworn in as the 21st secretary of the Department of Health and Human Services (HHS) in 2009. Since taking office, she has led efforts to improve America's health and enhance the delivery of human services to some of the nation's most vulnerable populations, including young children, those with disabilities and the elderly. As part of the historic Affordable Care Act, she is implementing reforms she says have ended many of the insurance industry's most discriminatory practices and will help 34 million uninsured Americans get health coverage. She is also working with doctors, nurses, hospital leaders, employers and patients to implement policies aimed at slowing the growth of health care costs. Sebelius served as governor of Kansas from 2003 until her cabinet appointment and was named one of America's Top Five Governors by Time magazine.
Sri Mulyani Indrawat
Alexander Graf Lambsdorff (G'93)
Master of Science in Foreign Service (MSFS) Tropaia
Friday, May 18, Gaston Hall, 7:45 p.m.
Indrawat, an Indonesian economist, served as the country's finance minister from 2005 to 2010 and is credited with strengthening Indonesia's economy and directing it through crises between 2007 and 2010. Indrawat also is said to have increased Indonesian investments, addressed issues of tax corruption by implementing financial reforms and decreased the country's overall public debt. During her term as finance minister Indonesia's foreign exchange reserves reached an all-time high of $50 billion.
Lambsdorff (G'93) is a German politician and member of the European Parliament with the Free Democratic Party of Germany, part of the Alliance of Liberals and Democrats for Europe. This transnational alliance includes two European political parties, the European Liberal Democrat and Reform Party and the European Democratic Party. Lambsdorff sits on the European Parliament's Committee on the Internal Market and Consumer Protection, which manages the promotion and protection of consumer economic interests. He is also a member of the delegation for relations with the United States.