Georgetown bestowed legendary comedian, writer, producer and director Carl Reiner – who says he had his greatest comedic triumph at the university – with an honorary Doctor of Humane Letters yesterday.
Reiner, who studied at the School of Foreign Service (SFS) in 1943 after joining the Army the year before, received the honored at the Paley Center for Media in Beverly Hills, Calif.
President John J. DeGioia conferred the degree and Bernard Cook (C'90, G'91), an associate dean and director of Georgetown's Film and Media Studies, read the citation. Also presiding at the ceremony were Provost Robert Groves, Dean of the College Chester Gillis, SFS Dean Carol Lancaster, members of the Georgetown Chamber Singers and the Georgetown University Cadet Corp.
Seven-Decade Career
"Today, Georgetown University delights to honor the director of The Jerk, the father of Meathead, and Betty White's on-screen boyfriend," Cook read from the degree citation. "Actor, writer, producer, wit, Carl Reiner is a renaissance man whose seven decade career spans the history of television and the maturity of feature film."
Reiner is also known for his creation of the 1960s television series The Dick Van Dyke Show, as straight man for the famous 2,000-year-old man sketch, and director of more than a dozen movies including The Man With Two Brains and Dead Men Don't Wear Plaid, and won the Kennedy Center's Mark Twain Prize for American Humor.
During the ceremony, clips of his work were shown to the audience.
"I'm watching everything here and I realize I've done it," Reiner joked. "If I don't get a laugh tonight, it means I'm finished, right? I can't top any of that, so I won't try."
No Problem
But he got plenty of laughs, especially when he told the story about asking his French professor at Georgetown if he could direct a stage version of Molière's Le médecin malgré lui (The Physician in Spite of Himself).
"He said absolutely," Reiner recalled. "However, I will allow this only if you direct it in French."
"I said, 'Ce n'est pas un problème' (it is not a problem)."
But in reality he didn't know enough French yet to direct in it.
Humor unites us
"They monitored me," Reiner said. "There was this guy in the back … So I talked in French badly while he was there and as soon as he ran out I talked a million hours a second and we did the play and it was a big success."
The audience included the comedian's three children – Rob Reiner, an actor/director/producer in his own right, Annie, a poet, playwright and author, and Lucas, a painter who has also written, directed and acted in films.
""Through laughter we can know the truth a little bit better, truth about ourselves, truths about one another, truth about our culture," DeGioia said before introducing Reiner. "Humor also unites us as a people, can help us critique our culture, challenge our culture and it can provide us with insight for how we may change it.
It Was Heaven
Cook interviewed Reiner for a 2008 Georgetown Witness to History video, in which the comedian explained that he was first a radio operator in World War II, but came down with pneumonia and was reassigned.
Eventually the Army Specialized Training Program sent him to Georgetown to study French so that he could become an interpreter.
"I was not only going to a college," Reiner says in the 2008 interview, "but to a beautiful setting."
"It was heaven and there were Jesuits there," he jokes, "so we were really close to heaven, they could get me an introduction to angels if I needed it.
Biggest Triumph
Reiner says his "biggest triumph" as a comedian was when he impersonated his professors in a Christmas show he was asked to put on in Georgetown's Gaston Hall.
"This evening I will never forget," he told Cook. "There we were – Gaston Hall was packed with soldiers, the balcony was filled with the Jesuit fathers, the priests and the lay teachers."
He was the final act, he said, and he came out impersonating SFS professor Joaquim de Siqueira Coutinho.
"[Coutinho had] talked about knowing and having a real relationship with [Vladimir] Lenin before the revolution," Reiner says in the interview. "And we all wanted to know about Lenin …"
Chocolate 'Nooggets'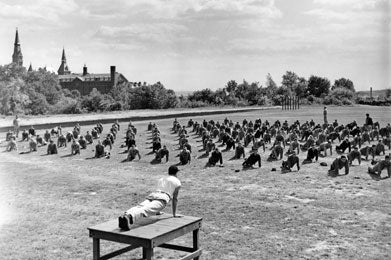 Carl Reiner studied at the School of Foreign Service as a part of the Army Specialized Training Program before being shipped out to the Pacific. Students in the program are shown here going through physical training.
"He said, 'Lenin very interesting man. We had coffee together in a little place. He loved chocolate nooggets. You know chocolate nooggets? Chocolate? Little candy? Cookie? Nooggets. Almonds in it?' He talked about [them] for five minutes and never said a word about [Lenin]."
Reiner says the Georgetown audience howled with laughter.
Coutinho, a Brazilian who taught geopolitics, Portuguese and geography at Georgetown for almost 50 years, died in 1978 at the age of 92. According to an SFS document, he had the distinction of having been knighted by the King of Portugal in 1910.
The comedian also impersonated what he called the "austere" manner of Rev. Edmund Walsh, S.J., the founder of the School of Foreign Service who later served as a consultant to the U.S. Chief of Counsel at the Nuremberg Trials.
Serving the Joke
The future father of "Meathead," aka Rob Reiner, also met his future wife, Estelle, during his time at Georgetown. An actress and singer, she passed away in 2008 a few months after Cook interviewed her husband.
After the budding comedian completed his program at Georgetown, the Army shipped him out to the Pacific as part of an entertainment unit.
"His genius has always been to serve the joke, the laugh, never to demand the spotlight," reads the honorary degree citation.