Title:

Classics Major Wins Prestigious Beinecke Scholarship, Finalist for Other Awards
Date Published:
November 17, 2017
Classics major Annee Lyons' (C'18) wins a 2017 Beincke Scholarship and is considered for other prestigious awards.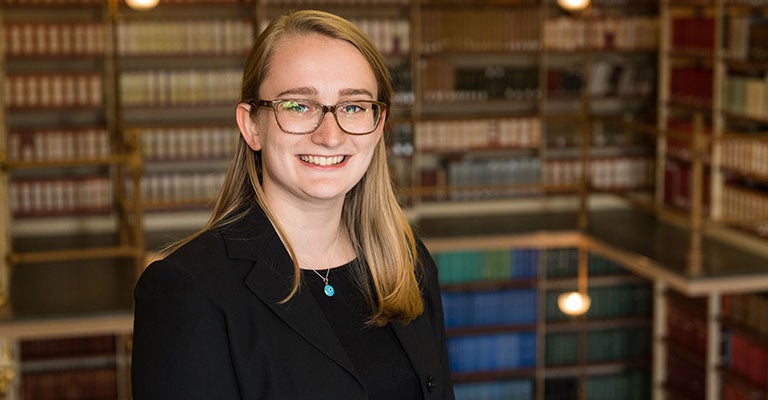 — Georgetown senior Annee Lyons (C'18), recipient of the 2017 Beinecke Scholarship,is also being considered for other prestigious awards.
The Beinecke Scholarship is given annually to a select number of students across the country planning to enroll in a humanities-focused graduate program and who require financial assistance.
Lyons is one of only 20 students from across the nation to win the scholarship.
A classics major, she is now applying to schools to do graduate work in the fieldas she waits to hear about the coveted Rhodes and Marshall Scholarships as afinalist.
Choosing a Path
From an early age, Lyons, from the small town of Mount Airy, Maryland, loved learning about the classics.
"When I was 13, I learned about the burning of the library of Alexandria, and I was heartbroken for the first time," she explained. "I was thinking, 'How is that possible? How could we have lost so much? What can we learn from what's left over?' I knew from there, that's what I wanted to study."
Georgetown might have seemed a logical choice for Lyons, a high academic achiever who valued the liberal arts. But it wasn't that simple.
Raised by a single mother on a farm in Mount Airy, Lyons was nervous about attending school alongside students from more privileged backgrounds.
She wanted to forge her own path, but she also wanted to stay relatively close to her family her mother and grandparents in Mount Airy and her older sisters, who were attending The George Washington University. So she went ahead and applied to Georgetown.
Acceptance to Georgetown
When she opened her Georgetown acceptance letter and found her financial aid offer, she knew her life was about to change.
Lyons had received the Peter F. Karches Memorial Scholarship, which includes full tuition, room, board, and a stipend to cover general living expenses. For a 17-year-old who had no idea how she would pay for college, it was a godsend.
"It was remarkable," she said. "When I asked other universities if they could compete with the offer, they said, 'That doesn't exist.' "
Telling Untold Stories
With the help of the Karches Scholarship and the Georgetown Scholarship Program, Lyons quickly found her home on the Hilltop.
She became a coordinator of the Preparing to Excel Program (PEP). The student also started a WGTB radio show — Annee Lyons and the Oxford Commas — that has continued through her entire undergraduate career.
Lyons also picked up a minor in film and media studies, eventually working with associate dean Bernie Cook on a project related to the university's work on Slavery, Memory, and Reconciliation.
The minor helped fulfill a long-held passion for filmmaking that she had never before discussed with anyone but her family.
Indiana Jones
"I grew up watching Turner Classic Movies with my grandparents," Lyons said. "My friends loved the Jonas Brothers, Camp Rock, High School Musical, while I was wondering 'Has anyone seen Singin' in the Rain?' "
Through the classics program, she got the opportunity to fulfill a lifelong dream in the summer of 2015, traveling to Macedonia and Bulgaria to participate in archaeological digs and excavating ancient coins.
"I always wanted to be like Indiana Jones," she said, referring to the film in which an archaeology professor's work leads him into various action-packed adventures.
Learning Greek
A class on Alexander the Great had left her fascinated by the Hellenistic period, but she was worried about learning Greek.
Having exhausted every course on the period taught in English, she had to either choose a different specialty or bite the bullet and learn a new language.
"Now, I really love Greek—even more than I love Latin," she said.
Through embracing Greek, Lyons was able to enroll in classes on the histories and ethnographies of great ancient writers such as Thucydides and Herodotus.
Piecing Things Together
Herodotus, whose work she eventually translated in a later course, inspired her more than any classical writer she had encountered.
"It's exactly the same reasons I love film," she said. "He's telling stories. He's trying to piece things together. He sometimes goes all over the place, and it's hard to tell where it's going to end up. He even has magnificent female characters."
With the help of the Lisa J. Raines Fellowship, Lyons completed a summer program at the American School of Classical Studies at Athens and visited archaeological sites described in Herodotus.
This year, she's writing her senior thesis on the portrayal of religious women in Herodotus — a subject that her thesis advisor Catherine Keesling,a professor of classics at Georgetown, believes fills a gap in the scholarship wide enough to fit a book.
"When the stories are all about the emperors and the gold, we're missing a huge part of that history," Lyons said. "We're missing the slaves, the women, the illiterate. Now, we're training ourselves to see what hasn't been seen for centuries, and I want to be a part of that."
High Achievement
Lyons' application for the Beinecke Scholarship caught the eye of the Office of Fellowships, Awards and Resources, which chose her as Georgetown's nominee for the award.
At the urging of friends and mentors, Lyons didn't stop with the Beinecke win – which led to her applying for and later being selected as a finalist for the Rhodes and Marshall Scholarships.
Regardless of the outcome, she knows she's already in a great spot.
"I look back to when I first started applying to college, and the question wasn't 'Where do you want to go?' but 'Where can you afford to go?' " Lyons said. "The Beinecke changes that, just like the Karches did."