Title:

Charlottesville and Beyond Panel Fits Into Larger Effort to Combat Hate
Date Published:
September 20, 2017
A group of Georgetown academics and religious leaders participate in a panel discussion this week to reassess the role religious communities and universities may play in the wake of the violence that erupted in Charlottesville, Virginia, last month.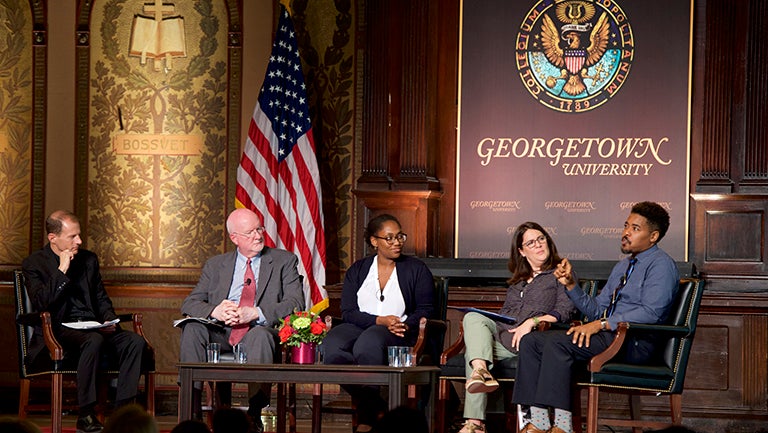 September 21, 2017 – A group of Georgetown academics and religious leaders participated in a panel discussion this week to reassess the role religious communities and universities may play in the wake of the violence that erupted in Charlottesville, Virginia last month.
The Berkley Center for Religion, Peace and World Affairs sponsored the Tuesday event, "Charlottesville and Beyond: Bending Toward Justice," as part of a university effort to focus on issues of racism, anti-Semitism and Islamophobia.
Following the violent clash involving torch-bearing and armed white supremacists as well as counter-protesters, President John J. DeGioia reminded the Georgetown community of its shared obligation to "reject hatred, racism, bigotry, anti-Semitism and all ideologies and manifestations of white nationalism and white supremacy."
Difficult Questions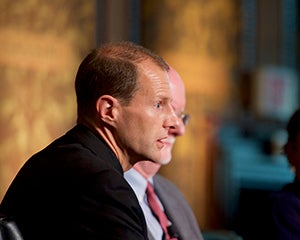 "We've been left questioning how we as a community address this reality that has shown itself so, so strifefully in our own time," said Rev. Matthew Carnes, S.J., who moderated Tuesday's panel with Berkley Center director Shaun Casey, history professor Marcia Chatelain, Rabbi Rachel Gartner and theology professor Terrence Johnson.
Carnes said that since the August incident, America has been confronted with "so many very difficult questions, especially about how and why these racial and religious divides have surfaced the way they have."
"In the wake of recent events in Charlottesville, we felt it crucial to examine anew the role of religious communities as forces for justice and equality," said Michael Kessler, Berkley Center managing director, who introduced the panelists, "and how religious persons can counter racist and exclusionary narratives as well as how religious communities contribute to perpetuating the problems we face."
Healing Brokenness
Casey said he was concerned that some neo-Nazis and white supremacists may have misconstrued religious sermons to justify their actions in Charlottesville.
"Indeedthere are some progressive white evangelicals and even center white evangelicals who have spoken out quite eloquently and vociferously criticizing the ideology of white supremacy, " Casey said, "but on the whole, they are a minority voice today."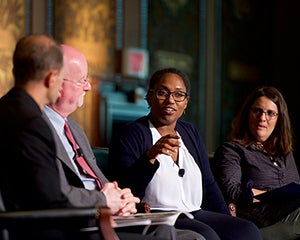 Chatelain said faith communities must take care of their members who want to fight against hate.
"Faith leaders need to create a community that is so loving and so certain in its moral righteousness to existthat when the members of this community suffer hard because they resisted, the community has the capacity and love to treat them in that process," she said.
Johnson, who co-teaches a course called Blacks and Jews this semester, talked about the history of the African American church in addressing social justice issues.
"I think what we're seeing now is an interesting reflection of brokenness," Johnson said, "and a number of African American churches are trying to figure out, 'How do I make sense of the brokenness we see in our community' and how to link that to institutional work that must be done at the federal and state level."
As a member of an African American church, he observed that some of these smaller churches are very involved with Black Lives Matter and other movements, but that larger churches haven't made such connections.
The Long View
Gartner said that resistance to the racist and anti-Semitic rhetoric of white supremacists involves being a moral voice for the "dignity of difference," organizing religious communities to protest, looking at events in perspective and gaining resilience from the past.
"Judaism takes a very long view," she said, "Our history goes way, way back, like a stream back in time. And we sit in that stream of our traditions. We get strengthbecause it reflects the cumulative wisdom of so many generations of life experience, experience of sorrow and joy, of vulnerability and strength and coping with really hard times."
The panelists also talked about the conundrum of free speech on college campuses. Casey talked about how he saw the issue in relation to the incident in Charlottesville.
"It's not just white supremacy," he said. "It's armed white supremacy. It's very hard to talk to somebody who's carrying a weapon. That makes discourse all the more problematic."
Teaching in Tense Times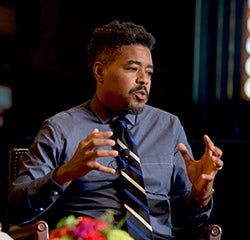 CNDLS offered a workshop on Teaching in Difficult Times for faculty and staff on August 31.
Other CNDLS workshops have included an October 2016 Teaching and Learning in Times of Tension and How to Talk about the Election and Other Difficult Discussions in the Classroom (November 2016).
Courses that tackle some of these sensitive subjects include Race and Racism in American Culture, Class, Culture, Race, and Johnson's course on Blacks and Jews.
"The university has an obligation to fostering rich and robust environments where people can debate and have some sense that the university is a context where diverse opinion is also appreciated," Johnson said.