Title:

Board Supports Investment Recommendation, Approves Kehoe Design Study
Date Published:
October 5, 2017
Georgetown's board of directors supports a recommendation to continue the university's practice of not investing in private prison companies and also approves a design study to renovate Kehoe Field's playing surface.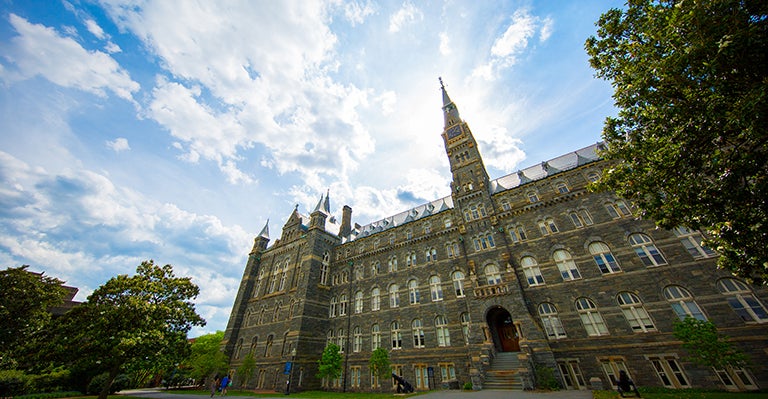 – Georgetown's board of directors this week supported a recommendation to continue the university's practice of not investing in private prison companies and also approved a design study to renovate Kehoe Field's playing surface, among other business.
Socially Responsible Investments
This past June, the board approved a Socially Responsible Investing (SRI) policy to align the university's investment strategy with its commitment to social justice, protection of human life and dignity, stewardship for the planet and promotion of the common good.
Earlier this year, the university's Committee on Investments and Social Responsibility (CISR), which comprises students, faculty and administrators, reviewed a student proposal that included a request that the university divest from the private prison industry. After finding investing in the private prison industry to be inconsistent with Georgetown's commitment to socially responsible investing which is reflected in the new SRI policy, CISR submitted a recommendation to the board that supported this strategy.
The board's Committee on Finance and Administration supported CISR's recommendation that going forward the university will not own investments in private prison companies and will encourage its external investment managers to avoid investments in these companies.
The move follows a board action in 2015, when the university announced it would not make or continue any direct investments of endowment funds in companies whose principal business is mining coal for use in energy production. At the same time, Georgetown also committed to continue evaluating issues related to socially responsible investing and management of the endowment on a regular basis.
Kehoe Field Project
The board also approved a design study for Kehoe Field, which sits atop Yates Field House, committing to invest $500,000 for an engineering design that will provide construction documents, schedules and corresponding cost estimates for the field's temporary repair.
Last year, the university completed a feasibility study to explore short-term replacements for Kehoe Field, as well as plans for the long-term future of Yates in conjunction with long-term master planning and future capital campaigns.
"This is an important project for our community," says Todd Olson, vice president for student affairs. "After studying options to replace the field surface, we are pleased to be moving forward with plans for a replacement that will restore three acres of recreational space for our community and allow numerous club and intramural sports to practice and compete on campus."
New Members, Committees
The board also welcomed five new members during its October meeting:
Bonnie W. Gwin (SFS'82, G'83), vice chair and co-managing partner of the global CEO & Board Practice at Heidrick & Struggles
Tyree P. Jones, Jr. (L'86), litigation partner in the Financial Industry Group of the Washington, D.C., law firm Reed Smith LLP
Dikembe Mutombo, (C'91), president and CEO for the Dikembe Mutombo Foundation, Inc.
Michael Psaros, (B'89), managing partner at KPS Capital Partners, LP
Rev. Antonino Spadaro, S.J, editor-in-chief of La Civiltà Cattolica
Marijn E. Dekkers, chair of Unilever N.V. and PLC, will join the board in February.
Additionally, two new board committees met for the first timethis week, including one on intercollegiate athletics that was established to discuss and advise on policies and resources that will sustain and strengthen Georgetown's AthleticDepartment. Approximately 700 student-athletes compete in 29 Division I sports at the university.
A second committee on global engagement met to help identify international opportunities for the university, give direction to the university's current international engagements and enhance Georgetown's role as a global institution.