Title:

Biology Professor Finalist for Prestigious National Teaching Award
Date Published:
April 4, 2017
Heidi Elmendorf, an associate professor of biology at Georgetown, is named one of three finalists for the Cherry Award, one of the few national teaching awards for higher education in the country.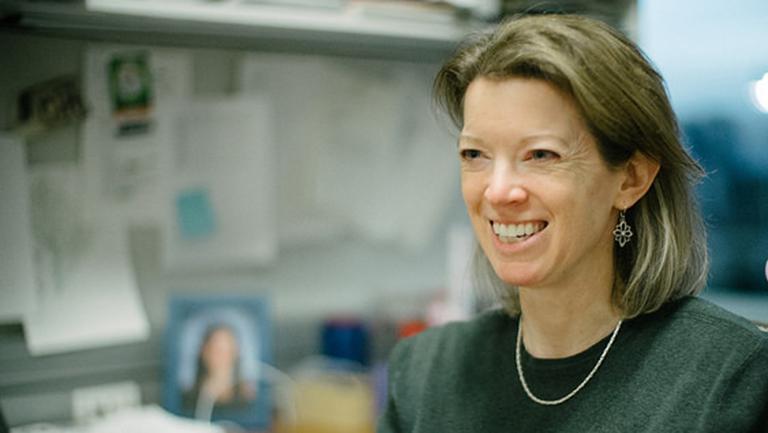 Heidi Elmendorf, an associate professor of biology at Georgetown, is one of three finalists for one of the few national teaching awards for higher education in the country.
Elmendorf, who won the Carnegie Foundation for the Advancement of Teaching's District of Columbia Professor of the Year in 2014, is a finalist for the $250,000 Robert Foster Cherry Award for Great Teaching issued by Baylor University.
As a finalist, she receives $15,000, as well as $10,000 for her department to help foster the development of teaching skills. Each finalist also presents a series of lectures at Baylor as well as at their home institution during the 2017 fall semester.
Deeply Honored
"I am deeply honored by this recognition of my passion for teaching and learning," says Elmendorf, who also directs undergraduate students and studies in biology as well as the university's science education outreach. "And I am honored to be in the company of two great professors – Neil Garg, a professor of chemistry at UCLA, and Clint Longenecker, a professor of leadership at the University of Toledo."
"Above all," she adds, "I am delighted at the attention that Georgetown's commitment to excellence in undergraduate education will receive as a consequence of my selection as a finalist for the Cherry Award."
The $250,000 award recipient, who will be announced in the spring of 2018, also will receive $25,000 for her or his home department.
Committed and Creative
College Dean Chester Gillis says Elmendorf has been nationally recognized for her innovative pedagogies that have transformed the undergraduate learning experience and has won virtually every Georgetown teaching award.
She has participated in several national teaching and learning initiatives – as a scholar with the Carnegie Foundation for the Advancement of Teaching and as a founding member and facilitator of the American Society of Microbiology Biology Scholars Program.
Elmendorf has also been invited to speak across the country about the scholarship of teaching and learning.
"In an institution with a long Jesuit tradition of caring about teaching, and a scholarly community comprising many faculty who have innovated in their courses, Heidi Elmendorf has distinguished herself in a singular way as a committed, creative and innovative teacher," Provost Robert Groves wrote in his letter of recommendation.
"It gives us deep pleasure to know that our high regard for Professor Elmendorf's accomplishments is shared at the national level as well," he said, upon learning Elmendorf had been named a finalist.
Expanding Opportunities
Elmendorf also directs the Regents Science Scholars Program, funded by a $1.2 million investment from alumni Joe Zimmel (C'75) and Alison Lohrfink Blood (B'81).
The program is designed to expand opportunities for students from traditionally underserved communities interested in studying science.
"The sciences piece is really critical, not just for Georgetown," she said when the program was announced in May of 2016. "I think it's critical for our society. We know that access to higher education, particularly at elite institutions, has been limited for first-generation students and that access to careers in the STEM field has been even more constrained."
Intellectual Development
Elmendorf helped develop the university's biology of global health major and created an innovative partnership program with local high schools, where seniors serve as student teachers to create and evaluate the impact of their own innovative teaching pedagogies.
When she isn't teaching, the professor manages an active research laboratory, where she has mentored more than 50 undergraduates, that studies the parasite Giardia lamblia.
The professor has also taken her passion for teaching into the parasitology world by serving as a director and faculty member for several years of a summer graduate course at the Marine Biological Laboratory.
"Professor Elmendorf cares about intellectual development and also personal development, and she teaches both through her pedagogy and also by example," says Breanna Walsh (C'17), who conducts research in Elmendorf's lab.
Talented and Passionate
Elmendorf's Foundations in Biology course fills up the largest lecture hall on campus every year. In addition to that course, she teaches Biology of Global Health; Science Pedagogy: Principles and Practice; Senior Seminar in Biology; and the Research Intensive Senior Experience.
"Georgetown University is fortunate to have talented and passionate professors who care deeply about students and think creatively about how best to engage them in and beyond their disciplines," Gillis wrote in his recommendation. "Professor Heidi Elmendorf is recognized on and off campus as a leader in pedagogical innovation, a tireless advocate for students and the epitome of the professoriate."