Rev. Drew Christiansen, S.J., who will step down as editor-in-chief from the Catholic magazine America in October, has been appointed Distinguished Professor of Ethics and Human Development at Georgetown, beginning in January 2014.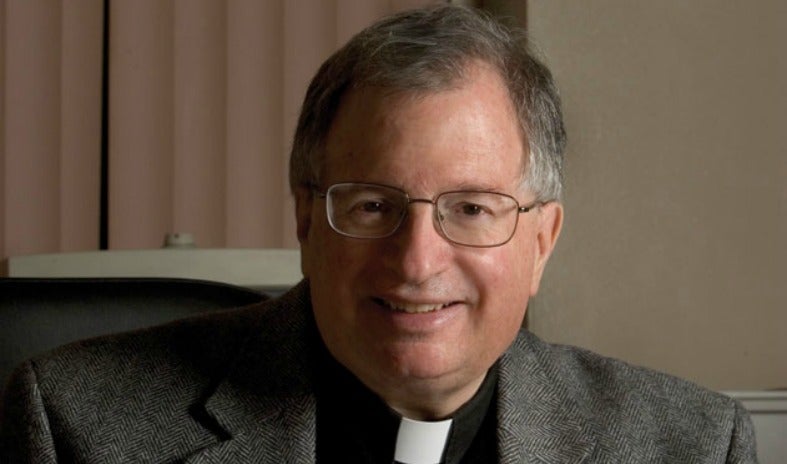 – Rev. Drew Christiansen, S.J., who will step down as editor-in-chief from the Catholic magazine America in October, has been appointed Distinguished Professor of Ethics and Human Development at Georgetown, beginning in January 2014.
Christiansen, who will be a visiting scholar at Boston College after he steps down from his post at America, will come to Georgetown for a five-year joint appointment with the university's School of Foreign Service (SFS) and its Berkley Center for Religion, Peace and World Affairs.
The Jesuit has served since 2005 as editor-in-chief of the prominent Catholic magazine, which announced his departure and future plans on its website today.
Vast Experience
"We are grateful for this opportunity to welcome Father Christiansen to our Georgetown community in 2014," says Georgetown President John J. DeGioia. "His significant scholarly work on issues of ethics, international relations, and human development, as well as his deep experience in developing peace initiatives especially through his work with theUnited Sates Conference of Catholic Bishops [USCCB] – will enable us to strengthen our focus on pressing questions for our ever more global society."
From 1991 to 1998, the Jesuit headed the USCCB's Office of International Justice and Peace, during which time he led the drafting of bishops' 1993 peace pastoral statement, titled "The Harvest of Justice Is Sown in Peace." He also served as USCCB's counselor for international affairs from 1998 to 2004.
Holy Land
Christiansen was especially involved in Middle East affairs, establishing strong links between the American Church andthe Church in the Holy Land.
In 1998, at the request of the Vatican, he organizeda coordination of bishops conferences from Europe and North America to support the Church in the Holy Land. The same year, for his work on behalf of Palestinian Christians,the Latin Patriarch invested him as a canon of the Holy Sepulchre of Jerusalem.
Throughoutthe 1990s, during the break-up of the former Yugoslavia, Christiansenwas also heavilyengaged ininterreligious peace initiatives, relief and refugee efforts.
Direct Experience
A 1982 Yale graduate with a doctorate in religious social ethics, he has twice served as a fellow and once as director at the Georgetown-based Woodstock Theological Center between 1998 and 2002.
"I hope to bring a direct experience of the church's role and that of religious actors in international processes to the university," says Christiansen, who also served as the U.S. bishops' principal advisor for their 1991 statement on the environment. "I'm also looking forward, with (Dean) Carol Lancaster and others at the School of Foreign Service, to determining at what place ethics may play in the training of Foreign Service students, both graduate and undergraduate."
The Jesuit also has served as an associate professor of theology at Notre Dame University and a fellow of that university's Kroc Institute for International Peace Studies; as assistant professor of social ethics at the Jesuit School of Theology at Berkeley and as director of the Graduate Theological Union's Center for Ethics and Social Policy.
At Georgetown, Christiansen will teach at least one class a year and conduct research at the intersection of ethics, human development and international relations.
Ethical Enterprise
"We are honored to have such a distinguished theologian and longtime ethics scholar join us at the School of Foreign Service," says SFS Dean Carol Lancaster. "Father Christensen's expertise will strengthen the school's teaching and research in global human development which is, at its core, an ethical enterprise and one in which Georgetown is increasingly engaged."
Christiansen said the nature of the research he conducts at Georgetown will be dependent on conversations with Lancaster and Berkley Center director Thomas Banchoff.
"Certainly a lot of the work Berkley has done on peace is right in line with what I've done for the last 20 years since working with the bishops' conference," Christiansen said.
Banchoff said the Berkley Center is "delighted to bring such an accomplished scholar and practitioner on board. Father Christiansen's tremendous experience and expertise will enrich our work at the intersection of religion, peace and world affairs in the coming years."
A Natural Choice
The future Georgetown professor joined the Society of Jesus after graduating from St. Peter's Boys High School in Staten Island in 1962.
He received his undergraduate degree from the seminary at Fordham University and his M.Div. and S.T.M. from Woodstock College before obtaining his master's of philosophy and doctorate from Yale.
He is co-author of Forgiveness in Politics: An Alternative Road to Peace (USCCB, 2004) and more recently co-editor of Michel Sabbah Faithful Witness: On Peace and Reconciliation in the Holy Land (Holy Land Ecumenical Foundation, 2009). He has authored hundreds of articles and been published in more than a dozen foreign journals.
"My conversations with everyone at Georgetown were so congenial and we were so much in tune on so many issues that it really made it a natural choice," Christiansen said.