The scholarship chooses candidates based on their leadership potential, intellect and strength of character. At Tsinghua University, the scholars will be immersed in Chinese culture, leadership and global affairs to better understand China's role in the world and network with scholars from around the world.
Wang, who was born in China, plans to leverage the fellowship for a career in international data governance. For Davis, the Schwarzman offers an important stepping stone to creating more equitable food systems.
The Food Entrepreneur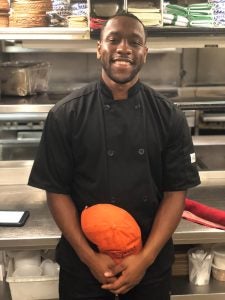 Davis is a senior consultant at Deloitte, where he works with C-suite leaders to reimagine the future of the workplace. In his off-hours, Davis has worked to reimagine the future of food systems. 
He moonlighted as a line cook at a José Andrés restaurant and founded a food start-up, where he distributed 20,000 pounds of farm-grown food to chefs furloughed during the pandemic. 
For Davis, the Schwarzman Scholarship presents a new global perspective on business, innovation and how to influence behavioral change — insights he hopes to leverage in combating malnutrition and creating more equitable access to healthy food. 
"The solution requires several academic and global perspectives," Davis says. "Learning from Schwarzman Scholars with varying geographic and professional backgrounds is a crucial next step on my journey to become a leader who navigates diverse perspectives to create a healthier planet through delicious food."