Title:

Albright, Brzezinski, Polish Ambassador Pay Tribute to Jan Karski
Date Published:
March 19, 2013
A tribute to Jan Karski at Georgetown included personal recollections by Zbigniew Brzezinski, Madeleine K. Albright and former Jewish chaplain Harold S. White. Brzezinski says he was a teenager when the World War II Polish resistance fighter came to his house for dinner.
Zbigniew Brzezinski last night recalled being a teenager when Jan Karski came to his home for dinner during the time the Polish resistance fighter was providing some of the first accounts of the Holocaust to the West.
Brzezinski, the former national security advisor, joined Madeleine K. Albright, former U.S. Secretary of State, Polish ambassador Ryszard Schnepf and Georgetown's former senior Jewish Chaplain Rabbi Harold S. White in a tribute to Karski, a Georgetown professor who died in 2000.
The event, co-sponsored by the School of Foreign Service and the Jan Karski Educational Foundation, celebrated the recent republication by Georgetown University Press of Karski's 1944 book Story of a Secret State. The book documents Karski's work in the Polish Underground beginning in 1939.
Not Believed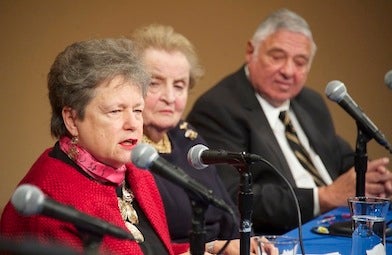 School of Foreign Service (SFS) Dean Carol Lancaster, far left, with SFS professor Madeleine K. Albright and former Jewish Chaplain Rabbi Harold S. White at the tribute to Jan Karski Monday night.
Karski, a devout Catholic, was twice smuggled into the Warsaw Ghetto, and entered the Nazi's Izbica transit camp disguised as a guard, witnessing firsthand the horrors of the Holocaust.
When he reported what he saw to President Franklin Roosevelt and Prime Minister Winston Churchill, neither of them believed him. Even Jewish Supreme Court Justice Felix Frankfurter didn't believe him.
But Karski continued to write about what he'd seen until, eventually, everything about the Holocaust became bitterly clear.
'They Are All Being Killed'
After the war Karski earned a Ph.D. from Georgetown in 1952 and taught at the university for 40 years.
In May 2012, President Obama posthumously awarded Karski the Presidential Medal of Freedom for his work during World War II. The medal was on display last night at the tribute.
Brzezinski related his personal story to an audience in Georgetown's historic Gaston Hall.
"At one point in the course of the discussion, my father asked him, 'what is happening to the Jews?' " Brzezinski said, "particularly in Eastern Poland, which was occupied by the Nazis after the Nazi invasion of the Soviet Union…"
"And [Karski] simply said, 'They are all being killed.' "
'What do you mean?'
Brzezinski, now a professor at Johns Hopkins University, said his father was stunned and asked, "What do you mean? What do you mean they're all being killed?"
He said [Karski] replied, "I've just said it. They're all being killed."
"And my father said, 'You mean children? And women? And old people?'
The former national security advisor said Karski firmly answered, "I've told you. They're all being killed."
Risk and Wrists
"And I remember that to this day," Brzezinski said. "That and his wrists, because his wrists had been slashed after the Nazis captured him and before he was rescued by the underground… He tried to kill himself because he was afraid that during the interrogation he would give away the fact that he was a secret emissary to the West to alert the West to what was happening."
Georgetown University Press published the new edition this month with a foreword by Albright and an afterword by Brzezinski, along with previously unpublished photos, notes, further reading and a glossary.
Albright, whose book Prague Winter: A Personal Story of Remembrance and War, 1937-1948, talks about the moral decisions many had to make during the war, said she thinks Karski "was somebody who understood what the responsibilities of those who know the truth, what they need to do, what they need to say and he made those honorable decisions at great threat to himself."
Pride, Elegance and Modesty
The former secretary of state also noted that she took over Karski's course after he died, and that she knew him as a man of "great pride and elegance but also modesty in terms of not expecting to be praised for what he had done."
Obama last year also awarded the Presidential Medal of Freedom to Albright.
She learned later in life that her family was Jewish and she had lost more than a dozen of them in the Holocaust.
'I Didn't Do Enough'
White recalled once inviting Karski to be a homilist at a commemoration of the Holocaust.
"I'll never forget his homily, because he began by saying 'I didn't do enough,' White said. "… the service was in Dahlgren Chapel. He turned to the Blessed Sacrament and said 'I hope that Christ forgives me for not having done enough.' He was one of the most humble people I have ever encountered."
In introducing the panel, moderated by School of Foreign Service (SFS) Dean Carol Lancaster (F'64), Georgetown board of directors chair Paul Tagliabue (C'62) noted that Karski "put the lives of others above his own, even bearing torture at the hands of the Gestapo. His rare combination of both physical and moral courage, standing as a witness and a voice for the vulnerable is an example to us all."
Karski's Legacy
"In this example," the former NFL commissioner continued, "there is a calling for us to remember the past, to reflect on what it means in our own lives and in our own time and to have courage to take action where we see injustice. This is the legacy that Jan Karski left us and it is the legacy we all share through our connection to him."
Schnepf, the Polish ambassador, said Karski taught the world something important.
"The contemporary lesson that we can draw on an every day basis – it teaches us that it is never enough to spread the lessons, spread the idea that Jan Karski was living with," he said. "But this story never ends, if you look around and looking at the intolerance and still lack of understanding by people, just because they don't want to know [people who are different]. That means that there's a great job in front of us."