1. Finding Friends at Georgetown
My biggest worry going into my first week of college was the fact that I was entering a completely unfamiliar place full of people I didn't know. Although I love meeting new people, I usually take time to get to know someone before feeling comfortable with them.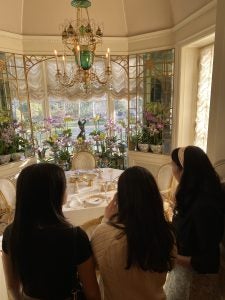 Looking back at my first few weeks of college, I remember meeting people that I don't speak to now, some people that I am acquaintances with and also others who are now my closest friends. Although I was anxious at first, being excited and open to meeting new people was all I needed to find those individuals that I felt the most myself around. There are so many amazing, interesting people at Georgetown, and anyone here can find people that they click with!
2. Overcoming the Fear of Judgment
One of the most important things I learned was that everyone only cares about themselves. This is an exaggeration and I don't mean this in a pessimistic way, but it's something I realized while learning not to let the fear of how others perceive me stop me from being myself around others.
I learned that although you may think others are being critical of you, people usually don't go out of their way to be constantly judgmental of others around them and are probably just thinking about what they themselves are doing. I learned this lesson one time when I came back to my dorm after a class wishing I had added to the discussion but held back due to fear of criticism toward my position. This feeling of regret made me realize that whether in social situations or academic settings, even if it seems like your contribution may be silly, trivial or basic, it's always better to express yourself because who else will do that if not you? 
3. Communicating With Professors
This is common advice that I myself have heard countless times, but I guess it's said so often because of how true it is: Communicate with your teachers! They are there to help, so don't be afraid to go to their office hours or email them. Even if you don't have anything in the class you are struggling with or have questions about, I still think it's great to get to know your professors.
Beyond their role as teachers, many professors at Georgetown are such accomplished, amazing individuals with so much to learn from. So remember to try to build relationships with your professors – you may gain a new role model or friend!
4. Dealing With Stress
You know everyone experiences stress — especially going to a school like Georgetown — yet stress also makes you feel so alone. Being with friends allows me to decompress for a while, but another way I alleviate my stress and create a calmer mindset is by taking walks.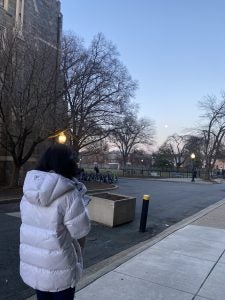 During late nights at Lau, whenever I felt like I needed a breath, I would step outside and take a walk, even if that meant just walking around campus for 20 minutes. Stepping away from my desk to breathe fresh air helps clear my mind and often makes my study session more effective.
 I also try to remember that although I'm stressed, there are things in my life bigger than this paper – my family, friends and my life outside of school. I remind myself that the worst I think can happen really isn't that bad, and that I have more chances and opportunities ahead of me that I just can't see right now.