With two alumni newly elected and two members retiring — Sen. Patrick Leahy (L'64, H'94), D-Vermont, and Rep. Stephanie Murphy (G'04), D-Florida — 28 Hoyas will be part of the new Congress.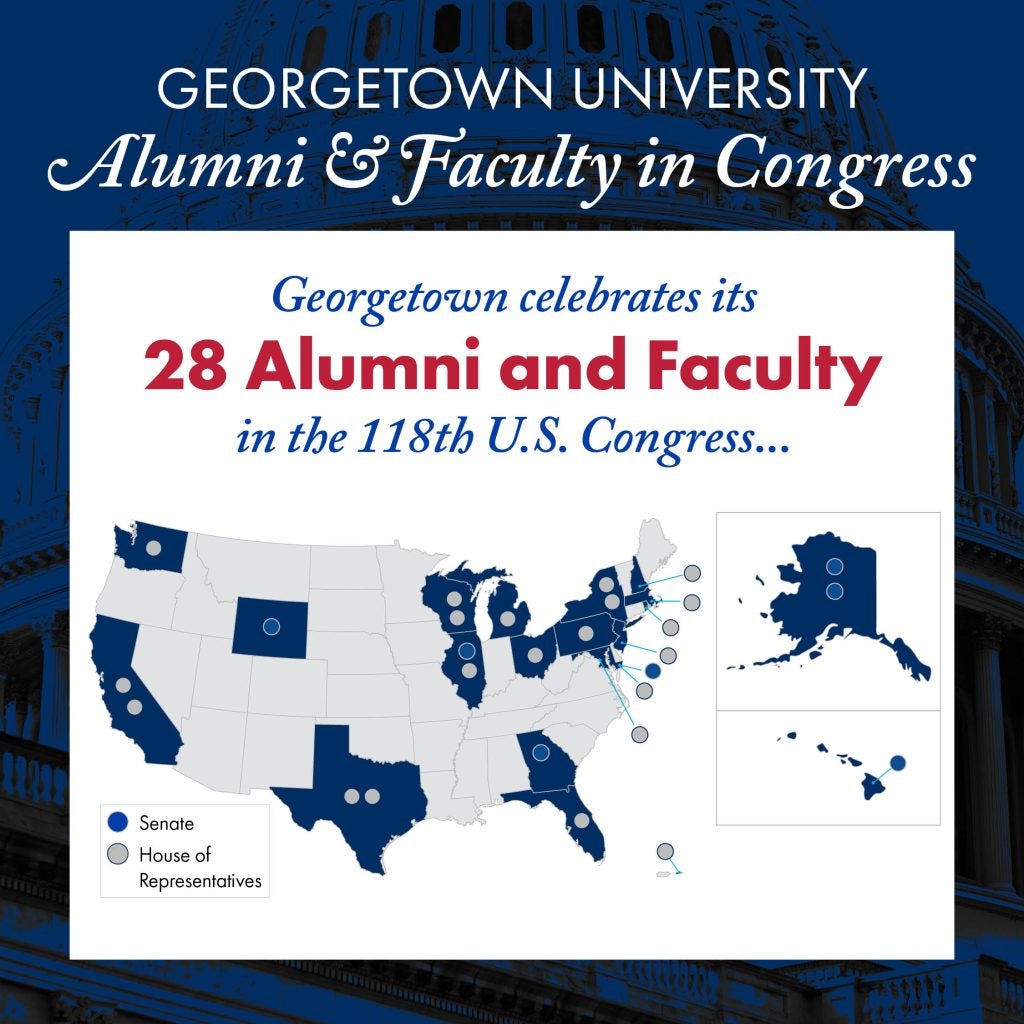 The Hoya Class
Two Hoyas were newly elected to the U.S. House of Representatives after overcoming competitive races in their districts: Rep. Pat Ryan (SSP'13), D-New York, a veteran who earned his master's in security studies from the Walsh School of Foreign Service, and Rep. Chris Deluzio (L'13), D-Pennsylvania, also a veteran and a Georgetown Law graduate and former Georgetown Law Journal editor. 
Two faculty members were also reelected in the 2022 midterm elections: Congresswoman Eleanor Holmes Norton, D-DC, a professor emerita in Georgetown Law who joined the faculty in 1982, and Rep. Lauren Underwood, D-Illinois, a nurse who previously taught a course in the School of Nursing & Health Studies online graduate program and continues to contribute to the nursing program.
Georgetown's newest alumnus in Congress, Rep. Mike Turner (SCS'22), R-Ohio, graduated earlier this year from the School of Continuing Studies with a doctorate in liberal studies, focusing on urban economic development. Turner completed his degree while serving in the House of Representatives. 
Alumni and faculty in the 118th Congress represent nine of Georgetown's 12 schools, with the majority graduating from Georgetown Law and the Walsh School of Foreign Service.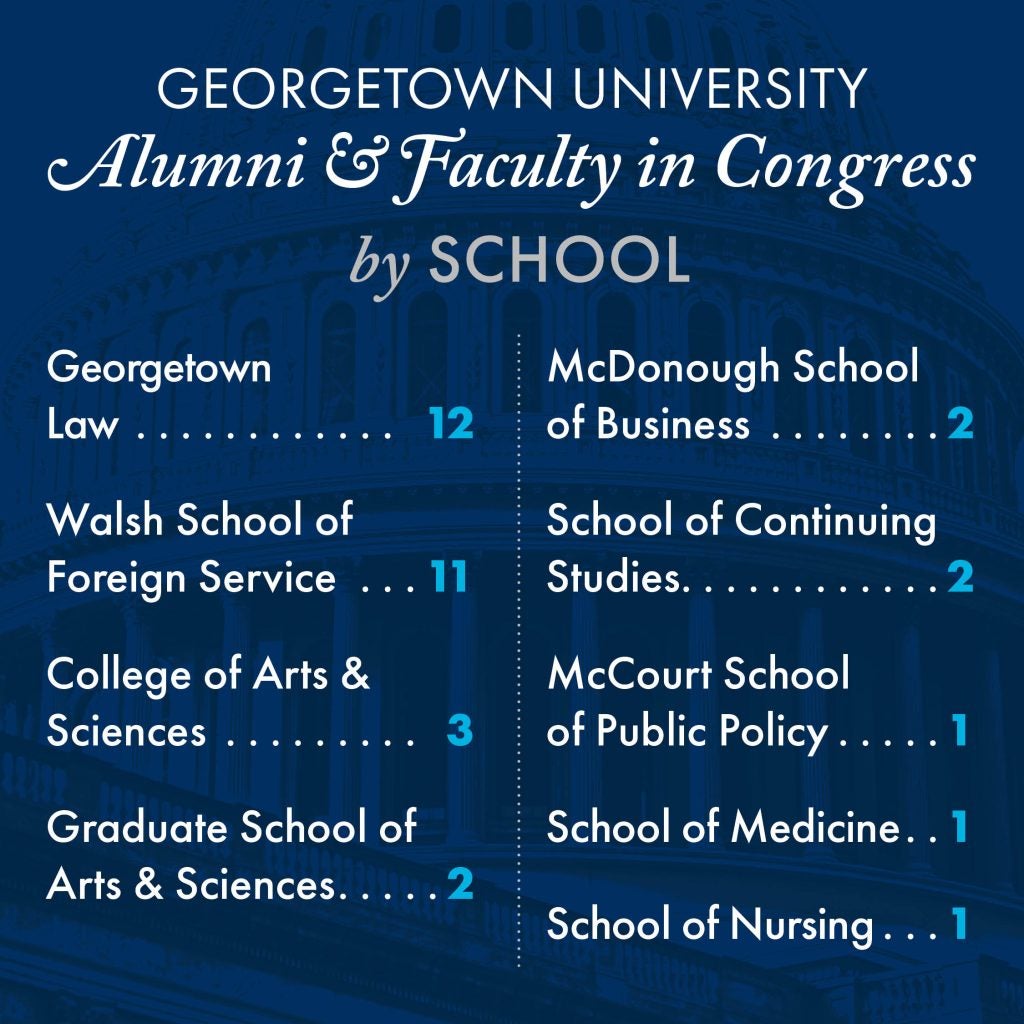 Hoyas Making History
In addition to Congressional wins, alumni were also elected to legislative leadership positions — and made history along the way.
Josh Shapiro (L'02), D-Pennsylvania, the state's attorney general, was elected governor of Pennsylvania in the 2022 midterm election. Shapiro is the first candidate to succeed a governor of the same party in the state since 1966, according to the Associated Press. 
Rep. Hakeem Jeffries (G'94), D-New York, who earned a master of public policy degree from the McCourt School of Public Policy, was unanimously elected to become the next House Democratic Leader — the first Black leader of a major party in Congress. Jeffries has represented New York's 8th Congressional District since 2013 and currently leads the House Democratic Caucus.  
Representative-elect Ruwa Romman (G'19), D-Georgia, also a McCourt graduate, was elected to Georgia's House of Representatives. She will be the first Muslim woman to serve in Georgia's legislature and the first Palestinian ever elected to any public office in the state. At Georgetown, Romman served as the McCourt Student Association president and a co-chair of the student advisory board at the Georgetown Institute of Politics and Public Service (GU Politics). 
"I really want to change Georgia political culture and show my constituents that we all deserve representatives who put our needs first," said Romman, whose campaign slogan, "putting public service back into politics," was inspired by GU Politics' mission. "Being a politician should mean you are someone serving your community, not someone trying to land the best talking point punch or serving special interests."
Alumni in the new Congress include:
Alaska
:
Sen. Lisa Murkowski (C'80) – R
Sen. Dan Sullivan (G'93, L'93) – R
California
:
Rep. Michael Garcia (G'98) – R
Rep. Ted Lieu (L'94) – D 
DC
:
Rep. Eleanor Holmes Norton (professor emerita in Georgetown Law) – D
Florida
:
Rep. Lois Frankel (L'73) – D
Georgia
:
Sen. Jon Ossoff (SFS'09) – D
Hawaii
:
Sen. Mazie Hirono (L'78) – D
Illinois
:
Sen. Dick Durbin (SFS'66, L'69) – D
Rep. Lauren Underwood (former adjunct professor in the School of Nursing) – D
Maryland
:
Sen. Christopher Van Hollen (L'90) – D
Rep. Steny Hoyer (L'66) – D
Massachusetts
:
Rep. Lori Trahan (SFS'95) – D
Michigan
:
Rep. Debbie Dingell (SFS'75, SCS'98) – D
New Hampshire
:
Rep. Ann McLane Kuster (L'84) – D
New Jersey
:
Rep. Mikie Sherrill (L'07) – D
New York
:
Rep. Patrick Ryan (G'13) – D
Rep. Hakeem Jeffries (MPP'94) – D
Ohio
:
Rep. Mike Turner (SCS'22) – R
Pennsylvania
:
Rep. Chris Deluzio (L'13) – D
Rhode Island
:
Rep. David Ciciline (L'86) – D
Texas
:
Rep. August Pfluger (G'19) – R
Rep. Henry Cuellar (SFS'78) – D
Virgin Islands
:
Rep. Stacey Plaskett (SFS'88) – D
Washington
:
Rep. Pramila Jayapal (C'86) – D
Wisconsin
:
Rep. Bryan Steil (B'03) – R
Rep. Mike Gallagher (G'12, G'13, G'15) – R
Wyoming
:
Sen. John Barrasso (C'74, M'78) – R