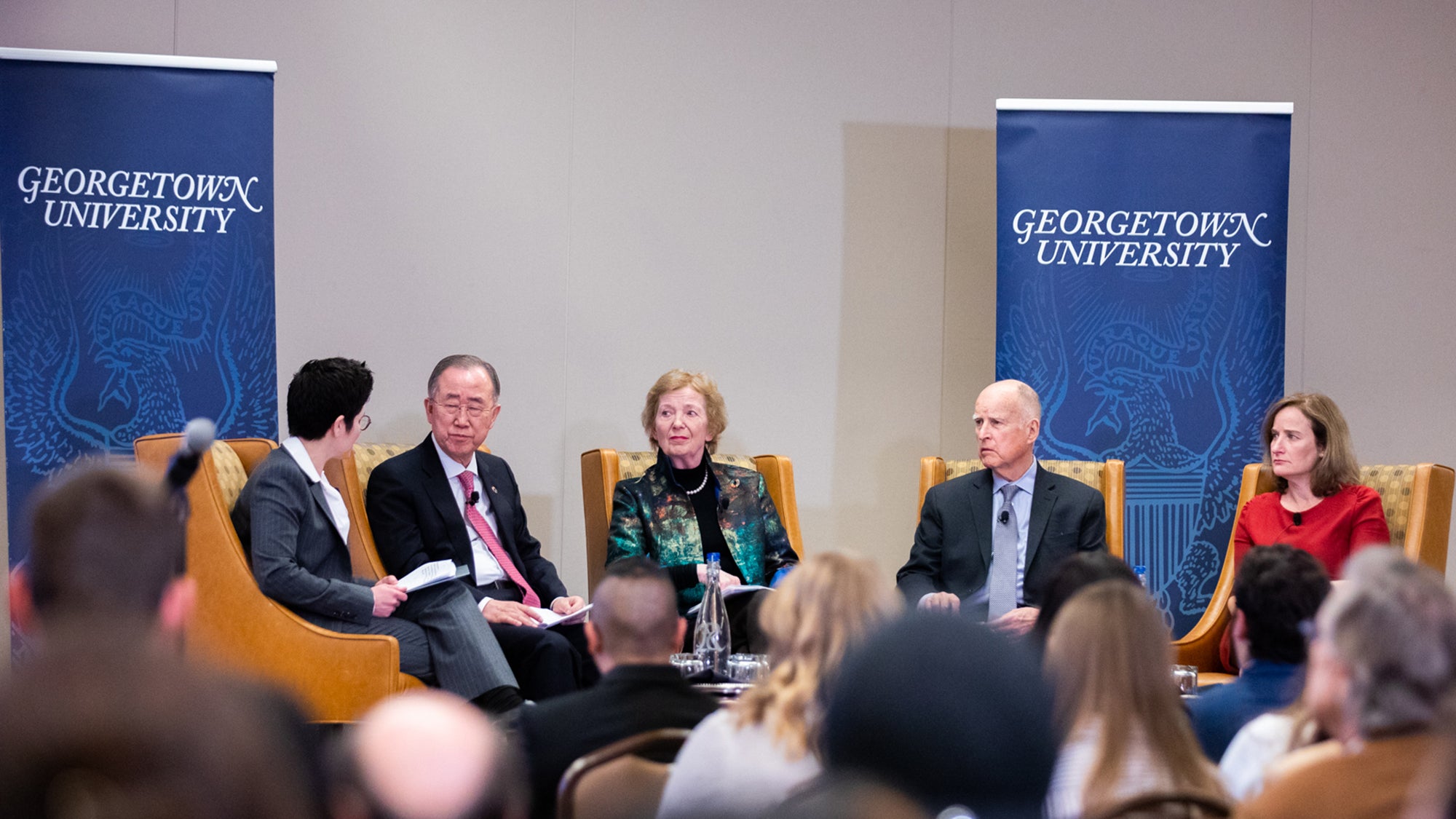 Category:

Student Experience
Title:

100 Seconds: Global, National Leaders Answer Questions About Doomsday Clock
Date Published:
January 27, 2020
Students ask pressing questions of former UN Secretary-General Ban Ki-Moon, former Irish President Mary Robinson and former California governor Jerry Brown about the advancement of the "Doomsday Clock," which moved to its closest-ever time to midnight, signifying an apocalypse.
Neha Malik (SFS'23) was one of many students posing questions on campus the afternoon of Jan. 23 to former UN Secretary-General Ban Ki-Moon, former Irish President Mary Robinson and former California governor Jerry Brown about the advancement of the "Doomsday Clock" time.
The three leaders revealed the new time of 100 seconds to midnight, the closest ever to what is considered the apocalypse, earlier that day at National Press Club event.
The Doomsday Clock was created in 1947, when it was declared to be seven minutes to midnight by the Bulletin of Atomic Scientists, an organization that warns the public how close the world is to destroying itself.
A Disturbing Reality
"The fact that the Doomsday Clock hands now sit a mere hundred seconds from midnight signals really bad news indeed," Robert Rosner, who chairs the Bulletin's Science and Security Board, said at the Press Club. "What we have called the 'new abnormal' last year, a dismal state of affairs, in the realms of nuclear security and climate change, now it's become an apparently enduring, disturbing reality."
The Bulletin and The Elders, an independent group of global leaders working together for peace, justice and human rights, cited those issues, as well as cyber-enabled information warfare as reasons why the clock moved from two minutes in 2018 and 2019 to the current time.
Brown serves as executive chair of the Bulletin, while Robinson and Ki-Moon serve as chair and co-deputy chair of The Elders.
"I think the problem is that today we unveiled the reality of the Doomsday Clock being closer than ever to midnight, the apocalypse…" Robinson said at the Georgetown event, "and tomorrow the world will just continue with business as usual. That to me is the big, big worry."
Matrix Moment
Malik, whose roots are in Pakistan, asked what could be done to change what she sees as a lack of global leadership on these apocalyptic issues and an unfair burden on young people.
While the leaders at the Georgetown event lamented a lack of global vision on these issues, Malik says she "would have liked to see more suggestions on that front."
Ki-Moon, for example, said many heads of state come to the United Nations and say they will help solve global issues, but are "hostages to domestic issues," and that "by the time they fly out of JFK airport, they just forget everything."
Malik, a first-year student from Ashburn, Virginia, saw being at the event as a unique privilege.
"It was kind of a matrix moment where I realized how lucky I am to go to Georgetown," said Malik "because not every school has the opportunity like this to be able to stand in front of the former secretary-general of the United Nations … or the former president of Ireland and so many other important politicians and researchers."
Thinking the Unthinkable
The three leaders were joined at the Georgetown event by Rachel Bronson, Bulletin president and CEO, in a conversation moderated by Desha Girod, who directs the university's Master of Arts in Conflict Resolution Program.
That program and 12 other Georgetown schools, centers, institutes and initiatives sponsored the event.
"It's time to disabuse ourselves of the taboo that we can't think of the unthinkable, because that's what we're facing," Brown told the audience, after talking about how quickly the world could face a nuclear holocaust. "The horror is there. We have the capacity to stop that, but in order to exercise that capacity, we have to wake up."
He added that politicians of both parties, business executives, religious leaders and educational leaders also needed to "wake up."
"That's where you come in," Brown told the audience of young people. "I think you're in the best position to understand our predicament, which is really your predicament. So that's why I'm here today, to wake up ourselves, but to share that awakening with everyone."
No START, No Budget
Jessica Rogers (G'20) a graduate student in Georgetown's Security Studies Program who has interned at the State Department's Bureau of International Security and Nonproliferation, asked how to make people more aware of the threat of nuclear apocalypse.
Brown suggested that the House of Representatives refuse to approve the federal budget unless the New START nuclear treaty is extended, and suggested a new slogan – "No START, No Budget."
"They stopped it for the wall, they stopped it for this. They stopped it for that," Brown said. "This is human survival."
Faith and Hope
Much of the conversation focused on fear about what the future will bring and concern about complacency, but Brown and Robinson also exchanged thoughts on hope versus faith.
Robinson, noting that she's seeing a lot of positive work around the world on fighting climate change, said she likes to be what the late Archbishop Desmond Tutu called a 'prisoner of hope.' "
"I think hope is a very dangerous virtue," Brown said.
"Oh, nonsense," Robinson replied.
Brown then countered that faith, as expressed by Tutu and Rev. Martin Luther King Jr. was more appropriate.
"I think we agree," Robinson said.