The Intersectionality Lecture Series featuring Sonora Reyes
The Women's Center and LGBTQ Resource Center are proud to announce the launch of the new Intersectionality Lecture Series. The first event in this series is a conversation with author Sonora Reyes.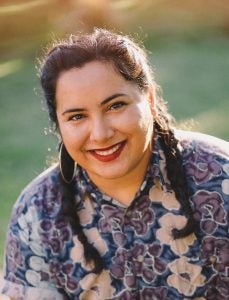 Born and raised in Arizona, Sonora Reyes is the author of The Lesbiana's Guide to Catholic School and the forthcoming contemporary young adult novel: The Luis Ortega Survival Club. In Sonora's sharply funny and moving debut novel, The Lesbiana's Guide to Catholic School follows a queer Mexican American girl navigating Catholic school, while falling in love and learning to celebrate her true self. It is a finalist for the NBA for Young Adult Literature.
Sonora writes fiction full of queer and Latinx characters in a variety of genres, with current projects in both kidlit and adult categories. Sonora is also the creator and host of the Twitter chat #QPOCChat, a monthly community-building chat for queer writers of color.
They currently live in Arizona in a multi-generational family home with a small pack of dogs who run the place. Outside of writing, Sonora loves dancing, singing karaoke, and playing with their baby nephew.
Georgetown community members can pick up a free copy of The Lesbiana's Guide to Catholic School in the Women's Center, Leavey 327, Monday-Friday, 12-4 pm.
Please send accommodation requests to womenscenter@georgetown.edu
​