100 Years of Lebanon
CCAS presents this scholarly panel to reflect on the project of Lebanon, its history, and its present from various topical and disciplinary perspectives. Panelists will share their particular expertise on Lebanon addressing continuities and key shifts during the last century of its existence as a state.
The panel is organized and moderated by Ziad Abu-Rish, American Druze Foundation Research Fellow at Georgetown and Co-Director of the MA Program in Human Rights and the Arts, and Visiting Associate Professor of Human Rights, at Bard College.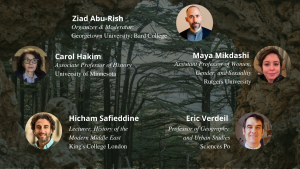 Featuring the Panelists:
Carol Hakim is an Associate Professor of History at the University of Minnesota. She received her PhD in History from Oxford University. Her work focuses on political and economic development of the Arab world in the late 19th- and 20th-centuries, nationalism and intellectual history, and state formation, state-society relations, and authoritarianism in the Arab world. She is the author of The Origins of the Lebanese National Idea 1840-1920 (Berkeley: University of California Press, 2013).
Maya Mikdashi is an Assistant Professor at the Department of Women's, Gender and Sexuality Studies and a lecturer in the program in Middle East Studies at Rutgers University, New Brunswick. She received her PhD from the Department of Anthropology at Columbia University, her MA in Arab Studies with a concentration in Politics from Georgetown University, and her BA in Film and Television from the Lebanese American University in Beirut. She is an interdisciplinary scholar of the state, and is currently completing her book Sextarianism: Secularism, Power, and Sovereignty in Lebanon, forthcoming from Stanford University Press. Maya uses both archival and ethnographic research in her work, and is particularly interested in the everyday ways that people talk about, imagine, work within, challenge, and turn towards state power. She has been conducting research on the legal system in Lebanon for over ten years.Maya is a co-founding editor of Jadaliyya.com.
Hicham Safieddine is a Lecturer in the History of the Modern Middle East at King's College London. He is author of Banking on the State: The Financial Foundations of Lebanon (Stanford University Press, 2019) and editor of Arab Marxism and National Liberation: Selected Writings of Mahdi Amel (Brill, 2020). Hicham holds a PhD in Middle East Studies from the University of Toronto, an MA in Political Science from York University, Canada, and an MA in Economics from The University of Rochester, New York. In addition to his academic research and teaching, he is the co-founder of e-zines Al-Akhbar English and The Legal Agenda's English Edition online. His public writings have appeared in The Toronto Star, Al-Jazeera English, The Monthly Review, Le Monde Diplomatique, Al-Adaab, Middle East Eye, Egypt Independent, Assafir, Jadaliyya, and Al-Ahram Weekly.
Eric Verdeil is a Professor of Geography and Urban Studies at Sciences Po, Paris. His research dealt with post-civil war reconstruction in Lebanon, and later on with the political ecology of urban infrastructure policies in Middle Eastern cities. His publications include Beyrouth et ses urbanistes : une ville en plans (2010, IFPO), Atlas du Liban. Territoires et société (codirection avec Ghaleb Faour et Sébastien Velut, 2007, IFPO; new revised edition in 2016 under the title of Atlas du Liban. Les nouveaux défis, in English, Atlas of Lebanon: The New Challenges (IFPO, 2019). His latest book is Atlas des mondes urbains (Presses de Sciences Po, 2020). He has served as an editor of Jadaliyya Cities for seven years. He also writes on the academic blog Rumor (Urban Research in the Middle East and Elsewhere).
This event is made possible thanks to a Title VI grant from the U.S. Department of Education for Georgetown University as a National Resource Center for the Middle East and North Africa. Please note this event will be recorded and by joining you grant Georgetown University permission to include any photo or video taken of you during the event in our publications. Please contact CCAS Events Coordinator, Maddie Fisher (maddie.fisher@georgetown.edu) with any questions or requests for accomodation.