Title:

Washington's First Census Research Data Center Opens at Georgetown
Date Published:
April 26, 2017
Georgetown's McCourt School of Public Policy yesterday opens the first Research Data Center (RDC) in Washington, a joint project of the U.S. Census Bureau and the school's Massive Data Institute.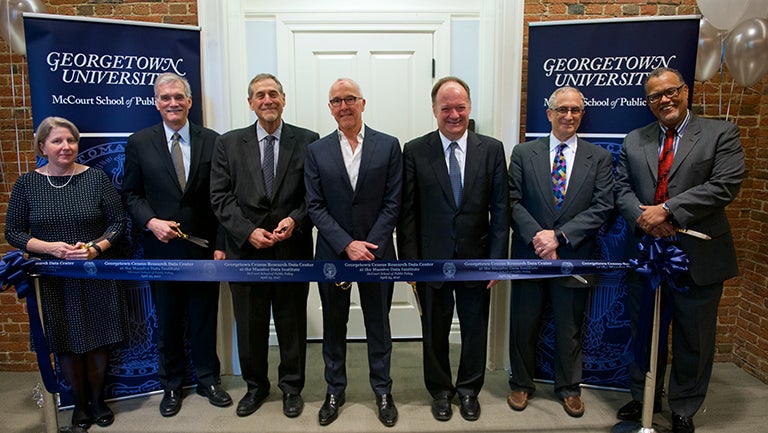 Georgetown's McCourt School of Public Policy yesterday opened the first Research Data Center (RDC) in Washington, a joint project of the U.S. Census Bureau and the school's Massive Data Institute.
The center provides secure access to qualified researchers at Georgetown and nearby universities and institutions examining a wide range of social and economic issues.
"The Georgetown RDC strengthens and animates Georgetown and the McCourt School's commitment to world-class, 21st-century research and scholarship," said Robert Groves, Georgetown's provostand the former director of the U.S. Census Bureau. "We are very pleased to partner with the Census Bureau to provide expanded but secure access to these critical data."
Studying Critical Issues
The Georgetown RDC is the first Census Research Data Center to open in Washington, D.C. and the 24th RDC in the country.
The university's J. Bradford Jensen, who helped establish the first university-based RDC at Carnegie Mellon University, will serve as executive director of Georgetown's RDC.
"The restricted-use microdata provided by Census through the RDC, like the American Community Survey, the Census of Manufacturers, and Current Population Survey, will be an incredibly valuable resource to Georgetown and other qualified researchers," said Jensen, the McCrane/Shaker Chair in International Business at Georgetown's McDonough School of Business. "We hope Georgetown faculty, graduate students and other researchers studying critical issues in economics and workforce issues, health and health care, statistics and demographics will get in touch about how we can work together."
Accessing Data
Nate Ramsey, lead administrator of the Federal Statistical Research Data Center program at the Census Bureau's Center for Economic Studies, will serve as acting administrator of Georgetown's new center.
RDCs are Census Bureau facilities, housed in partner institutions that meet all the physical and information security requirements for access to governmental restricted-use microdata.
An RDC allows qualified researchers with approved projects to access such data from a variety of statistical agencies to address important research questions.
Massive Data Institute
The Massive Data Institute, created in 2013, is an interdisciplinary research center devoted to the study of high-dimensional data to answer public policy questions.
The MDI uses data from novel, often real-time sources such as the Internet, social media, sensors and other big data sources to increase understanding of society and human behavior, and thus improve public policy decision-making.
The institute draws on Georgetown's interdisciplinary expertise in the computer science, social and natural sciences, and through strategic partnerships with organizations such as the university's Beeck Center for Social Impact and Innovation; the Lawrence Livermore Laboratories; the Institute for Social Research at the University of Michigan; and the Pew Charitable Trust. The U.S. Census Bureau has designated MDI a Federal Statistical Research Data Center, one of only 23 in the nation.