Leaders in athletics, education, faith communities and youth sports converged at Georgetown Nov. 6-8 for the fourth annual Sport at the Service of Humanity Conference, designed to explore the power of sport to effect positive change in the world.
Inspired by Pope Francis, Sport at the Service of Humanity is a global movement dedicated to promoting the positive values of faith and sport to unite communities, inspire youth and better serve humanity as a voice for honesty and inclusion.
Co-sponsored by Georgetown and the Vatican Pontifical Council for Culture, attendees focused on three core values – inspiration, inclusion and involvement – in panel presentations, breakout sessions and excursions throughout the DC area, including the National Museum of African American History and Culture.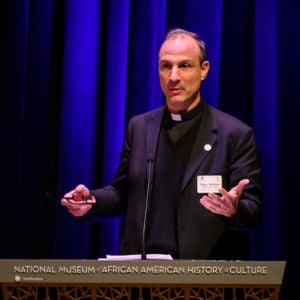 "We must think creatively in order to bridge divides through sport," said Monsignor Melchor Sánchez de Toca, undersecretary of the council, at the conference. "If we play together, we can achieve the social change we work for."
Inspiration on the Court
The conference began with a dinner at the Capital One Arena, where Georgetown President John J. DeGioia and Marie Royce (G'96), assistant secretary of state at the State Department's Bureau of Educational and Cultural Affairs, welcomed participants.
Attendees then witnessed a riveting second-half comeback from the Georgetown men's basketball team, which defeated Mount St. Mary's University in an 81-68 game.
"I can imagine a no more fitting opening to our convening than in a celebration of the students who have spent many years of their lives preparing for this moment and who have sought to engage in their own work of formation through participation in sport," DeGioia said.
The Art of Athletics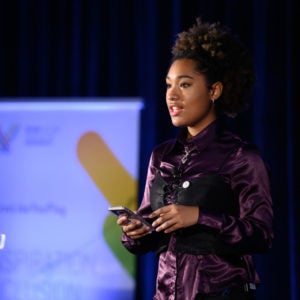 Georgetown undergraduate Myiah Smith (SFS'20) of Washington, DC, presented a poetry slam reading on social activism at the conference.
Smith is an alumna of DC SCORES, a nonprofit that creates neighborhood soccer teams and sponsors arts programming for kids in need.
"Being able to represent DC SCORES was an amazing opportunity to showcase the work and quality that the program brings to students such as myself," she says. "Forums like the SSH Conference allow programs like DC SCORES to gain the visibility they need to future their mission."
Sport and Social Change
"Sports espouse classically liberal values of merit, transparency, inclusion and fair play that give us direction and enjoyment as human beings," said Victor Cha, D.S. Song-KF Endowed Chair in Government and International Affairs at Georgetown.
Cha spoke during a panel on how sport informs personal development and values, moderated by Berkley Center Senior Fellow Paul Elie.
Also at the conference were representatives of athletic organizations designed to inspire social and political change by sponsoring a wide range of efforts, from peace-building initiatives to arts programming.
"Sport is the entry point, not necessarily the endpoint," said Bethany Rubin Henderson, CEO of DC SCORES.
'Reinventing Themselves'
She served on a panel moderated by Berkley Center Senior Fellow Katherine Marshall about how organizations focused on youth involvement in sports have helped to heal divided communities in the United States and other countries, including Cuba, Libya and Northern Ireland.
Former NFL commissioner Paul Tagliabue (C'62) said professional sports leagues have helped to spark major social change, with athletes advocating for issues such as racial equality and gun reform.
"Professional sports leagues are in the process of reinventing themselves," he said. "The athletes in particular are moving beyond being athletes to being educators, facilitators, leaders on societal issues."
Cathy Engelbert, WNBA commissioner, shared similar insights on women's sports. 
"The WNBA is one of the most diverse leagues in sports and is certainly one of the most socially conscious and community-minded because these women feel that they can have an impact in their communities," she said. 
Sports and Coping
The last day of the conference took place at the National Museum of African American History and Culture.
After participants explored the museum's galleries, Valentino Dixon, an artist exonerated from a wrongful conviction with the help of Georgetown's Prisons and Justice Initiative, explained how drawing golf courses in prison helped him to cope.
"When I started drawing golf courses, it took me back to that one place and time when I had a sense of peace," shared Dixon. "It was very spiritual."
Overcoming Hurdles
Acclaimed actress, model and Paralympic athlete Aimee Mullins (SFS'98) joined Lee Reed, director of athletics at Georgetown, for a conversation also focused on the power of sport to overcome personal challenges.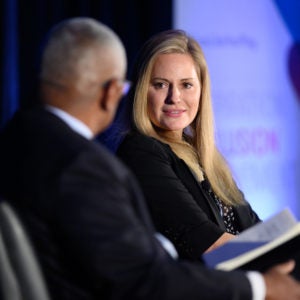 She shared a story about competing in the 1996 Big East Conference and Georgetown track and field coach Frank Gagliano.
After Mullins' prosthetic legs fell off during the race, Gagliano compelled her to continue running in the meet – despite her embarrassment.
"It was an extraordinary lesson because he did that thing that you need a coach to do, which is to help you get out of your own way," shared Mullins. "That time in my life was about accepting the challenge of being extraordinary."