Category:

Discovery & Impact
Title:

NSF Grants Fund Butterfly, Birds, Plants and Climate Change Study
Date Published:
March 14, 2018
Biology professor Leslie Ries holds three NSF grants to research how monarch butterfly habitats have changed in the wake of Hurricane Harvey, as well as the impacts of climate change and natural disasters on the springtime emergence of plant, bird and insect species.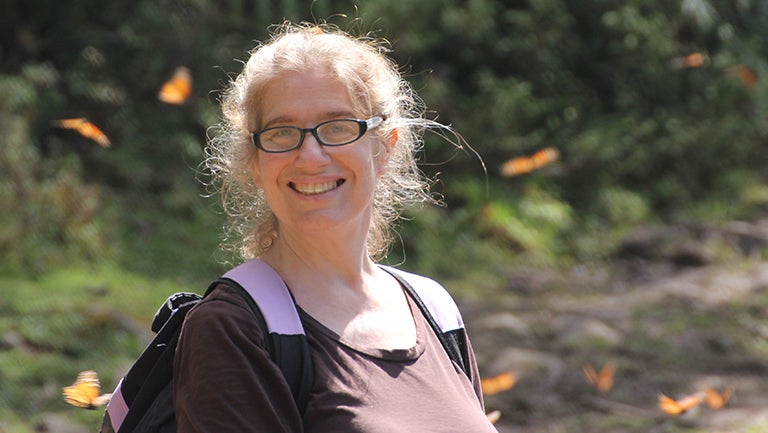 Biology professor Leslie Ries is using one of her three National Science Foundation grants to research how monarch butterfly habitats have changed in the wake of Hurricane Harvey, which devastated the Houston area last year.
The grants allow her to study the impacts of climate change and natural disasters on springtime emergence of plant, bird and insect species.
Two of the projects focus on the monarch butterfly, which Ries says is a particularly useful research subject, in part because of its accessibility to average Americans.
"I don't think there's a single species that's as closely monitored as the monarch," Ries says. "Most of the species focused on in conservation efforts are mammals like polar bears or wolves. You don't often see those. But you can capture a monarch, bring it home and raise it – and people really get involved."
Monarchs, Increased Storms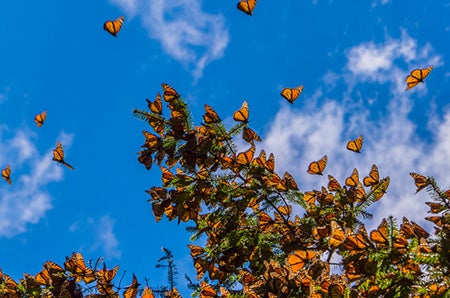 Monarchs, which cannot tolerate cold weather, make a multigenerational annual migration from Canada and the U.S. to Mexico, making their behavior particularly helpful in understanding climate change.
Ries says monarchs have been declining for the past 20 years and the research community is still not sure which drivers are the most important ones.
Increased storms are one factor among many under exploration, she explains. The professor notes that Hurricane Harvey seems to have had an important effect on milkweed, the monarch's host plant.
"We know something unusual was going on this fall that was probably related to the hurricane, but we don't know yet if it matters," Ries said. "Harvey likely caused more milkweed growth, which prompts the monarchs to interrupt their reproductive cycle and lay eggs in Texas. And those caterpillars won't survive."
Migration Decline
This month, Mexico's Comisión Nacional de Áreas Naturales Protegidas (National Commission of Natural Protected Areas) reported a 14.7 percent decrease in the number of monarch butterflies migrating to Mexico this past winter compared to the previous season.
While the commission attributed the decrease in part to tropical storms and hurricanes on the Atlantic coasts, Ries says it is too early to know how the hurricane may have influenced this year's numbers.
"That is one of the things we are trying to find out" Ries explains. Another of Ries' NSF grant focuses on understanding what biotic (living) and abiotic (non-living) factors most influence the monarchs' annual migrations and population dynamics.
Birds and Caterpillars
Ries' largest NSF grant is a collaborative effort with Ali Arab, a Georgetown associate professor of statistics, as well as with faculty members from multiple institutions, including the University of Connecticut, the University of North Carolina and the University of Florida.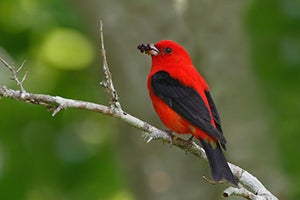 The project will allow the research team to study the timing of ecological events such as spring budburst and bird arrival.
"Because there can be differences across groups in reaction to climate change, we're looking at what happens when the shifts aren't equal," Ries said.
"If the birds show up and there are no caterpillars, are they able to be successful? If caterpillars show up when there are no birds, do they do better?"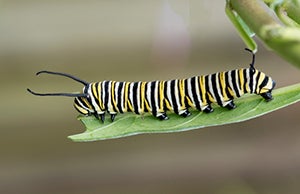 A large existing body of literature has confirmed the impact of climate change on individual species' emergence, but studies that examine how changes in thetiming of emergence interact with one another have been limited in scope.
Global Ecology Model
"When you look at individual species, you're just asking who's doing a good job adapting and who's doing a bad job, and the implications of that are often more straightforward," Ries said. "But when you look at interactions between multiple species, it starts to get more complicated to predict what will happen."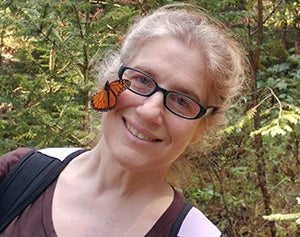 Ries sees her research as vital in helping people understand the impacts of climate change and major weather events on complex ecological systems.
"Events like Hurricane Harvey are becoming more common and more severe, so we should be considering them in our global ecology model," Ries said. "At the end of the day, it's about trying to understand the outcomes of choices we make right now."