Title:

Faculty and Staff Support at Heart of First-Generation Success
Date Published:
October 10, 2018
Georgetown's faculty and staff dipped into their own pockets 50 years ago to support the university's first six Community Scholars, and that legacy continues today in new ways, including the First-Generation Faculty and Staff Initiative.
–
As the Community Scholars Program celebrates a half-century of providing academic support to multicultural cohorts of first-generation students, the First-Generation Faculty & Staff Initiativein the Office of the Provost has been created to support the long-time program.
The initiative is designed to:
Identify first-generation faculty and staff as well as allies who support first-generation students
Build on the university's existing efforts to cultivate a vibrant first-generation support network for undergraduates
Bridge the gap and expose students to a support system among faculty and staff to equip students with social capital and insight into diverse academic fields
Lahra Smith, the initiative's co-chair, notes the importance of first-generation faculty sharing their experiences with their first-generation students.
"Sharing that experience more openly with my students has led to more of them coming to my office to share their own family stories, to ask for advice and support," says Smith, a School of Foreign Service associate professor.
She believes people make too many assumptions about first-generation students and that dispelling these myths "is part of what is both important and exciting."
Lesson Large and Small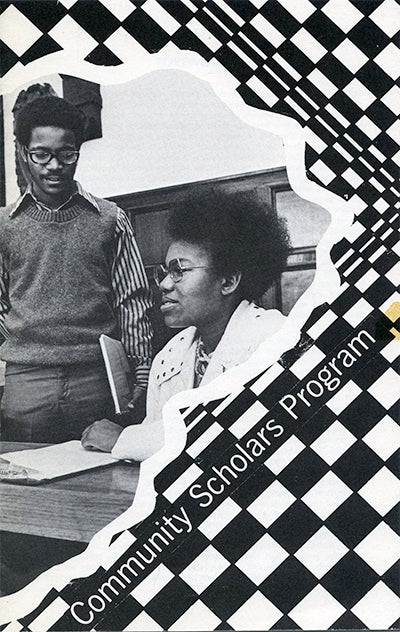 The university's commitment to access and affordability can be traced back to the establishment of the Community Scholars Program, which is celebrating its 50th anniversary this year.
Elizabeth Velez, who teaches in the English department, has worked with the Community Scholars Program for more than 30 years. She says working with first-generation students goes beyond subject-matter teaching.
"Each student I have taught has taught me lessons both large and small … how to be more critical of my own, often narrow, worldview," says Velez, the program's academic director. "Each one of them has shown me the true meanings of purpose, justice and love."
Community Scholars launched in the fall of 1968, making the university a leader in its commitment to the success of first-generation students at elite colleges and universities.
Working Together
The program provides academic support to first-generation students with high financial need or students from underresourced schools through a five-week orientation program that includes credit-bearing courses prior to the start of the academic year.
More than 100 faculty and staff members "dipped voluntarily into their pockets" to grant inaugural scholarships to six Community Scholars in 1968. Students also raised money for the fund.
"Community Scholars worked because you had communities working together to make it happen," says Charles Deacon, dean of undergraduate admissions. "The college deans allocated 20 percent of their funds to the central fund for the Community Scholars Program."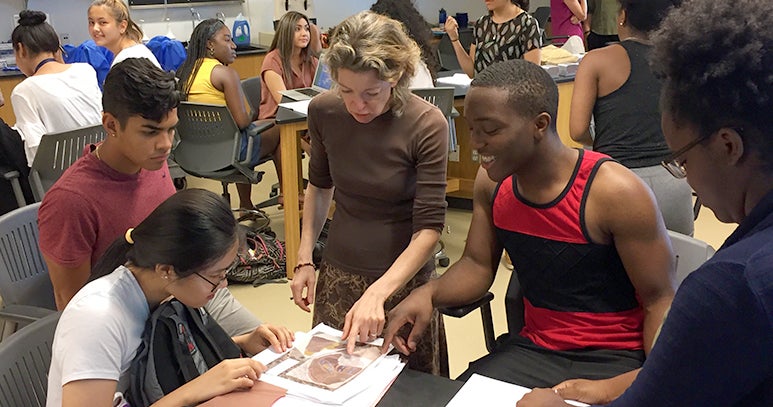 Biology professor Heidi Elmendorf reviews an assignment in the lab during the Community Scholars Program's five-week summer orientation. Elmendorf leads the Regents Science Scholars Program, which is designed for first-generation college students interested in the sciences.
Fulfilling the Needs
Devita Bishundat, director of Community Scholars, enjoys watching the growth of the students in the program.
"I wish I had had a program like this to support me during my undergraduate career because of my own lived experiences," she says.
Community Scholars meets the academic needs of the students, while theGeorgetown Scholarship Program (GSP)fulfills wraparound support services such as mentorship and a sense of community.
Launched in 2005, GSP is the first of its kind in the nation. It gives students access to an alumni network, career assistance, mentoring programs, activities, medical bill coverage and emergency funds during college breaks.
The university established theRegents Science Scholars Programas a part of Community Scholars in 2016 for students concentrating on the sciences.
Enhancing Communities
Adanna Johnson, senior associate dean of students and director of diversity, equity and student success, says Community Scholars and GSP are crucial to fostering the matriculation and completion of college degrees for its first-generation students.
Johnson's office oversees the university's First-Generation Faculty & Staff Initiative, which began under the coordination of Smith; Patricia Grant, a senior associate dean in the McDonough School of Business; and Jason Low (C'17), a Community Scholars and GSP alumnus. Low now works as assistant director of GSP.
The initiative includes about 350 faculty and staff members who are either, themselves, first-generation college students or who support students as allies.
"What we know after 50 years of Community Scholars, and seeing where these scholars have gone with their careers and lives," Johnson says, "is that recruitment and retention of first-generation college students enhances our communities both Georgetown and the communities where graduates start their careers."
Learn more about the Georgetown Faculty and Staff Initiative.