Dr. David Fajgenbaum (NHS'07), a medical researcher and social entrepreneur in search of a cure for the rare disease he has, will share lessons of resilience and focus with the undergraduate Class of 2017 at Senior Convocation as Georgetown kicks off 2017 Commencement Weekend, May 18-21.
Dr. David Fajgenbaum (NHS'07), a medical researcher and social entrepreneur in search of a cure for the rare disease he has, will share lessons of resilience and focus with the undergraduate Class of 2017 at Senior Convocation on May 18.
Fajgenbaum, an assistant professor of medicine in the translational medicine and human genetics division at the University of Pennsylvania, co-founded the Castleman Disease Collaborative Network (CDCN) nonprofit in 2012 after being diagnosed with the rare condition.
According to CDCN there are 6,500 to 7,700 new cases each year in the United States.
Also speaking at the convocation are Rhodes Scholar James Pavur (SFS'16) and Marshall Scholar Devika Ranjan (SFS'17).
Sharing Lessons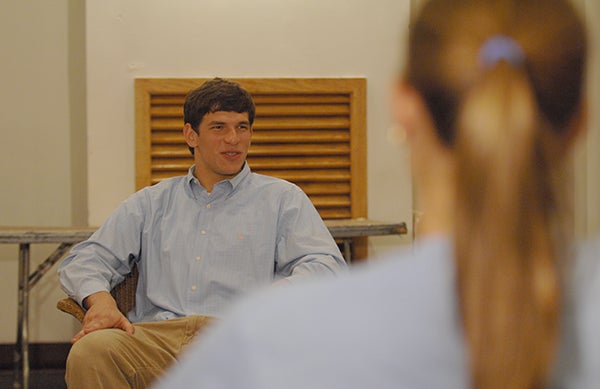 David Fajgenbaum (NHS'07) listens to fellow members of the support group established on campus as a student at Georgetown. He later turned the group into a national nonprofit.
"Life for me is all about curing this disease," says Fajgenbaum, who has been in remission for nearly three-and-a-half years. "I plan to share the lessons that I've learned in battling to stay alive and also battling to take down something that folks have been researching for 60 years."
Through CDCN, Fajgenbaum, a graduate of the School of Nursing & Health Studies (NHS), has been able to accelerate research and treatments for Castleman disease through global collaboration, strategic investment in high impact research and patient engagement.
Castleman disease, according to CDCN, is a sometimes life-threatening inflammatory disorder that occurs in people of all ages.
Fajgenbaum is also working to create a blueprint for accelerating research for other diseases.
An Inspiration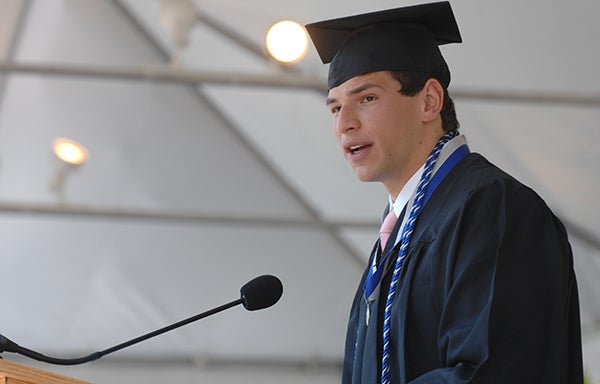 David Fajgenbaum speaks during the 2007 School of Nursing & Health Studies commencement exercises as its student speaker.
After graduating from Georgetown, the human science major went on to receive a master's degree in public health from the University of Oxford, a medical degree from the University of Pennsylvania and an MBA from Penn's Wharton School of Business.
Fajgenbaum's work hasn't gone unnoticed. Forbes named him to the 2015 "30 Under 30" list for healthcare professionals. He also is a senior fellow of the Leonard Davis Institute for Health Economics and a fellow of the College of Physicians of Philadelphia.
"David inspired us in so many ways when he was an undergraduate here at Georgetown," says NHS Dean Patricia Cloonan. "That inspiration has only grown in the decade since his graduation."
"I truly admire the way he has confronted his own battle with Castleman disease," she adds. "His work reflects this institution's commitment to educating women and men for others, and I know our graduating students will benefit from hearing his remarks."
Tough Times
While at Georgetown, Fajgenbaum founded a nonprofit called National Students of AMF – a dual acronym for his mother, Anne Marie Fajgenbaum, as well as Ailing Mothers and Fathers.
His mother was diagnosed with cancer just before he started Georgetown, and she passed away in 2004 from a brain tumor.
Fajgenbaum says he appreciates the support he received from the Georgetown community during what he describes as "one of the toughest times in my life."
Two Paths
AMF started out as a small bereavement group at Georgetown, but grew into a national nonprofit once Fajgenbaum realized the broader impact the organization could make.
Fajgenbaum also went on to co-authorWe Get It: Voices of Grieving College Students & Young Adults in 2015.
"My mom's passing really sent me down two paths," he says. "One was to create an organization in her memory for grieving college students and the other was that I wanted to dedicate my life to becoming a physician to fight cancer in my mom's memory."
Skills and Focus
Bette Jacobs, who was NHS dean while Fajgenbaum was at Georgetown, advised him as he took AMF national and also served on its board.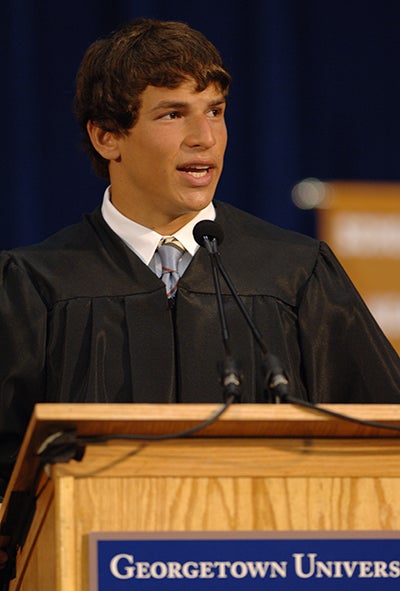 David Fajgenbaum, the 2005 McTighe Prize winner, speaks to the incoming Class of 2009 during the 2005 New Student Convocation.
Now a professor of health systems administration at NHS, Jacobs recalls Fajgenbaum's intense focus as a student.
"He was very much a young man who wanted to go home for his mother, but she wanted him to stay," Jacobs recalls. "He honored her wishes and was able to excel academically while still coping with such as tragic loss."
He also was a finalist for the Rhodes Scholarship, was honored as a Georgetown Lisa J. Raines Summer Scholar, and received the university's Lena Landegger Community Service Award.
"I've always been able to hyperfocus on a very intense level, but that hyperfocus really reached a new level when I was applying focus toward a mission," he says, "and when I realized I could actually put my skills and my focus toward something that really meant a lot to me and other people."
Gifted Leader
As quarterback on the football team, Fajgenbaum made the Patriot League Academic Honor Roll on numerous occasions.
"David has an infectious personality and is very gifted as a leader," says Georgetown Head Football Coach Rob Sgarlata, who has kept in touch with the alumnus over the years."David has always been a very conscientious person who has always worked to help those around him."
Tremendous Honor
Speaking at Georgetown comes with some familiarity to Fajgenbaum.
In 2005, he addressed the incoming Class of 2009 as the McTighe Prize winner at New Student Convocation. He also addressed his graduating NHS class during Commencement in 2007.
Senior Convocation kicks off 2017 Commencement Weekend, May 18-21, and serves as the last bookend for the Class of 2017's academic career.
"Georgetown is a very special place for me," Fajgenbaum says. "To be able to come back and to speak to the seniors is really just a tremendous honor. No other school has been as supportive of me than Georgetown."