Title:

Wrongful Murder Conviction Leads Junior Toward Prison Reform Advocacy
Date Published:
October 25, 2016
Justice and Peace studies major Brian Ferguson (C'18) begins studies at Georgetown after a wrongful murder conviction forces a life detour into advocacy for prison justice and reform.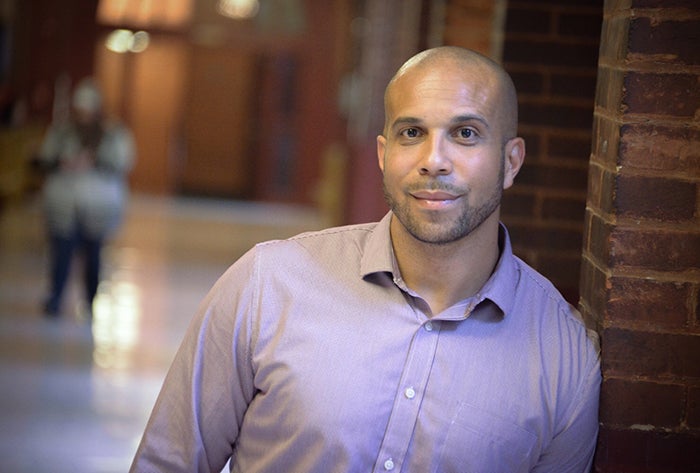 Justice and Peace studies major Brian Ferguson (C'18) dreamed of finishing college and attending Georgetown Law until a wrongful murder conviction landed him in jail for 11 years.
The unexpected life detour eventually propelled him into advocacy for prison justice and reform.
Following his release, Ferguson worked for the D.C. Office of Human Rights, advocating for the returning citizen community as a human rights officer. He then received a fellowship to run a startup for that same population, and more recently, D.C. Mayor Muriel Bowser tapped him to lead the Mayor's Office on Returning Citizens Affairs.
"I make sure that the mayor understands the situation on the ground," says Ferguson, who was appointed to the post last month, "and that entails meeting with members of the vast advocate community, meeting with returning citizens themselves, crafting policy, all while still providing services that are needed."
Push for Freedom
Ferguson, whose undergraduate studies at West Virginia University were interrupted in 2002 with a first-degree murder conviction and life sentence without parole, remained in prison until a committed team of pro bono lawyers won his release and exoneration for the crime in 2013.
"I was accused of a homicide I had nothing to do with," says the native Washingtonian.
Ferguson recalls the shock of even being questioned for such a crime, but he focused on winning his release from prison.
" I fought every day to clear my name and earn my freedom," adds Ferguson, who began attending Georgetown this semester. "The appeals process is long and very arduous. I'm under no illusions as to how blessed I was."
Returning Citizens
After his release Ferguson returned to Washington, D.C., and soon discovered a gap in services for people re-entering society after incarceration.
Even with his strong family network, he still experienced the struggles many returning citizens have finding employment, job training and other means of reintegrating back into an often changed society.
"Housing and employment are the two most urgent concerns facing returning citizens when they get out," says Ferguson. "It is very much in line with Maslow's hierarchy of needs – physiological first and then everything else comes after that. People need to know where they are going to sleep at night and how they are going to feed and provide for themselves."
Start Line Startup
In response to these challenges, Ferguson developed Start Line, which he describes as a kind of Yelp for returning citizens. The nonprofit online platform will allow people to identify, locate and rate available resources, he says.
"Start Line would work with both individual returning citizens and with governmental agencies –cities, counties, states, federal probation officers, etc.," explains the budding social entrepreneur.
"The parole, probation officers and social workers in these agencies would use it as the platform … to more effectively monitor and refer essential services and resources to their clients."
Last year, the Halycon Incubator, a D.C. nonprofit that assists early-stage social entrepreneurs, awarded Ferguson a spring 2015 fellowship to help develop his product. Currently in talks with Google, he hopes to launch Start Line on a national basis soon.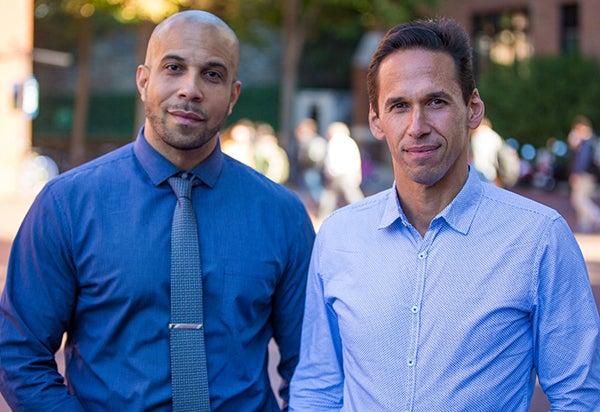 Back to His Future
Running a startup, working a full-time job and planning his wedding was enough to keep anyone busy, but Ferguson wanted to return to his dream of becoming a college graduate.
"One of the first things I wanted to do when I came home, of paramount importance, was to finish my degree," he says. "That opportunity was taken away from me before. I wanted to feel better about myself and do this for my family and my future."
He enrolled at Georgetown after meeting government professor Marc Howard, whom Ferguson met through shared advocacy work for returning citizens.
"I immediately thought he was extraordinary," says Howard, who launched the university's Prisons and Justice Initiative (PJI) last year. "His strength, modesty, optimism – everything struck me that he was a winner. Brian embodies everything good about Georgetown and everything Georgetown aims to become."
Humanizing Mass Incarceration
Through PJI, Georgetown addresses pressing policy and moral issues surrounding prison reform and mass incarceration through programs and events. Howard also has created opportunities through PJI and his courses for Georgetown students to work on prison reform proposals
with incarcerated men at nearby Jessup Correctional Institution.
"Our larger goal is really a process of humanizing people who've been through or are involved with the criminal justice system – both victims and perpetrators – looking at forgiveness and redemption," Howard says. "This mission fits very closely with Georgetown's Jesuit identity."
Ferguson credits the professor for the impact he has had on his life and considers Marc "as a mentor and friend."
Howard now teaches Ferguson in his Prisons and Punishment course and says the student has been a tremendous asset to the class.
Direct Experience
"He can elaborate on issues that I don't have direct personal experience with – what it's like to be through an arraignment, trial, wrongful conviction, life inside prison," Howard explains. "He adds a lot to the classroom, both for me and for his fellow students."
Ferguson says he's looking forward to graduating and hopes to attend Georgetown Law.
"Overall, my sense of Brian is that he's an extraordinary person who will do great things and who will make Georgetown incredibly proud to be an alumnus," Howard says. "He has every quality you could hope for in a person, student and future leader. I hope to be along for the ride of his career."