Title:

World Bank Group President Returns to Speak on Climate Change
Date Published:
March 19, 2015
Acknowledging scientific consensus that the planet is warming, World Bank Group President Jim Yong Kim said the world has to decouple economic growth from carbon emissions and alleviate the harmful effects of climate change on developing nations.
"Just about everything we do has to be focused on tackling climate change, both in terms of mitigation and adaptation," Kim said during his March 18 lecture at Georgetown.
He laid out the World Bank's five-point economic transformation plan to keep the rise in global temperatures belowtwodegreesCelsius in his second Global Futures Initiative talk, "A Plan for the Planet: Confronting Climate Change."
Five-Point Plan to Transform
Kim said "a price on carbon is the single most important thing" for world leaders to agree upon at Paris COP21, the U.N. climate change conference slated for December. He said putting a price on carbon would "unleash market forces, [allowing] the movement towards tackling climate change to feed on itself."
Kim, who is also the former president of Dartmouth College and co-founder of Partners in Health, called for the removal of fossil fuel subsidies, which have proven to be "fundamentally regressive" in their benefits to society.
He also recommended building smarter, low-carbon cities as populations continue to increase; implementing climate-smart agriculture; and accelerating energy efficiency and renewable energy use.
Pledge to Provide
Kim said some of the world's developed countries have pledged to provide $100 billion in climate finance to poor countries by 2020, which would help to achieve these goals. Currently, they only provide $34 billion.
"We're very concerned about finding creative ways to get to that $100 billion number because we don't want that to be the reason we don't get an agreement in Paris at the end of this year," said Kim.
Harmful Effects on the 'Poor'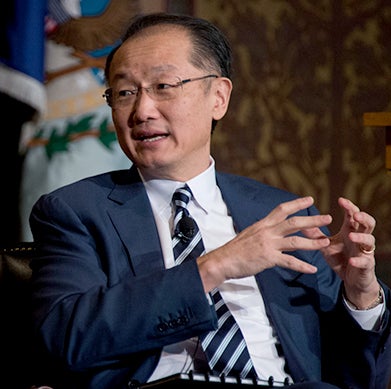 Dr. Jim Yong Kim, president of World Bank Group
Rising temperatures lead to more extreme heat waves, storms and droughts that devastate poor countries, Kim said. He used Grenada's disaster-related loss as an example, citing that the country's loss is close to 9 percent of its gross domestic product.
Within countries, disasters often "hurt the poor the most," and that threatens the World Bank's mission to end extreme poverty and boost shared prosperity, he explained.
Kim recommended dedicating a larger percentage of disaster-related funds to prevention and preparedness, as well as creating natural-disaster insurance mechanisms for at-risk nations that protect developing nations and their poorest citizens.
A Longer Conversation
In keeping with Georgetown's commitment to address threats to global society, Kim's lecture was the third presentation in a series by World Bank Group leaders this semester convened by Georgetown's Global Futures Initiative.
"This sustained engagement is a reflection of our community's deep interest in understanding – and in contributing to – the concepts and solutions impacting global development," said Georgetown President John J. DeGioia in his opening remarks.
The Global Futures Initiative is designed to address critical issues by inviting Georgetown community members over the next two years to engage with global leaders in the public sector, business and civil society and to take up innovative teaching and research agendas.
Kim delivered an inaugural lecture on global pandemics in January, and seniorvice president and chief economist Kaushik Basu spoke last month on how new technologies may maximize rapid economic growth in developing nations. He will return in April for his second talk.
Related Information